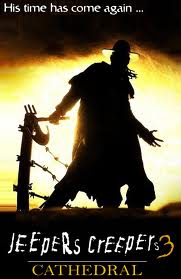 Jeepers Creepers 3: Cathedral (Jeepers Creepers 3  or Jeepers Creepers 3D as stylized in some countries) is a 2017 American Horror film written and directed by Victor Salva, produced by American Zoetrope and the third instalment in the Jeepers Creepers franchise which began with Salva's first acclaimed 2001 instalment.
It is also co-distributed by United Artists, Myriad Pictures and Lionsgate.
The film stars Gina Phillips, Ray Wise, Terrence Howard, Busy Phillips, Chris Colfer, Taissa Farmiga, Leven Rambin, Ben Barnes, Kylie Bunbury, Will Poulter, Eve Harlow and Jonathen Breck.
The film features Gina Phillips, Ray Wise, Luke Edwards, Patricia Belcher and Jonathen Breck reprising their respective roles from the earlier instalments: Phillips having appeared in the first film as secondary protagonist Trish Jenner and Wise as protagonist Jack Taggart whilst Breck once again portrays the infamous demon the Creeper.
The film was shot most entirely in Medford, Oregon and on a created and controlled soundstage at a Lionsgate studio in Orlando, Florida.
The film was released theatrically on September 4th, 2013 to positive reviews and was released in 3D in select cinemas.
The film was awarded with four Saturn Award Nominations: Best Horror Film, Best Sequel/Prequel, Best Actor (Horror Film): Chris Colfer and Best Actress (Horror Film): Taissa Farmiga.
The film lost out to Joss Whedon and Quentin Tarantino's colloborative horror project Goners.
Summary
Plot
The film begins in 1953 with five teenagers travelling across the Californian Desert when they come to have their jeep tires blow out. Upon inspection of the tires sharp four spike ended shuriken are discovered to have been tossed into two of the left side tires disabling the jeep.
From there as the group attempt to contact for help by radio and venture out and one of the group, Judy becomes really worried and develops really bad feelings about their circumstance a flying creature descends and snatches up Judy's joker friend Duncan who had become frightened by her boyfriend Corbin only moments before.
From there the group then rally together terrifed and their friend Ivan is then dragged and taken off into the sky by the creature leaving a horrified Judy, Corbin and Judy's screaming bestfriend Elizabeth. The three then run as the creature comes flying back and as they reach a sandhill Corbin is swept up after a moment of holding onto girlfriend Judy's hand, who he tells to let go. Judy and Elizabeth then run onwards for a mile and eventually pass out after exhaustion.
As they come to the Creeper comes back and takes Elizabeth and Judy together arriving at an ancient Cathedral with engraved markings and pillar images depicting the creature and him devouring his victims. Judy then watches in horror as Elizabeth is killed out of sight by the Creeper in the abandoned dark cathedral. The scene then takes us to the local Sacramento Sheriff Poyter who arrives at the jeep accident scene along with deputy officers Rychell and Jayson.
They investigate before we are taken ahead to present day Banon County, Florida where the Creeper awakens from the Taggart farm and after killing Jack Taggart Jr. and severely injuring the elderly Jack Taggart Sr. escapes into the night.
The day following the Creeper's escape it arrives at a local Ranger's shed where it proceeds after frightening a teenage boy named Louis Shawn to abduct him before the eyes of his horrified father and grandfather, much symbolizing the fashion in which Billy Taggart was apprehended from the Taggart farm in the previous film.
Louis' Ranger father Wallace then becomes fixated on vengeance against the Creeper and begins searching up abductions matching the same M.O and finds reports pertaining to a woman named Trish Jenner and the given statements of the Polo County Police Department, it's inmates and local Polo Psychic Jezelle Gay Hartman.
We then arrive at the story of Trish Jenner who is now operating as a succesful businesswoman in Chicago and possesses an 18 year old son Darry, named after her late brother who had 23 years ago been abducted by the Creeper.
She begins experiencing terrible nightmares relating to her idyllic young son meeting the same fate Darry had met as described by Jezelle Gay Hartman. Trish then gets in contact with Jezelle Gay Hartman whom reveals she possesses the "sight" like her and the abilities started for her at her age as well. She describes them as being part of a lineage of psychics or as her mother and her mother before her called them Seers. Jezelle confirms it is inevitable if she is dreaming up that her son will meet the same fate as her late brother at the hands of the Creeper the creature will indeed come for him.
Trish then takes a sabbatical from work and has her bestfriend/party girl work colleague Rita Lynch join her on a trip to catch up with her son who has just departed with his girlfriend Alanis and an assortment of friends on a spring break trip across Oregon. Her son Darry, Alanis and their friends are first shown at a party discussing the srping break festival they plan to attend. Darry is called at the party by his mother but ignores the call so she rings Alanis' cell who patches her through to Darry.
Alanis leaves Darry to privately talk with his mother which is a conversation interrupted by Alanis and the others after she retrieves each of them from the party house, Ross having started a fight has had to be evacuated by his drunken girlfriend Kaysie and the others.
The group run to Ross' truck and take back to his where they all spend the night. They all spend the night from there and have their belongings packed for the trip and load up in Ross dads' van. Trish does not let Rita in on her true motivations and they ultimately find themselves in a dispute as the truth comes out as they are stopped by Ranger Wallace Shawn by an deserted highway.
He confronts Trish in regards to the creature she gave a report on along with psychic Jezelle Gay Hartman and inmates and working officers of the Polo Police Department in Florida. Trish is able to persuade Rita back into joining them despite her ruling off the two as crazy as she claims her son could be in danger and Rita being his godmother and her bestfriend feels an obligation to help her. Trish along on their trip comes to experience a vision in a dream of the Taggart farm, the abduction of Billy Taggart to abduction of Louis Shawn and then a Post Puncher machine sided by an elderley man.
In bringing forth the contents of her dream to Wallace Shawn she discovers he in researching into abductions relating to his younger brother's first popped up with the reported unsolved abduction of 13 year old Billy Taggart. The two track down the address as Trish believes what she saw could help against the Creeper as when her and her brother dealt with it 23 years ago they discovered it could not be killed by any means they knew of or the aiding psychic Jezelle could find. Meanwhile Darry, his girlfriend Alanis, bestfriend Varsity Jock Ross, Ross' girlfriend Kaysie Michaels, Alanis' best friend Lena Roswell, their dorky bumbling friend Johnny Bellan and Johnny's goth girlfriend Marilyn Vinson, come to take a wrong turn down the abandoned East 39 Highway in Medford and ultimatley have their tyres blow out.
After inspecting they find the tire blow outs to be the result of thrown shuriken and Ross becomes enraged at this as unbeknownst to the group and his girlfriend the Spring Break party they were bound for in Madras has a prominent drug dealer he owes alot of money for stolen cannabis. The group grab their camping gear and food supplies and oversee a coming rainstorm. In walking into the nearby woods after failing to flag down any cars passing through (seeing as the route is abandoned) they discover a ghost town and there begin exploring much to Ross' dismay.
Trish meanwhile attempts multiple times at her end to get in contact with her son via cell-phone but he has it switched off for the full purpose of dodging his overbearing workaholic mother. Kaysie, Marilyn and Johnny walk into a certain abandoned house and discover a book pertaining to ancient demons and devils of time. Trish with Rita and Wallace arrive at the Taggart farm and find a sloth driven Jack Taggart Sr. completely distraught over the death of now both his sons.
Trish consults with him in finishing the Creeper and enquires as to a machine she saw in a dream, one she saw him standed beside one she saw him use to bring down the Creeper. The Post-Puncher is then unveiled and after convincing the group depart in two seperate vehicles bound for Medford. Night falls and Darry and the group come to camping out in an old barhouse in the abandoned ghost town. They are soon descended upon by the Creeper which terrorizes them and after frightening and attacking them sniffs them out by fear before departing. It comes to collect Johnny who panics and flees back to the road and their immobile van. The rest of the group then retreat back to the barnhouse and stow out.
They go through the night in shifts armed with procurred armed artillery and by the next afternoon of venturing out armed, Kaysie is killed via having her neck snapped by the Creeper which then proceeds to fly off with her before a shocked yelling Ross. By that night Ross driven mad by his girlfriend's killing and the Creeper runs out armed hoping the Creeper will come to him so he can either kill the creature or it can kill so he can join Kaysie. He storms off as Darry, Alanis, Lena and Marilyn follow. The Creeper returns and attacks swooping up Ross who is saved by an intervening Darry whom the Creeper then speaks with directly taunting him of his dead uncle.
Trish and the others then come to catch up with Darry, Alanis, Lena, Marilyn and Ross that night as they return to the road and van and having discovered two suitable tires within the village upon further exploration start the van back up and begin driving. The Creeper however returns and attacks and causes the van to crash and topple over which in the process kills Ross.
Rita is able to save Darry, Alanis, Lena and Marilyn from the van as the Creeper is advancing and the van ultimately comes to explode as the Creeper sets off an explosion which Rita perishes in. Trish then comes face to face with the Creeper again in a harrowing moment and Ranger Wallace then advances the Creeper before Jack Taggart Sr. sets off the Post-Puncher to attack the Creeper which gravely damages it.
Alanis skims through the book taken from the ghost town finds an entry passage on a demon known as the Razdul which are devourers of the mortals and replenish themselves through consumption, making what they eat of them become a part of them. She learns they each can only live for a span of 23 centuries and answer to a devil known as Izak who claims the souls of those of whom they have consumed. The passage tells their only means of destruction is to have their master destroy them. In the ensuing battle The Creeper releases itself from Jack Taggart Sr and collects Alanis and flys away with her. Alanis is then brought to the Creeper/Razdul's ancient Cathedral which served as it's first place of feeding.
There she discovers that Johnny is still alive and the bodies of Kaysie and Ross along with many others the Creeper has picked up along the way including Ranger Wallace Shawn's son Louis. The Jeepers Creepers song is then played as the Creeper goes through a confiscated picture from Kaysie's mobile of the group and begins sniffing and touching at Darry in the photo circling his eyes.
Alanis who is strung up by chains is able to release herself and after discovering Johnny releases him and the two proceed to attempt to flee the corpse filled grotty cathedral. As they are found out and come to break out however Johnny sacrifices himself to permit Alanis' escape as he is decapitated by the Creeper/Razdul's axe. Alanis covered in blood, mud and grot runs her way back to the others and tells them it wants her and Darry's eyes and that in the book they found it tells what it is and how to kill it.
They come to the passage on the Razdul Master Izak who has a listed ritual of conjuration. The group proceed to conjure Izak with Johnny's blood taken off Alanis' flesh.
Trish attempts to plea with Izak for the death of the Razdul but ultimately it is Alanis who convinces him. Izak however proceeds to kill Ranger Wallace and Marilyn before vanishing back to hell with Trish leaving Darry, Alanis, Lena and Jack Taggart Sr. alone as the Creeper/Razdul comes to them.
The Creeper then proceeds to abduct Darry but loses grip of Alanis, who escapes with Jack Taggart Sr. and Lena  to the road and running up the highway. Jack Sr. and the girls are picked up by none other than Jezelle Gay Hartman who had finally come to work up the courage to help Trish Jenner in saving her son from the Creeper.
She hightails away with Alanis , Jack Sr. and Lena as Darry is brought back to the Cathedral, where he is killed and Trish' prophetic dream is met. However upon the consumption of Darry's eyes and as they become apart of him he is poisoned by Izak who had spiked Darry and the Razdul perishes.
The film ends on Alanis after had delivering a report to local police accompanied by Jezelle, Jack and Lena. Alanis and Lena picked up by their parents and taken home. Jack Sr. discusses with Jezelle the possibilty of another Razdul awakening, with Jezelle saying she is unsure but that they should be prepared.
One year later, Alanis begins to change into the next Razdul for Izak and goes to visit Jezelle at her winnebago.
Cast
Gina Phillips as Trish Jenner
Ray Wise Jack Taggart Sr.
Terrence Howard as Ranger Wallace Shawn
Busy Phillips as Rita Lynch
Chris Colfer as Darry Jenner
Taissa Farmiga as Alanis Jayson
Leven Rambin as Kaysie Michaels
Ben Barnes as Ross Armstrong
Kylie Bunbury as Lena Roswell
Will Poulter as Johnny Bellan
Eve Harlow as Marilyn Vinson
Luke Edwards as Jack Taggart Jr.
Bill Cobbs as Russell Shawn
Khamani Griffin as Louis Shawn
Jonathen Breck as The Creeper/ Razdul The Devourer
Patricia Belcher as Jezelle Gay Hartman/ The Seer
Carlson Young as Judy
Josh Blaylock as Corbin
Matthew Underwood as Duncan
Marc John Jefferies as Ivan
Lorraine Nicholson as Elizabeth
Dennis Haskins as Sheriff Poyter
William Russ as Officer Rychell
Joanna Gleason as Officer Jayson
Tommy Flanagan as Izak The Creator
Notes
The film despite being set 23 years after the previous instalment is set in 2013, though this is error is explained as a deliberate subside to the story.
Farmiga auditioned being a big horror fan and a particular fan of the previous two films, the producers and Salva had seen her previous acting in the American Horror Story Arcs Murder House and Coven and decided she would fit perfectly as Alanis Jayson, despite Farmiga originally auditioning for the part of Kaysie Michaels.
The character of Rita Lynch was created with actress Phillips in mind for the part, Salva being a fan of her role from the hit Apatow show Freaks & Geeks and her stint as Audrey Liddell on Williamson's hit teenage series Dawson's Creek. Coincidentally Salva also was a huge fan of Williamson's 90's rejuvinating slasher flicks Scream and I Know What You Did Last Summer.
Allison Scagliotti, Christian Serratos, Kaya Scodelario, Sophie Lowe and Andrea Bowen auditioned for the part of Alanis Jayson.
Kaya Scodelario and Sophie Lowe were both after their auditions favoured down for the role of Alanis Jayson however scheduling conflicts with The Maze Runner forced Scodelario to pull out and Lowe due to shooting collisions with What Lola Wants in which she portrays the titular character.
Bowen's impressive audition for Alanis earned her the offer to portray a beginning victim of the Creeper's which she reluctantly turned down however whilst auditioning for the Final Girls the glowing recommendations of the producers and Salva cemented her in acquiring the role she auditioned for in that meta-slasher flick.
Lauren London, Olesya Rulin, AnnaSophia Robb, Britne Oldford and Meagan Tandy auditioned for the part of Lena Ross.
The character of Marilyn Vinson was created specifically for Eve Harlow, who was a big fan of the series. Eve Harlow was rewared with the character after impressing the creators with her audition for Alanis Jayson.
Madison Riley, Eiza González, Carly Chaikin, Emily Peachey, Alicia Banit and Candice Accola all auditioned for the part of Kaysie Michaels. Key choices came down to Riley, González and Accola before the part was given to actress Rambin. Riley's wholesome personality filled what they desired for the strong willed party girl Kaysie whilst González's sensuality approach added te right touch of sexual appeal which earned her attention, though in matters of fast pace and a strong will to survive Salva was ultimately unconvinced she could juggle all that and Accola's character of Caroline Forbes from the Vampire Diaries brought immediate attention to Salva though he saw too much sincerity in her approach which diminished the party girl side too soon, eliminating what he hoped to survey to the audience about the short lived chracter.
Rambin was reluctant about auditioning for the film, as she had not seen the previous instalments and had not appeared in a horror film before, with her career rising after the Hunger Games, Percy Jackson and Chasing Mavericks she wanted to make an early career, one and only horror appearence similar to the likes of Johnny Depp in a Nightmare On Elm Street in 1984 (his debut film) and Kevin Bacon in Friday the 13th (1980). Upon being informed by her agent she had acquired the role of Kaysie she was requested by Salva to watch the previous two instalments as well as recent films like Eli Roth's Hostel II (taking character notes on Bijou Phillips' character), Wes Craven's Scream (to take notes on Rose McGowan's character) and James Wong's Final Destination (to take notes on the briefly appearing character portrayed by Amanda Detmer).
Soundtrack
Jeepers Creepers- The Four Modernaires
Mama's Broken Heart- Miranda Lambert
Blister In The Sun- Violent Femmes (Road Trip/Title Credits Song)
Stolen Dance- Milky Chance
Don't Wait- Mapei
Go Away Gal- Lionel Belasco
Stay Awhile- Dusty Springfield
Devil Got My Woman- Skip James
Here Comes The Bogeyman- Henry Hall
Embraceable You- The Pied Pipers
The Teddy Bears Picnic- Henry Hall & His Orchestra
The Laughing Policeman- Charles Jolly
Run Rabbit Run- Flanagan & Allen
Linda- Buddy Clark featuring Ray Noble's Orchestra (End Credits Song)
Jubel- Klingande
Symphony No 40 Movement 1 Molto Allegro- Mozart (End Credits Song 3)
Community content is available under
CC-BY-SA
unless otherwise noted.