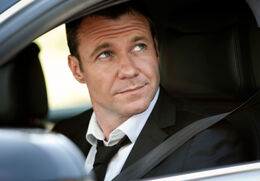 James Greico is a recurring character in the TV series, Hartman.
Biography & Personality
Born in Anaheim, California in April 1973.
Relationships
Frank Greico (father)
Emma Greico (mother, deceased)
Natalie Greico (ex-wife; Oliver and Gigi's mother)
Oliver Greico (son)
Georgia "Gigi" Greico (daughter)
Linda Young (girlfriend)
Unborn child (w/Linda, miscarried)
Abigail "Abby" Lambert (younger sister)
Declan Lambert (brother-in-law)
Amanda "Mandy" Lambert (niece; Abby's daughter)
Declan "D.J." Lambert, Jr. (nephew; Abby's son)
Liberty "Libby" Lambert (niece; Abby's daughter)
Beth Greico (youngest sister)
Mike Ramsay (brother in law)
Martin Greico (uncle)
Trivia
Service weapon: Beretta 92FS Inox 
Community content is available under
CC-BY-SA
unless otherwise noted.