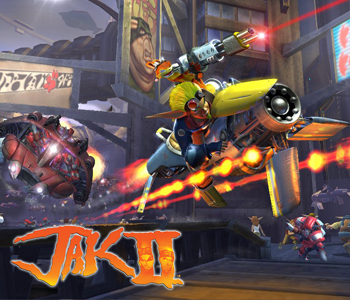 Jak 2 is a 2015 action adventure dark comedy sequel to Jak and Daxter based on a 2003 video game, starring
Summary
Plot
The film begins with Jak and Daxter, the protagonists, and Samos, their guardian, watching as Keira, Samos' daughter and Jak's romantic interest, study the Rift Rider and Precursor Ring that they found in the previous film. When activated, the Ring opens a portal that the four of them are flung through. They arrive in a dystopia known as Haven City, which is under the control of the ruthless Baron Praxis, locked in a war with a race of beasts called Metal Heads. Jak and Daxter are separated on arrival, and Jak is captured by Praxis' Krimzon Guard. While Jak is imprisoned, he is subjected to experiments with Dark Eco; when exposed to Dark Eco, he turns into a mindless beast.
Two years after his capture, Daxter breaks him out of prison, and together, they join an underground rebel movement that seeks to place the rightful ruler, a boy only referred to as the Kid, on the throne. While serving this Underground, Jak finds Keira and Samos, as well as a younger version of Samos. He also learns that Praxis has been working with the Metal Heads to maintain the throne. What surprises him the most is that Haven City is built on the ruins of his home, Sandover Village, 300 years in the future.
Partway through the film, Praxis obtains the Precursor Stone, an artifact of immense power. Praxis intends to crack open the stone while it is inside the Metal Head nest with the aim of dealing a crippling blow to the Metal Heads, not knowing that destroying the Precursor Stone will set off a chain reaction that will destroy the planet. The Baron leaves the destruction of the stone to Krew, the mob boss of Haven City. Jak finds Krew and destroys the device he is building to crack the stone; Krew is killed in the resulting explosion.
After Krew's death, Metal Heads invade the city. Jak finds Praxis on the outskirts of the city in the Construction Zone, confronting Kor, a member of the Underground who had been guarding the Kid. Kor is then revealed to be the leader of the Metal Heads. He mortally wounds Praxis and flies off. Before he dies, Praxis shows Jak another Precursor Stone bomb, this one containing the Precursor Stone. Daxter rummages through the bomb and deactivates it, and Jak takes the stone. As the Krimzon Guard and the Underground fight the Metal Heads in the city, Jak travels to the Metal Head nest to confront Kor. There, he finds that Kor has the Kid and a Precursor Ring like the one that brought Jak and his friends to Haven City. Kor informs Jak that the Kid is in actuality, a young Jak. Jak had been sent into the past to learn the skills necessary to defeat Kor. The young Jak, because he is innocent and untouched by Dark Eco, is able to release the Precursor entity trapped in the stone.
During the battle with Kor, Kor is decapitated by the Precursor Ring, which damages it. Before it breaks up, young Jak releases the Precursor entity, which enters the Ring. Samos and Keira arrive and send young Jak and young Samos back in time through the Ring, leaving Jak, Daxter, Samos and Keira to live out their lives in Haven City.
Cast
Jake T. Austin as Jak
Jerry Trainor as the voice of Daxter
Robert De Niro as Samos
Emma Stone as Keira
Michael Angarano as Torn
Jamie Foxx as Sig
Ewan McGregor as Krew
Emma Watson as Tess
Breckin Meyer as Vin
Ethan Hawke as Jinx
Matt Zemlin as Erol
Evan Rachel Wood as Ashelin
Joaquin Phoenix as Baron Praxis
Patrick Stewart as Kor
Joseph Gordon-Levitt as the younger version Samos
Jared Gilmore as The Kid/Young Jak
Vanessa Redgrave as Onin
Quotes
The Opening Scene
Samos (voice): For every age there is a time of trial.
Samos (voice): The rocks faced such a fire before they were the strength beneath our feet.
Samos (voice): The plants braved vast winds before their roots could give us life.
Samos (voice): As a sage of considerable years, I have known only one such great ordeal. Yet the hero it created was a champion of all time.
(As Samos is speaking the player sees a bird's eye-view of the village of Sandover and we pan over to Samos' hut where Jak, Daxter, Keira, and Samos are attempting to try to get a Rift Gate to work. Which is what they discovered at the silo in the last game. The camera moves to a close-up on Jak who was smiling because he's finally going to try to figure out how this thing works and what it can do. The camera pans out to show the Rift Rider with Keira working on it and Daxter napping in it. Samos approaches Jak and speaks to the mute hero.)
Samos: Today's the big day, Jak. I hope you are prepared... for whatever happens.
Keira: I think I figured out most of this machine. It interacts somehow with that large Precursor Ring. I just hope we didn't break anything moving it here to the lab.
(Jak sits by Keira looking like hes going to make a move when Daxter wakes up, gets in between them and shouts his usual complaints.)
Daxter: Easy for you to say! We did all the heavy lifting!
(Daxter gets close to the Time Map and attempts to touch it, but Samos notices and...)
Samos: Daxter! Don't touch anything! Though the Precursors vanished long ago, the artifacts they left behind can still do great harm.
(Jak and Daxter both roll their eyes at the sages' ranting about the Precursor artifacts when Keira voices her opinouns as the camera pans to her.)
Keira: Or great good! If you figure out how to use them.
(The camera pans out showing all four of them on the Rift Rider.)
Samos: I've had some experience with such things. I know you can make it work.
(Jak eyes the Heart of Mar curiously. With a hesitant hand, he pushes the button which activated the Time Map.)
Daxter: Looks like Jak's still got the mojo!
(Keira studies the coordinates the Time Map is reading out.)
Keira: Interesting... it appears to be reading out some preset coordinates.
(The Timp Map suddenly closes, there was a rumbling noise, the rotating rods on the back of the Rider shoots two sparks of Eco at the Gate, causing the rift to break free of the wooden launcher, float in the air, and release other floating pieces of the Rift Gate itself. Also, everything went as purple as Dark Eco. Daxter was apparently amazed by the sight while the others were cautious about all of this.)
Daxter: Wow, look at that!
(Jak's guard is let down momentarily in agreement to Daxter's words until...)
Unknown voice: Finally! The last Rift Gate has been opened!
(Suddenly a whole army of strange winged creatures flies out of the Rift Gate scaring everybody on the Rift Rider, esspecially Daxter who ducked down in shock and fright.)
Daxter: Aaaaargh! What are those things?!
Samos: So THIS is how it happened...
(Suddenly, a monstrous creature came roaring out of the Gate screaming at Jak in a horrid voice that everyone may hear in their dreams.)
Unknown monster: You cannot hide from me boy!
Keira: Do something, Jak!
(Daxter freaks out and starts randomly pressing every button he sees.)
Daxter: What's this do? Or that! How 'bout this one! Everybody, press all the buttons!
(Jak, also freaking out, pressed the Heart of Mar which catapulted them towards the strange monster. But, they miraciously dodged the creature. They were flying through what seems like a portal of sparking purple.)
Keira: What was that thing?!
Samos: Hang on everyone!
(After a few seconds into the intense ride, Daxter starts screaming loudly through the whole thing.)
Daxter: YYAAAAAAHHHHHH! I want off this thing!!!!!
(A bolt of Dark Eco strikes the Rift Rider, breaking it apart, separating the four, and sending them all flying in different directions through the tunnel.)
Keira: AAAAAHHHHH!!
Samos: Find yourself, Jak!
(Jak and Daxter got out of the tunnel, fell out of the sky, and landed on a metal platform hard. Jak looks around in surprise, taking in his new surroundings of what seems to be a huge metal city. Daxter looks at a bar he was holding in anger, which may've been what remained of the Rift Rider, and tossed it on the ground as hard as he could.)
Daxter: Okay, I swear that's the last time I ever, EVER, touch any stupid Precursor crap!
(Suddenly, a bunch of men in red armour approached the duo.)
Soldier: There he is. Move in.
Soldier: Step away from the animal!
Daxter: YYAAAAHHHH!!!!!
(Daxter runs in between Erol's legs, running on all fours as fast as he could to avert being possibly captured.)
Erol: Forget the rat. The Baron wants him! We've been waiting for you!
(The Guard hits Jak over his head with the butt of his gun which knocked the unfortunate hero out cold. Everything went completely black. But, the player still hears Daxter's echoing voice.)
Daxter: Don't worry Jak! I'll save you before you know it!
Escape from Fortress
(TWO YEARS LATER)
(The audience sees the Krimzon Guard Fortress panning up to Jak who looked a bit older with longer hair, a more muscular build, and a goatee. The poor eco user was getting his last 'treatment' of Dark Eco from the Dark Eco Injector because Jak was forced to endure this for two years in the Dark Warrior Program and lasted surprsingly long. Also, as far as we can tell, he apparently hasn't shown any sign of change. As the last bit of Dark Eco was painfully pumped into Jak via needles, a female computer voice was heard announcing to most players relief...)
Computer voice: Dark Eco injection cycle complete. Bio readings nominal and unchanged.
(The needles stop zapping Jak with the Dark Eco and he fell back on the table looking like he's about ready to pass out.)
Praxis: Hhhppp. Nothing! I was informed that this one might be different!
Erol: He is surprisingly resistant to your 'experiments' Baron Praxis. I fear the Dark Warrior program has failed.
(The Baron growls angrily and grabs a nearly unconscious Jak by the roots of his much sliker hair. He was screaming in his face which momentairly made Jak's face contort in anger before becoming exhausted and passing out nearly.)
Praxis: Aaaagh! You should at least be dead with all the Dark Eco I've pumped into you!
(The camera looks around from Jak's point of view as the two conversed.)
Erol: What now? Metal Head armies are pressing their attacks. Without a new weapon, my men cannot hold them off forever!
Praxis: I will not be remembered as the man who lost this city to those vile creatures! Move forward with the final plan! And finish off this... 'thing' tonight!
(The Baron walks away from Erol.)
Erol: As you wish. (leans towards Jak grabbing him by his collar) I'll be back later...
(Erol lets go of Jak and walks away with the Baron. Jak was on the verge of passing out and possibly dying. Suddenly, a thud is heard as fresh clothes are thrown near the weakened hero. Also, Daxter shows up in a floatation device that may be used for transporting maids to clean the floors.)
Daxter: Ding, ding... Third floor... Body chains, roach food, torture devices.
(Daxter jumps off the elevator and onto Jak's chest.)
Daxter: Hey buddy... you seen any heroes around here? (shocked by Jak's look) WHOA! What'd they do to you?! Jak, it's me... Daxter!
(Jak attempts to sit up to see who's talking to him when exhaustion overtook him and he fell back on the chair.)
Daxter: That's a fine hello! I've been crawling around in this place risking my tail, literally, to save you! I've been looking for you for two years! Say something! Just this once!!
(Jak finally wakes up and, with eyes filled with rage, speaks for the first time in the series.)
Jak: I'm gonna kill Praxis!
(Daxter covers Jak's mouth to keep him quiet which may've been a mistake.)
Daxter: Shhhhhh! Right now, we gotta get you outta here.
(Jak's breathing was strangely labored and he looked like he was in a lot of pain as Daxter continued speaking obivious to what's going on with Jak.)
Daxter: Just let me figure out how to open the security locks for your chair so I...
Jak: AAAAAGGHHH!
(Jak changes into Dark Jak, a crazed powerful creature, and breaks the secrity locks on his chair that held him down in the process. He looked at his clawed hands and eyed Daxter with malevolence. Daxter looked a bit frightened by Jak's new form. Daxter, apparently, has seen Jak do some weird things with Eco, but this might just take the cake for him.)
Daxter: Or aaah... you could do it.
(Jak jumps growling off the table, looks at Daxter with murder in his black eyes, and staggers toward Daxter probabily due to the fact of being on that table for hours on end.)
Daxter: Jak? Easy now. Easy buddy. It's, it's your old pal Daxter remember?
(Jak didn't seem to waver and prepares to tear the poor Ottsel limb from limb.)
Jak: AAAAGGHH!...
(But, he suddenly stopped with his claws just inches from Daxter's face. Jak had a hint of recoginition in his eyes.)
Jak: Daxter?
(He stumbles back and changes back to normal. Apparently getting a bit of a headache afterwards. Daxter quickly regains his old humor to shrug what just nearly happened off.)
Daxter: What the heck was that?! Sheesh, remind me not to piss you off! Come on tall, dark and gruesome. We're outta here!
(Daxter jumps onto Jak's shoulder just like old times as he was walking away from the scene.)
Daxter: I, uh, brought you some new threads. Put 'em on.
(Jak puts his new clothes on and the adventure begins.)
Jak and Daxter meets Kor and the Kid and protects them
(Jak and Daxter managed to escape from the fortress. The Duo wanders around the slums with Jak trying to take in the new scenry by walking in a circle as he was walking forward to take in all that's around him. An old man spots them and attempts to aid the two in some way.)
Kor: Hello strangers. My name is Kor. May I help...
(Jak, being much more angry and reckless obviously due to the Dark eco coursing through his veins, looks at the man with anger and decides to play 'bad cop' by yelling orders at him and grabbing the poor old man by his robes in the process.)
Jak: You look like a reasonably smart man. I want information! Where the hell am I?
(Daxter, alittle embarrassed and probabily shocked by Jak's new atittude, jumps to the Kid who looks no more than four and seems oddly familiar and explains himself, trying to cover Jak.)
Daxter: Aaah... sorry! He's new to the whole... conversation thing.
(Kor was brushing his robe to probabily sort out the wrinkles or brush off the dirt that were possibly on Jak's hands as he spoke.)
Kor: Well, my angry young friend. You are a 'guest' of his 'majesty' Baron Praxis, the ruler of 'glorious' Haven City.
(Jak, probabily sensing the sarcasm dripping all over Kor's words, growls back.)
Jak: I was just a 'guest' in the good Baron's prison.
Kor: Inside a cell or inside the city... walls surround us both. We are all his prisoners.
(Kor suddenly hears the sound of the guard's metal boots on the pavement coming their way.)
Kor: Talk about being in the wrong place at the wrong time. I-I'd move on if I were you.
(The three guards approach the foursome, warning the citizens.)
Guard: By order of his eminence, the Grand Protector of Haven City, Baron Praxis, everyone in this section is hereby under arrest for suspicion of harboring underground fugitives. Surrender and die!
(Daxter nervously approaches one of the guards with a fairly obvious question.)
Daxter: Aaah, excuse me sir, don't you mean surrender, OR DIE!?
(Kor backs up in fright as he answers Daxter's question.)
Kor: Not in this city! Protect us from these guards, and I'll introduce you to someone who could help you!
(Jak looks at the guards with rage and determination. Jak fights the Guards and a lot more showed up via air trains. In the middle of the fight he changes into Dark Jak again and made short work of the guards. After the Guards finally retreated, he changes back. But, not very smoothly at all due to lack of control.)
(Daxter was clearly impressed by what had occurred because he approached Jak asking him...)
Daxter: That was cool! Do it again!
(Jak was apparently struggling to keep the darkness in him back as he was struggling to voice his thoughts which made Daxter back up several feet in worry.)
Jak: Something's... happening to me... Something he did... I can't... control it.
(The camera moves to Kor who looked clearly impressed by Jak's fighting prowess.)
Kor: Very impressive.
(Jak was slowly calming down, but Daxter had to ask to make sure he's still mentally there)
Daxter: Ehh, you okay Jak?
(Jak finally composed himself as Kor spoke about the Kid)
Kor: What you just did was very brave. This child is important.
(Daxter walks toward the child with a look of disbelief. Even, as he points to him the kid covers his face.)
Daxter: This kid? He looks kinda... scruffy.
Guard: You are in a restricted zone. Move along.
(The guard flies away from the four.)
Kor: Thank you for your help, but I must get this boy to safety.
(The camera moves to Daxter who wanted their end of the bargain for their help to hold back the guards.)
Daxter: Hey! What about us?
(The camera focuses back on Kor and the Kid to which Kor gave the Trouble Twins their answers.)
Kor: There is an underground group waging war against Baron Praxis. Its leader, the Shadow, could use fighters like you! Go to the slums. Find a dead-end alley near the city wall. Ask for Torn. He can help you.
Jak and Daxter meets Torn and Retrieves Banner from Dead Town
(As the duo walks towards the Hideout they are blocked by a tough-looking woman glaring at the two.)
Jak: We're looking for a guy named Torn. Kor sent us... um...
(Torn approaches the two and looks over Jak and Daxter, not recognizing their faces.)
Jak: Are you... Torn?
(Daxter pokes his head out from behind Jak's shoulder.)
Daxter: Maybe this guy's a mute, like you used to be...
(Jak looked exasperated when Daxter stated that until Torn finally spoke.)
Torn: New faces make me nervous. Word is you're out to join the fight for the city. You know, picking the wrong side could be... unhealthy.
(Torn circled Jak as he spoke to him.)
Jak: We want to see the Shadow.
(Torn looked fairly amused when Jak stated his demand.)
Torn: Huh, huh, huh. Not likely. If you want to join something, why don't you and your pet go join the circus? Heh. Unless you got the fur for a really tough task?
(Just before Daxter could say anything about being called a pet, Torn unsheaths his dagger rubbing the blade with his fingers which made a slicing noise. This act of aggression frightens Daxter greatly.)
Torn: Steal the Baron's banner from the top of the Ruined Tower and bring it back to me. Then maybe we'll talk.
(Torn flipped the dagger into the air as he finished speaking and caught it easily.)
(The two got the Baron's banner easily enough. Jak pulled the Banner out with some difficulty. As the two performed their victory pose the ground underneath them buckles and they started plunging toward the muck.)
Daxter: WWWHHHAAAAAA!
(Jak, not fazed at all by the sudden fall, rebounds from a very old window shade. With Daxter following him clumsily.)
Daxter: WWHHOOAAA!
(Jak lands on and grinds a rope towards Torn to present the banner. Daxter, on the other hand, landed on the rope where the sun don't shine.)
Daxter: OOOOOAAAAA!
(When Jak finished grinding the rope, he leapt from the rope, and stuck the landing. Daxter landed flat on his face to the left of Jak. Torn watched as the Ruined Tower comes crumbling down looking even more ruined. Looking reluctant, but thoroughly impressed, he let's the two join.)
Torn: Yeah. I guess you guys are in.
Jak and Daxter go find the Pumping Station valve
(Daxter wipes his brow as he walked towards a drinking pipe.)
Daxter: Whew... being a big hero sure makes ya thirsty!
(Daxter pulls the level and what came out wasn't water at all. It was nothing more than muck.)
Daxter: Grrrrrhhhh...
(Daxter stopped drinking and, with some humor, was spitting out the mucky water in every way possible. He looked at Torn with anger.)
Torn: The Baron turned off all water to the slums. He's willing to sacrifice innocent lives just to destroy the underground. I shouldn't be surprised. I've seen his evil before, while serving in the Krimzon Guard. That's why I quit.
(Jak was surprised by the sudden news.)
Jak: You were a Krimzon Guard? Huh. Oh, that explains your... charming sense of humor.
(Jak's attempt at hiding his surprise didn't faze Torn a bit.)
Torn: My friend in the Guard tells me the valve to turn the water back on is located outside the city, at the Pumping Station.
(Another big surprise to Jak.)
Jak: Outside the city? What about the security walls?
(The camera focuses on a freaked out Daxter.)
Daxter: What about the Metal Heads?! It ain't no petting zoo out there... peeps be getting deep-sixed!
(For those who don't know, that basically means that if people look around outside the city will get mauled beyond recognition.)
Torn: Find the large drain pipe in the north wall. It'll take you outside the city to the Pumping Station. Get to the main valve and open it. If you survive, the slums will be indebted to you. If not, maybe we'll have a touching moment of silence in your honor.
(Daxter was obviously deeply offended because he threatened Torn with a fairly weak threat.)
Daxter: I'd like to give him a 'touching moment'.
(The two make it through the Pumping Station. Daxter spots the valve and takes charge.)
Daxter: Aaah, the valve. Allow me.
(Daxter tries several times to turn the valve, but it won't budge. Jak quickly grew impatient and gave the pipe a swift hammer. It turned the valve easily, but Daxter got sucked through a pipe and was in for a wild and humorous ride. He got stuck in a pipe right where they started. Daxter's voice could be heard faintly through the pipes.)
Daxter: Jak, help... Jak, help... Jak... please... help...
(Jak manages to get to Daxter and turns the valve with half effort. That, in turn, frees the unfortunate ottsel from his uncomfortable position. Jak looked as if he was about to say something.)
Daxter: Don't say it. (Jak looked like he was gonna laugh.) Don't even chuckle! Next time, YOU turn the valves.
(Daxter faints after ranting that.)
Jak and Daxter go blow up the ammo at the Fortress
(The duo returns with Torn looking clearly excited by the fact that the water is back on which may strike a nerve with the Baron. Or as he would put it...)
Torn: The slum's water is back on! I'd love to see the heads roll when the Baron finds out!
(Jak didn't seem to care about how mad the Baron may be about this.)
Jak: Yeah, I'm sure he's losing lots of sleep over this 'arm-pit' of the city. We've done what you've asked. Now, when do we see the Shadow?
(Torn loses his excited state, clearly offended by the disgruntled teen's demand, and glares at Jak over his shoulder.)
Torn: When I say so, IF I say so! But before I even think about it, I want you to take care of an ammo dump we've I.D'd in the Fortress. Lots of Krimzon Guards, constant patrols. We know it's vulnerable, and the Underground needs YOU to blow up all the ammo you find inside.
(He hits Daxter as he explains all of this.)
Torn: Get ALL of it, and we'll deal a body blow to the Baron.
(Daxter was clearly confused by the fact Torn said "we" when they're sending them in)
Daxter: You're sending US in, tough guy! So what's with this "we'll deal a body blow" stuff?
(The camera focuses back on Jak who clearly didn't care who's sending who.)
Jak: That's fine. I want the Baron to know that it's ME who's hurting him.
(Jak hammered the desk as he emphasised "me" leaving Torn smug and Daxter exasperated.)
(Jak picks up what looks like a communicator from one of the Eco barrels that may've been left behind by a careless Guard. Daxter, surprisingly enough, knew what it was.)
Daxter: Cool! That's a Security Pass. We need those to get through city check points!
(A sudden banging noise alerts Jak and he attempts to quiet his friend.)
Jak: Shhh.
(The two looked down an air grate and saw several Guards and, shockingly, several creatures called Metal Heads which are supposed to be the enemy!)
Guard: These barrels are the latest shipment of eco. The Baron says take them and get out!
(The creatures growl threatingly at the Guards which alerted them to arm their weapons. Jak was surprised by what he's seeing.)
Jak: Metal Heads in the city? Why are the guards giving them Eco?
(Suddenly, the whirring of a Security Tank activating alerts the two.)
(Time slows to a crawl as the two try to make it out before the missile, which they turned the Security Tank against, blows the Ammo Dump sky high. The two leapt as the missile exploded sending the two bouncing off a roof. Daxter fell down first and Jak landed on top of him! When Jak came to, in seconds, he felt something squirming underneath him which caused him to flinch. He realized it was Daxter because the poor Ottsel managed to get out from underneath him. He obviously wanted less excitement in their lives.)
Daxter: This place has too much excitement. We need to move back to the country!
(Country music plays to comically coin Daxter's statement.)
Jak and Daxter go make a delivery to Hip Hog Saloon
(Daxter was very confident when they managed to return unscathed and still breathing.)
Daxter: The 'demolition duo' has returned! One barbecued ammo dump served up hot!
(Torn shook his head in annoyance of the Ottsels' claim. Jak finally got a word in edgewise and relayed important news to Torn.)
Jak: We saw something odd while torching that ammo. The Baron's guards were giving barrels filled with eco to a group of Metal Heads!
(Torn was surprised by the fact that the Baron was aiding the enemy like this.)
Torn: Really! The Shadow will be interested to hear that.
(Daxter was feeling a bit underchallenged. Or as he stated:)
Daxter: You know, so far your gigs have been easier than stealin' grass from a sleeping yakow.
(Torn was amused by the fact that the two crave for something more challenging.)
Torn: Hee hee hee... You and the rodent want to start proving yourselves? One of our 'suppliers' needs his payment delivered - a bag of Eco ore. Take the zoomer parked out back and drive it to the Hip Hog Heaven saloon in South Town. Ask for Krew - he'll be there. And don't let the Baron's patrols stop you. By the way, when you get there, pump Krew for information. He's wired into the city and may know what the Baron is up to.
(The camera moves to Daxter's face as he was looking left and right to make sure there are no eavesdroppers. When Torn finished, Daxter was confident that they can do this.)
Daxter: You can count on us!
(The camera moves back to Torn who had his back turned and his arms crossed.)
Torn: Are you still here?
Jak beats Scatter Gun Corse
(The twosome were walking into the Hip Hog Heaven Saloon after a rough ride across the city to find a guy named Krew. Daxter was confident that he can pull the ol' Quid Pro Quo off.)
Daxter: Let me handle this, Jak. Watch my finesse and style!
(Daxter jumps off of Jak's shoulder to intervene. Since, Daxter is known for forgetting certain things, Jak had to remind him.)
Jak: Don't forget to ask about...
(Right before Jak could finish, Daxter starts talking thinking everyone is scared.)
Daxter: Everything's cool. Nobody panic.
(Daxter eyes an imposing warrior who is clad in metal head trophies and armed with a rifle.)
Daxter: Hey, big guy!
(Daxter walks underneath the warrior and runs into a man so impossibly large that he needs a floatation device to get around. Jak and Daxter both stare at the rotond man in shock and disgust.)
Daxter: You Krew? Well we shook the heat, and your shipment's in primo condition.
(The camera rounds back to the slob of a man who is apparently Krew.)
Krew: That's good 'ey, because a cargo of rare eco ore is worth more than ten of your lives!
(Krew closes in on Jak and Daxter to get a good look at him. Probabily thinking Jak might not last in the city.)
Krew: mmmm and of course, I'd be forced to collect... ah slowly. Heh heh. The Underground will take anyone with a pulse these days.
(Daxter jumps on Jak's shoulder and Krew got an eyefull of him too.)
Krew: And what do we have here? The Shadow's mascot of the month?
(Daxter was insulted by that remark. Before he could say anything, Krew strokes Daxter roughly, making the poor ex-human gasp.)
Krew: Oooh, soft... Sig, this fur would go well with my silk suits, ey?
(Daxter intervenes and stumbles around to strike a deal with the big guy.)
Daxter: Listen, ah, tons of fun, anyone can see that you, uh, and I have the real juice in this burg. We're both players, right? We're both looking for a piece of the action, right? I think we can do business, right?
(Jak was annoyed by this and facepalms himself momentarily while Daxter stumbles. Finally, Jak intervenes with his own Quid Pro Quo.)
Jak: We did you a favor, now it's your turn. Why is the Baron giving Eco to Metal Heads?
(Jak obviously made Krew fairly angry about that question.)
Krew: Questions like that could get a person killed 'ey! Sig, pay 'el Capitan' here and his friends a bonus.
(The warrior, Sig, approaches Jak. It looks like a bloody battle is going to ensue. Most players may know who may come out on top with his certain abilities. But, they didn't fight at all. As Jak put his fists up, Sig gave Jak a gun: the Scatter Gun! He looks it over, nods slowly, and smiles evilly. Probabily thinking about what he can do to the Metal Heads, the Guards, and more with the new weapon.)
Krew: If you want to see what that baby can do, try the Gun Course outside. Show me some skill with that hardware, and I'll hire you for a job or two 'ey.
Jak and Daxter protect Sig at the Pumping Station
(The two walks back into the saloon after they passed the Gun Course. Krew floated down to Jak looking very impressed by Jak's sharp-shooting skill.)
Krew: Excellent shooting, Jak! Ever thought about being a wastelander, mmmmm?
(Jak crossed his arms and shook his head like he was saying, "no." Also, Sig walks next to the two.)
Jak: Can't say that I have.
(The camera pans to Krew face as he explains this.)
Krew: Wastelanders find items outside the city walls, 'ey. Any artifact or weapon worth having comes through MY hands. Work for me and I'll throw you some of the sweeter items your way, hmmm.
(The camera moves back towards Jak who is thinking about the deal.)
Jak: Kill Metal Heads. Get toys? Sounds good to me.
(Daxter jumps onto Jak's shoulder to try to get a say in this and quote a fairly old show.)
Daxter: Slow down, Jak and the fat man; you two had better run that by me again, 'cause there's NO WAY I'm going outside the city to face more Metal Heads!
Krew: Sig will show you the ropes.
(Krew floats away. Leaving Sig to tell them about a fairly dangerous mission.)
Sig: So YOU wanna be wastelanders, huh doughboys? Well we'll see what you're made of when we get out in the thick. Krew wants some new trophies to put butts in chairs at the Hip Hog. So I'm gonna bag him five nasty Metal Heads at the Pumping Station.
(Jak smiles about this, but Daxter gulped at the thought of going after more Metal Heads.)
Sig: Don't wet your fur, chili pepper, cause we're rollin' with the Peace Maker!
(Sig shows off this impressive-looking peace maker which is a rifle crossed with the 'business end' of a Peace Maker.)
Daxter: Woooooh, I need one of those! Where'd you get it?
(Krew floats back down to intervene Daxter's question.)
Krew: Don't ask. Sig needs someone to watch his back while he tracks the Metal Heads, 'ey?
Sig: We'll meet at the Pumping Station. Listen Cherries, don't you leave me dangling in the wind out there!
(The camera moves into Jak and Daxter's faces which both looked really determined.)
Jak: Let's do it.
(When the two approach Sig in the Pumping Station he looked very excited and confident about this.)
Sig: Hello Cherries. Ready to hunt a few Metal Heads? Follow me, stick close and watch my six. It's gonna be fun!
Sig: BOOM! Home Team: 5, Metal Heads: Nothin'. That was the last one. Tell Krew we got 'em all cooked and caned. I'm gonna clean Peace Maker and pick up the trophies. Ya did good, rookie.
Jak and Daxter go destroy turrets in sewer
(The two walked back into the bar feeling pretty good about this. Krew floated down to have a 'chat' with them.)
Krew: You boys are turning out to be quite useful, ey? Mmm, I have another task for you. The Sewers used to be a fabulous smuggling route for me before the Baron installed security devices.
Daxter: And before those late night snack runs kept you from fitting out the front door.
Jak: I bet you've hatched another 'brilliant' plan in that hungry little brain of yours. So... who or what do we have to shake down, knock out, or blow up?
(Krew licked his hand as Jak offhandily insulted him.)
Krew: Well, I need someone to go down and shoot every Sentry Gun in the Sewers, and I'll give you a sweet weapon upgrade if you succeed.
Daxter: Let me guess... Dank, murky water?
(Krew nods at Daxter.)
Daxter: Reeks worse than your breath at an oyster fest?
(Krew looked fairly annoyed by that remark.)
Daxter: Fuller o' Metal Heads than your plate at a one pass buffet?
(Krew looked even more exasperated by that crude insult.)
Daxter: And of course, weapons more lethal than your 'ever so tighty whiteys' on a hot summer day?
(Daxter shakes Krew's front as he yelled 'ever so tighty whiteys' and Krew tries to make him get off.)
Daxter: Look, donut hole, why don't WE float around here looking hot and heavy, and YOU go roto-root the pipes?
(The camera pans back showing all three and Jak pointing at Krew and crossing his arms afterwards as he shouts this, attempting to pump Krew for information.)
Jak: We're not doing anything until you tell us why Metal Heads are trading with the Baron's forces!
(The camera pans to both Jak's slightly frightened expression and Krew's angered face as he threatens the two.)
Krew: I should have had you both knee-capped, ey? All I know is that the Baron cut a desperate deal with the Metal Head leader.
(The camera pans back to show all three and Krew turning his back as he gives Jak what he wants.)
Krew: Mmmmm, Metal Heads need Eco, so the Baron supplies them with regular shipments.
(The camera pans to Krew as he turns around to explain what he knows.)
Krew: In return, the Metal Heads agreed to attack the city just enough to satisfy the Baron's continued rule.
(The camera moves to Jak's slightly amused, yet confused face.)
Jak: Yeah, but how long can that deal last?
(The camera slowly pans to Krew as he answers Jak's question.)
Krew: Well, the Baron is running short on eco, 'ey? And the Metal Heads are short on patience. Baron Praxis NEEDS this war to keep in power. Otherwise, the city would put the true ruler on the throne, wherever that little brat is.
(The camera pans back to show all three of them as Jak reluctantly accepts the mission.)
Jak: Daxter and I will clear your sewers. And, we haven't forgotten about that weapons upgrade you promised in return.
(The camera moves to Krew who looked royally ticked off.)
Krew: Bloodsuckers!
Jak Beats Blaster Gun Course
Krew: What IS that horrible smell?
(He sniffs the air to find the source and Daxter, ticked off, jumps off Jak's shoulder onto a pole as he rants at Krew.)
Daxter: Oohh, great! We do YOUR dirty work in the sewers, and come back smelling worse than a wet hip hog in a warm barn!
(He sniffs his arms and moves close to Jak to whisper to him.)
Daxter: This could have a serious impact on the lady factor.
(Jak rolled his eyes in annoyance and looked exasperated of that remark.)
Krew: No, uh, I think it was my lunch, actually.
(The two looked disgusted when Krew stated that.)
Krew: Nice work in the sewers, 'ey, I guess you're looking for that weapon upgrade, mmm? Well, there's a Blaster mod stashed in some crates at the Port. Find it, and it's yours... hehhehhahahaha.
Jak and Daxter go rescue Vin at the Stripe Mine
(The scene begins with Torn explaining a surprise mission which checking his desk for dust.)
Torn: One of the Baron's mining operations is under attack by the Metal Heads.
(Jak was surprised and outraged because they're supposed to be fighting the Baron.)
Jak: That's not OUR problem.
(Torn moves to Jak and points at him as he gets more specific.)
Torn: It IS our problem when the foreman's one of the Underground's best informants! His name is Vin, and he's just valuable enough to save. Find the warp gate at the Power Station and use it to travel to the Strip Mine so you can rescue Vin's pathetic hide.
(Daxter was outraged by how crappy this mission is. He jumps on the table as he yells at him.)
Daxter: Hey, Tattooed Wonder, how come we get all the crappy missions?!
(Torn was mad at Dax for yelling at him and Torn gets into his face as he rebutts Daxter.)
Torn: Because I... DON'T... LIKE... YOU!
(He pokes at a frightened Daxter harder and harder with each word and eventually knocked him off the table.)
Daxter: Fair enough...
(He gives Torn the 'thumbs up' to save his own skin. Jak looks down at Daxter to make sure he's alright.)
Torn: Whatever deal the Baron made with the Metal Heads, the city's Eco is almost gone, and his time is running out. If we don't get the kid back on the throne soon, there may not be a city left to defend!
(The duo approaches a door Vin may be holed in. Jak sees a large red button that may open the door. Putting two and two together, Jak pushes the button which opened the door in a sliding motion. Just as Jak was about to walk in to search for the foreman, a panicked-looking guy jumps out with a pistol and proceeds to shoot at them, thinking that they are metal heads! Jak and Daxter jumps back at each side of the door to avoid being shot.)
Vin: Aaagghh! Stay back!
(Daxter was so panicked by this sudden gun-fire that his tail was twitching.)
Daxter: Do something, Jak! This guy's crazy!
(Jak cautiously pokes his head into the room to attempt to calm the man who might be the guy that they are trying to rescue.)
Jak: Hey, are you Vin? We're here to help. Torn sent us.
(Vin still kept shooting at them in his panicked state)
Vin: Stay back!
(Jak gets really annoyed at this never ending shooting and yells at Vin to knock some reason into the man.)
Jak: Look, if we were here to kill you, you wouldn't be talking right now!
(As Vin calms down Jak looked at his hand to check for claws because he got pretty mad and he doesn't exactly want to scare Vin any more than he already is.)
Vin: Oh, friendlies? Oh thank goodness! Wh... so... whe... where's the army?
(The camera moves back on Dax who has his fingers on his chin as if thinking.)
Daxter: Ah... we're it.
(Vin was shocked by the news and the fact that two people fought a whole army of metal heads.)
Vin: What? Just you two?!
(Vin taps his head rapidly with his Pistol as if thinking about why Torn sent only two guys to find him and apparently came to a conclusion that they don't think Vin is worth much.)
Vin: What do they think I'm worth?!
(Jak was still trying to calm himself after the wasteful shooting from this jumpy guy.)
Jak: I'm beginning to wonder that myself! If you want, you can stay here and be Metal meat, but Daxter and I are leaving before those monsters get back.
(The three sneak into a Warp Gate, while Vin, cautiously looking for the monsters tripped into it.)
Jak goes beat the time score at the Race Garage
Krew: I have a proposition for you, Jak. Racing is the biggest sport in the city! Erol is the undisputed grand champion. He's crazy and dangerous on the track. Haha. My kind of guy. Only a fool would dare race against him, 'ey!
(Jak makes a disgusted face when Krew yelled that in his face. Jak waved his hand to fan out the fat man's revolting breath.)
Krew: And that's where you two come in. A client of mine is looking for a fast driver for her racing team. Here's a security pass to get you into the stadium section.
(Krew throws Jak the Green Security Pass.)
Krew: Uh, and your contract with just a few trifles for me.
(Jak tries to take the contract, but Krew flicked it out of his reach.)
Krew: I've ah, already signed your name to save time, mmmmmnn.
(Krew weakly frisbee-tosses the contract and Daxter catches it to read the document at a really fast pace.)
Daxter: We the racers hereby agree to give Krew all proceeds from race earnings, endorsement fees, broadcast royalties, syndications residuals, vehicle sponsorships, mall appearance fees, collectible card assets, fast-food tie-ins, use of likeness rights, talk show deals, clothing lines, all print rights including book, novella, comic, pamphlet, ticker tape, neon sign and bathroom graffiti designs...
(Jak nearly fell asleep in the middle of Daxter's reading of the contract. Also, Daxter stops to take a deep breath and continues.)
Daxter: Toy rights, shoe lines, mood rings, game rights.
(He looked at the camera shocked.)
Daxter: GAME RIGHTS?!?!?!?!?!?!?!?!
(He looks back at the document to continue reading it at an incredible rate.)
Daxter: Vitamin endorsements, city kickbacks, movie deals, and of course, all death and dismemberment accident insurance claims.
(Daxter finished and looked at Krew suspiciously.)
Krew: Heh heh heh... we can work out the tiny details later. If you can get from here to the Race Garage near the stadium in less than 3 minutes, my client said that she would consider letting you drive for her team. Make me proud, mmmm!
Jak wins a JET-board at the Stadium Challenge
(After a crazy race down half of Haven City's sights, Jak managed to get to the Race Garage near the Stadium in less than three minutes which is a feat nothing short of a miracle because of all the Guards, Zoomers, and other annoying obstacles. No one seemed to be in the Garage though, but Jak decided to call out for whoever may be there.)
Jak: Ah... hello? Krew said someone was looking for a race driver?
(The female voice they heard put them on alert as they looked for the source of the voice. They discovered that the voice's owner is hidden behind a curtain working on something that is rather large for a Zoomer.)
Mechanic: I'm busy right now. You must be Krew's new errand boys. Look, I don't mean to be rude, you did get here fast, but I'm not interested in any new drivers right now, and I've got work to do.
(Jak was obviously falling for her pretty hard and Daxter looked a bit annoyed by the way his friend is acting towards Krew's cilent.)
Jak: Is there anything we can do?
(The mechanic appears to be trying to conceal something that is entirely too big to be a Zoomer.)
Mechanic: No! I'm... ah... working on a secret, ah... ah... 'vehicle project'.
(Jak looked annoyed at his failed attempt to flirt with her which most can't blame him for.)
Jak: Okay, sorry...
(The Mechanic decided to give Jak a challenge that he can't refuse.)
Mechanic: Listen, if you think you've got the guts to race in this town, try taking my prototype JET-board out on the Stadium Course. Beat the Stadium Challenge, and maybe I'll consider you for my team.
(Jak was just staring at her blankly. Daxter attempts to snap him out of it by waving his paw in front of his face, but failed. Daxter looked at him again and rolled his eyes at the sight of his friend.)
(Jak and Daxter looked fairly confident when they managed to beat the Stadium Challenge.)
Jak: We beat the Stadium Challenge.
(The Mechanic was still hidden behind the curtain. she was obviously not impressed and seemed to be drilling something into that vehicle.)
Mechanic: Great. People do get lucky. Listen, don't you have someone to collect money from, or beat up, or something?
(The camera moves back to a slightly irked Jak at this Mechanic being so difficult.)
Jak: You don't like us, do you?
(The camera focuses back on the mechanic girl who shares her hate about Krew with Jak.)
Mechanic: You work for that slime ball Krew. What's not to like?
(Jak eyed the Mechanic's numerous trophies that her team won.)
Jak: Looks like you've won a few races. Isn't it true the city champion gets to tour the palace?
(The camera moves back to a fairly suspicious mechanic.)
Mechanic: Yeah, why?
Jak: Could you get me into the palace?
Mechanic: A friendly visit, I gather.
(The camera focuses back on Jak's face and most can clearly see the insane amount of hate Jak has for Praxis as he answered sarcastically:)
Jak: Yeah. I'm a real fan of the Baron.
(The camera pans out to show both of them, but moves towards the mechanic as she explains what she knows about how to get Jak into the Palace.)
Mechanic: Okay. I'll help you out if you stop bothering me. I saw an old maintenance elevator at the base of one of the Palace support towers. That old lift might take you up to the palace, IF you can find a way to turn on the elevator's power.
Jak and Daxter meet Tess and go collect money for Krew
(The two walk into the Saloon and up to the bar. The was a familiar looking woman working there. Daxter jumps off of Jak's shoulder and onto the bar to greet her.)
Daxter: Hey sugarplum. You new here? Well, whatcha got that's, uh, hot and... Wait, I've seen you before. You're with the Underground.
(The girl looked horrified because Daxter may blow her cover and attempted to quiet him down.)
Girl: Shhh! I'm Tess. Torn sent me to spy on Krew. Play along, and I may be able to get my hands on a few of Krew's secrets.
(As Tess was explaining herself Daxter's eyes were looking at something other than her face.)
Daxter: Oooooh... I love 'undercover' work, baby! But ah, two can work better than one. Let me help you out.
(Daxter leaped behind the bar to do some undercover work. Tess was amused by Daxter's enthusiasm.)
Tess: Hee hee hee...
(Daxter was going through the bar's liquor, breaking a bunch of bottles in the process.)
Daxter: Wow! There sure are a lot of bottles back here.
(Daxter starts drinking from one of the bottles. The noise Daxter made Jak jump a bit, but he relaxed when he realized Daxter is just getting a bit tipsy)
Daxter: Whew! Ooh that's, ooh that, that goes down aah... Ooh boy, gee ya spose that's real gold floatin' in here? How 'bout this purple stuff? Glug, glug, glug... WHEW!
(Right before Daxter could investigate further, Krew hovers in to give Jak another job for him that may be important.)
Krew: Jak! I need you and the talking rat to go around and make a few 'collections' for me.
(Jak drew his attention to Daxter when he heard the Ottsel hiccup and come back out from the back of the bar. He was completely drunk, swaying, slurring his speech, and could barely stand upright.)
Daxter: Hey there, five chins... how's crimes?
(Jak covered his mouth to keep himself from busting out laughing because seeing Daxter this drunk was quite amusing to him. Krew, on the other hand, was wearing a look of confusion.)
Krew: What's his problem, 'ey?
(Daxter attempted to stand up and walk up to him, but ended up stumbling.)
Daxter: Nothin'... I'm just fine... mind your own business...
(Daxter hiccuped as he fell to the ground and started to drone his troubles.)
Daxter: I sometimes feel so very...
(Jak had an amused grin on his face for a few seconds until Krew got his attention.)
Krew: Listen, I have six 'clients' around town who are about to make money drops for me. I need you to collect each moneybag as fast as you can and 'take care' of any guards who get curious, mmmmn. Get to a moneybag too late and some townie might pick it up.
(Jak drew his attention back to his Ottsel of a friend when he sat upright and screamed...)
Daxter: ...DRRYY!... You know what's da trouble with you Krew? You got no vision... This place could be a real swingin' joint... Hop Heg Hiven with more dancin', more mac'n, more WOMEN! JAK KNOWS WHAT I'M TALKING ABOUT!!!...
(Krew finally gets a word in edgewise and attempted to get the seriousness of the job through to the renegade.)
Krew: Just collect all 14 moneybags before they disappear and bring them back here.
(Daxter was attempting to kiss Jak which earned a look of frustrasion on Jak's face. Daxter wailed "I love you, man!" just as Krew shouted at Jak...)
Krew: If you lose even one bag, then don't come back, 'ey!
(Jak and Daxter walked in with the bag of money and looked for Krew who came out of nowhere.)
Krew: Mmmm, quite the money collectors, 'ey? Here's a Gun Upgrade. Now get out! I need my beauty nap.
(Jak picks up the Gun Upgrade and inspects it as Daxter had to comeback on Krew, again.)
Daxter: Trust me brother. There aren't enough hours in the day.
(Krew looked enraged by Daxter's crude remark.)
Soundtrack
Song Video Gallery
Trivia