Brooke Davis
(Younger sister)
Main Article: Bracob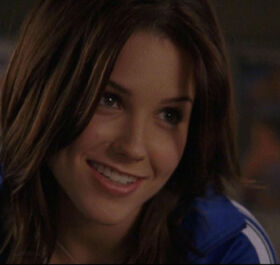 Jacob and Brooke were born three years apart making Jacob older then Brooke. After Brooke was born Jacob was only three years old but very excited to have a younger sister, because he could have someone to protect from getting her heart broken. Brooke really cares about her older brother and has a special bond with him that only Peyton understands. After Jacob had left for college Brooke felt alone without her big brother and begun to really miss him. Sometimes while on vacation from school Jacob would return home to visit his sister Brooke before he had to start up school again. Eventually after Jacob joined the NFL he was not drafted to the Carolina Panthers and instead went to play for the Baltimore Ravens and it devastated Brooke but she would reunite after Jacob retired from professional football. The siblings reunite in season one after Jacob's marriage with Chelsea failed due to her constant cheating and lying so Jacob returned to Tree Hill. Jacob would refer to Brooke as Brookie when they we were kids and still continued until adult years but Jacob often calls his sister Brooke too. When they they were kids Brooke introduced Jacob to her best friend Peyton Sawyer. Sometime later when Jacob returned to Tree Hill Brooke was in school so he decided to pay his kid sister and Peyton a visit but he stopped at the cafe that day and caught up with Lucas, Haley and Karen. Jacob mentions throughout the series that Brooke has always meant the world to him and would always put his feelings aside to spend time with his little sister. Despite Jacob being three years older then Brooke it did not stop him from playing games with her when they were kids and Brooke later introduced her big brother to her best friend Peyton Sawyer. After Brooke was born three years after him Jacob favored her a lot more then their parents. Brooke tried to convince her older brother to stay home in Tree Hill after graduating but failed after he left Tree Hill breaking Brooke's heart. Though when the siblings reunite in the pilot episode Brooke and Jacob spent most of the day catching up after Brooke finished up school for the day. 
Victoria Davis 
(Mother) 
Victoria favored her son over her own daughter when Jacob was a kid causing a rift between Jacob and her because Victoria refused to give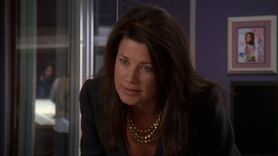 Brooke any attention. When Jacob was nine years old Victoria gave Jacob his first football which would explain how Jacob was obsessed with football all though years and promised himself he would play for his dream college football team the Ohio State Buckeyes and join the NFL as either a wide receiver or a quarterback. Before the birth of Brooke Jacob would play with his football with either Victoria or Ted and have fun and then it changed with the arrival of Brooke three years later where Jacob would give his kid sister love and attention unlike Victoria. After hearing of Jacob's meeting with Quinn Victoria refused to allow Jacob to start dating at a young age plus the fact Victoria believes Quinn is not the one for her son leading to a fight between the family members among other things. Jacob later quit speaking to Victoria after he graduated high school and moved away. 
Ted Davis
(Father)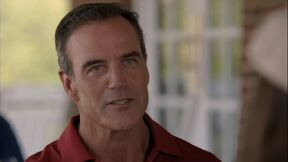 Jacob always got along with his father Ted and often watched some football games with his father so he can understand the rules of the sport a lot better. Ted later caught Jacob watching pro wrestling much to Ted's dismay but Jacob did not care as he liked what he liked even if his parents did not. Once Brooke was born Jacob and Ted lost their bond because Jacob now favored Brooke because he had a little sister to play with despite being three years older then her. 
Haley James Scott 
(Sister-in-law, best friend) 
Main article: Jaley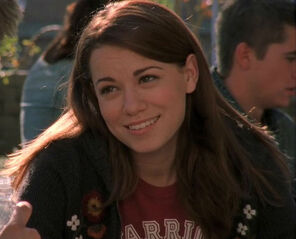 Haley is one of Jacob's best friends since childhood Jacob is about five years older then Haley. Jacob was very close to Haley when she a child helping babysit her when her parents were at work. It is unknown why Haley was attached to Jacob specifically but it's believed it was because he would hang out with her if she needed a friend to talk to besides Lucas. Jacob soon because one of Haley's co-workers after he landed a job at Karen's Cafe. After Jacob graduated high school and left Tree Hill to play college football for Ohio State Haley felt depressed and missed her best friend. Sometimes Jacob would come home for the holidays such as Christmas and Thanksgiving. During his time in the NFL Jacob sent a football he autographed to Haley as a gift and also wrote a note to her. Jacob would eventually divorce Chelsea after she constantly lied about cheating on him and retired from NFL to be home with Haley. In the pilot episode Jacob returns home to Tree Hill and reunites with Haley as well as Karen and Lucas. Many people think Jacob autographed a football for Haley was because he had feelings for her but it was later revealed it was just to let Haley know he was alright and that he deeply missed her. Soon after Jacob learned Haley had feelings for Nathan he encouraged her to tell Nathan how she felt about him otherwise Nathan would move on. When Haley was going through a hard time with Nathan because of her decision to leave on tour with Chris Keller Jacob was upset with Haley
Taylor James 
(Sister-in-law)
Taylor is Jacob's sister-in-law. It was extremely rare that they talk to each other. Jacob shows that despite how much of a pain Taylor is he still cared about her. Jacob would always stop by Taylor's house for a visit and would often play a game of football if Jacob was not busy flirting with Quinn. Years after Taylor left Tree Hill Jacob did not keep in contact with her and it strained their friendship. Following Jacob's first season with the Baltimore Ravens Jacob briefly reunited with Taylor when she attended his autograph singing where he apologized to her after losing contact with her. Soon after Jacob's retirement from the NFL Taylor paid a visit to Jacob after his wife had cheated on him and tried to help him cope with it. 
Quinn James
(Wife) 
Main Article: Quincob
Quinn is Jacob's wife and best friend. Jacob is two days younger then Quinn but it did not stop Jacob from falling in love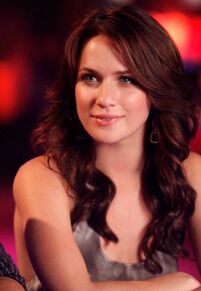 with Quinn and vice versa. Jacob would often visit Quinn at her house and play together outside or a the park. Quinn was deeply special to Jacob not only because of his feelings for her but also that she was extremely good to him when he needed her. During their elementary days Jacob would receive a kiss on his cheek from Quinn which in turn told him she was in love with him. In high school Quinn got her heartbroken when Jacob started dating her arch enemy Chelsea Michaels who ordered Quinn to stay away from Jacob and told her she was not invited to her wedding. Following high school Jacob and Quinn went their separate ways but remained in contact until Chelsea took Jacob's phone away from him and banned him from talking to Quinn. Quinn really hated Chelsea at the time of her and Jacob's marraige because she was treating her husband poorly and thought it was unfair of Chelsea. Soon after returing home Jacob tried to visit David and Quinn. Later on Jacob tries to fix things with Quinn after his divorce and the way he left things with her after high school. Quinn had eventually learned Jacob's biggest fear was losing her.
Community content is available under
CC-BY-SA
unless otherwise noted.