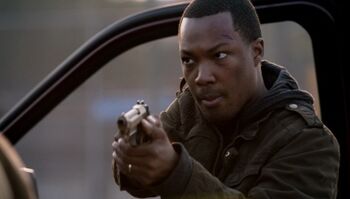 Jackson Holmes is a main character in the TV series, The Sullivans.
Biography
Born in Baltimore, Maryland in July 1996. Jackson is the second oldest of the four children of retired Army Colonel Frank Holmes and a former medical examiner, Laura Holmes. His older brother Terrell served in the Army, but was given an other-than-honorable discharge after two years following a conflict with a superior officer, and later became a legitimate arms dealer while also working as a CI for the Denver PD Vice Unit. His younger sister Jennifer is a Army CID Agent and his youngest brother Peter is a soldier, currently on tour in Iraq.
Jackson enlisted in the Army and was deployed twice, once to Afghanistan, one in Iraq. He became a Special Forces Army Ranger after completing training at Fort Benning in Georgia. After serving as an Ranger for three years and making the rank of Corporal, he was honorably discharged. He then joined Denver Police Department and met ICU nurse Kim Quincy. Jackson passed the detective exam and joined the Family Justice Unit in 2026. He and Kim married after dating two years and are currently expected their first child.
The Sullivans
Season 1
Jackson becomes a father for the first time early in the season when his pregnant wife Kim goes into labor, while she and her friend are stuck in a light rail train. With the help from his colleague and partner Andrea Donnell, Jackson goes to the train station, where transit authority are eventually able to get her out of the train and to the hospital where she gives birth to their son. They named their son, Franklin James - short for Franklin.
Season 2
Jackson plays a major part in a joint sex trafficking case with the FJU and Vice Unit. Later, he deals his own family issues when his brothers Terrell and Peter become victims of police brutality with Terrell's sons and their sister Jennifer's daughter being witnesses. The incident and investigation almost damages Jackson's partnership with Andrea after it was revealed that the police officers were under her brother Michael Donnell's command until the FJU solve the case and the two families rebuild the trust between them.
Jackson and Andrea attempt to move on, but 2 months later, they face another bumpy ride when Mikey is arrested for murder following a night out with his colleagues. Jackson is the first people to believing Mikey is a killer after seeing all the initial evidence at the scene, but Mikey is ultimately cleared. Weeks later, Jackson grows suspicious about Andrea's behavior after overhearing her argument with Lieutenant Robert Evans. Later, Jackson confront Andrea in the squad's bunk room. She tells him that she has a relationship with Evans when she was 18, explaining the full details of the relationship. Jackson tries to comfort Andrea, but she tells him that the situation is more complicated.
Later, Jackson and Andrea comfort Hannah Wie after her sister Lisa died in childbirth after being brutally beaten by her estranged, abusive husband Jason. After Jason is arrested for murder, Jackson witnesses Andrea gets upset as Hannah blames herself for Lisa's death and describes how will Lisa's baby girl will never know her mother. Andrea tells Jackson that she will tell Drake and Katherine the truth. Jackson supports Andrea when she tells Drake and Katherine the full story about her relationship with Evans and having his daughter, Audrey. Then, Andrea finally reports Evans to Eugene Winder, along with Drake's daughter Mary's video of Evans and Andrea's argument showed by Drake and Jackson. When Audrey disappear, Andrea wants to find Audrey but Winder benching her due to her personal involvement in the situation. However, Jackson wants to get Andrea involved. They sets out to tracks down Audrey along with their brothers; Mikey and Terrell and Mario Nazario who joins in the search for Audrey.
During the search for Audrey, Jackson apologised to Mikey for not believing that he was innocent, reveals what happened to Terrell and Peter as the main reason. Mikey happily appects Jackson's apologise and then, Jackson gets a call from Drake who reveals the location where Audrey and Evans are. The FJU arrive at the location where they gets involved in the shooting with the Secret Service agents. Following a tense showdown, Evans, the agents and other men are arrested by the FJU. Days after, Jackson volunteers to help out with Drake and Katherine over the investigation. When Dr. Fleiss discover something unusual on Andrea's medical records and tells the three that Evans might have done more than just abuse her. Jackson arrived at the safe house to questions Andrea about her medical records. Then, Jackson calls Drake to inform him that Andrea just confessed something important.
When Drake and Katherine arrive to the safe house, Andrea tells them that that Evans raped her on the night she fought back against him. After the assault, she knocked him out in anger and left him for good. Andrea admits that she didn't go to the hospital because she was worried about her family finding out, but she was a lot of pain. A month later, Andrea went to the hospital for check up, only to discover that she was pregnant and believes it might have been the result of the rape. She admits she is embarrassed to tell Audrey the truth about how she was conceived. After Andrea's confession, Jackson admits to Drake that he is worried that Evans tries to manipulate his way out and escape justice back but Drake tells Jackson that he will make sure Evans pay for his actions so nothing bad will happen to Andrea and Audrey.
Personality
A former Special Forces Army Ranger from a military family, Holmes appreciates the privilege to serve, and hates those who try to pose as military veterans and steal valor. He is known to be blunt and straightforward while working on cases.
Relationship
Trivia
Service weapon: SIG Sauer P-220
An episode of The Sullivans season 2 mentions his birthdate as July 15, 1996.
Community content is available under
CC-BY-SA
unless otherwise noted.