In Umbra (Latin: Through Shadow) is Australian doom metal band Winter's Soil's tenth studio album, released on August 13th 2009. It follows 2008's Into The Inferno. Lead singer Kaleb Jovanovich this or Las Canciones De Dolor is his favourite Satanika album.
Track listing
"In Umbra" - 5:55
"For I Have Risen" - 6:43
"Nonaginta Novem Dies, Centum Nox Noctis" - 7:58
"Twilight Hours" - 8:40
"Justicia Pro Totus" - 10:02
"Her Touch" - 9:41
"Ageless Ruin" - 10:45
"Sammath Naur" - 14:00
"To The Gods of Disorder I Surrender" - 11:15
Personnel
Kaleb Jovanovich - vocals, lyrics
Nick Hale - lead guitar
Benjamin Jacobson - bass
Aaron Starkley - rhythm guitar
Hamish Glencroy - drums
Lisa Evans - violin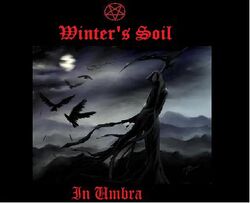 Community content is available under
CC-BY-SA
unless otherwise noted.