This is a colaboration of characters that appear in an ultimate crossover of the century. Artwork by Moize Opel a.k.a. Gourmandhast on Deviantart.
Characters
Goku
Gotenks
Gohan
Superman
Vegeta
The Flash
Spider-Man
Batman
Wonder Woman
Ryu
Ken
Akuma
Guile
Hulk
Ghost Rider
Cable
Iron Man
Captain America
Master Chief
Arbiter
Wolverine
Cyclops
Rouge
Gambit
Link
Siengfred
Taki
Mitsruigi
Mai Shiranu
Genjuro
Haohmaru
Soki
Thing
Invisible Woman
Human Torch
Mr. Fantastic
Auron
Kim Kapwan
Terry Bogard
Ryo Sakazaki
Kyo Kusanagi
Sora
Riku
Sol Badguy
Ky Kiske
Mewtwo
Mega Man
Spawn
TMNT
Cloud
Silver Surfer
Green Lantern
Ryu Hayabusa
King Lionides
Optimus Prime
White Wing Zero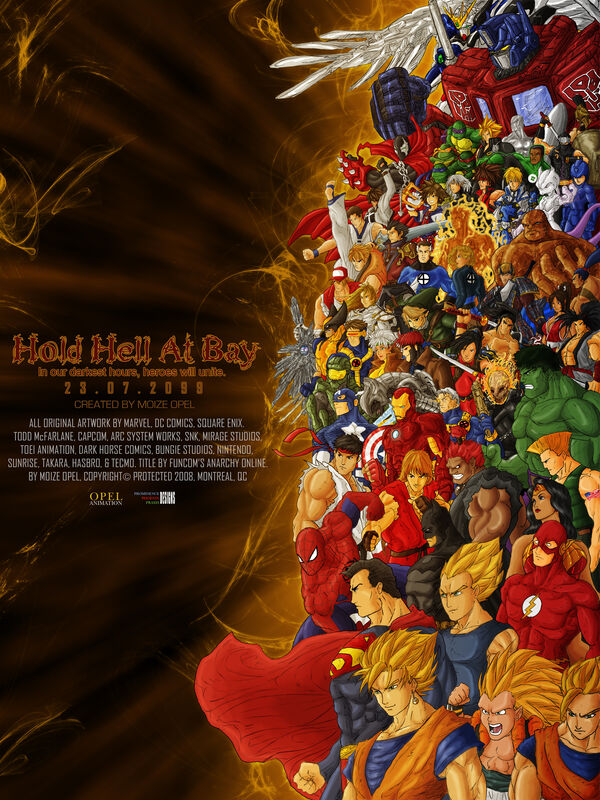 Community content is available under
CC-BY-SA
unless otherwise noted.