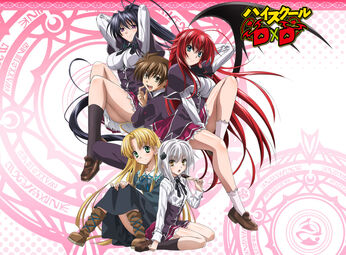 High School DxD is a 2016 upcoming comedy fantasy film based on the anime.
Plot
Kuoh Academy (駒王学園 Kuō Gakuen) is a former all-girls school that has recently turned co-ed, but it has a secret. Unknown to normal humans, angels, fallen angels and devils comprise part of the student population. One of these students, Issei Hyodo, is a lecherous second-year human student who lives a peaceful life. After an ordinary school day, Issei is suddenly asked out on a date by a girl named Yuma Amano. After their date, Yuma brings Issei to a local park and makes a startling request. She reveals herself as Raynare, a fallen angel, and she tries to kill him. Using her summoning card, Rias Gremory, a buxom third-year student at Kuoh Academy, revives him. Issei wakes up the next morning, thinking that the events that occurred were all just a dream. Immediately after being attacked by another fallen angel and waking up, he notices Rias naked in his room. Rias reveals to Issei her true identity as a devil and says that as a result of his death at the hands of Yuma, she has reincarnated him as a devil, becoming his new master in the process.
Cast
TBA as Issei Hyodo
TBA as Rias Gremory
TBA as Asia Argento
TBA as Akeno Himejima
TBA as Koneko Toujou
TBA as Yuto Kiba
TBA as Xenovia Quarta
TBA as Irina Shido
TBA as Gasper Bloody
TBA as Azazel
TBA as Rossweisse
TBA as Ravel Phoenix
TBA as Orphis
Community content is available under
CC-BY-SA
unless otherwise noted.