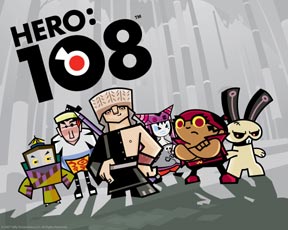 Hero 108 is a 2016 live action/CGP comedy film based on a TV series, starring Steve Carrell, Senchil Ramamurthy, George Lopez, Chris Hemsworth, Brian Drummond, Jena Malone, Drake Bell, Emma Stone, Tony Todd, Nicki Minaj,
Summary
Many years ago in the Hidden Kingdom, animals and humans lived in perfect harmony until an evil trickster named High Roller arrived and fooled the animals into thinking humans were their enemies. Chaos reigned in the Hidden Kingdom until Commander ApeTrully formed a task force called Big Green to reunite the animals and humans while fighting the forces of High Roller and the Zebra Brothers.
Plot
Cast
Steve Carrell as Commander Ape Trully
Senchil Ramamurthy as Woo the Wise
George Lopez as Mr. No Hands
Chris Hemsworth as Lin Chung
Brian Drummond as the voice of Jumpy Ghostface
Jena Malone as Mystique Sonia
Drake Bell as Mighty Ray
Nicki Minaj as Alpha Girl Latifah
Brian Drummond as the voice of Golden Eye Husky
Macauley Keeper as Kowloon
TBA as Hurricane Lee
TBA as Archer Lee
TBA as Master Chou
TBA as Rosefinch
TBA as Burly
TBA as Mano
TBA as Red-Face Kwan
TBA as Rattle Diva
Andrew Francis as the voice of Sammo the Whale
Ben Stiller as High Roller
Adrian Petriw as the voice of Sparky Black
Brian Drummond as the voice of Sparky White
Main Cast Gallery
Quotes
The Opening Scene
Trivia
Community content is available under
CC-BY-SA
unless otherwise noted.