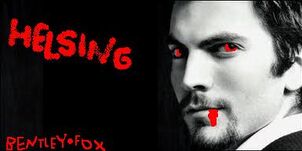 Helsing is a reboot to the Van Helsing movie. The main antagonists of the film are Count Dracula and The Invisible Man. The film features Matthew Fox as a younger Abraham Van Helsing. It had 3 sequels, Helsing II, Helsing: Resurrected, and Death of Helsing.
Cast
Matthew Fox - Abraham Van Helsing
Wes Bentley - Count Dracula, a.k.a "Vlad Rulacad"
Hugh Jackman - Lawrence Talbot/The Wolfman
Adrien Brody - Dr. Henry Jekyll
Tom Hardy - Mr. Edward Hyde (CGI)
Paul Bettany - Dr. Griffin/The Invisible Man
Doug Jones - The Gill-Man (CGI)
Steve Blum - The Gill-Man (Voice)
Anne Hathaway - Elizabeth
Asa Buterfield - 8-Year-Old Abraham Van Helsing (Flashback only)
Johnny Depp - Past Count Dracula, a.k.a "Vlad The Impaler"
Inspirations
The Wolfman (2010) - The style of the film, the Wolfman being in the film, a few scenes in the forest, and the last battle with Dracula is in a burning house just like the fight between the Wolfman and the other Werewolf.
Van Helsing (2004) - The reason I wanted to make a Helsing film, Helsing being a bit younger (because normally he's a 60 or 50 year old man).
League of Extraordinary Gentlemen - Jekyll's Hyde-form being a big muscular beast rather than a small green-skinned murderer.
The Strange Case of Dr. Jekyll & Mr. Hyde - Jekyll/Hyde being in the film, the setting of the film.
Dracula - Dracula being in the film, some scenes in the film are homages to scenes in this film.
The Invisible Man - The Invisible Man being in the film.
The Creature From The Black Lagoon - The Gill-Man being in the film.
Posters
Community content is available under
CC-BY-SA
unless otherwise noted.