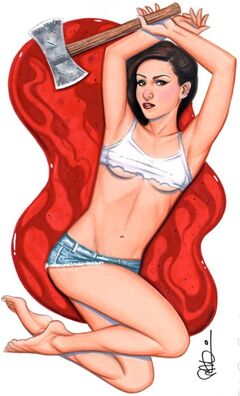 Hatchet 4
is an upcoming American horror movie which was said to be released in the year 2016. In this movie, actress
Danielle Harris
will once again play the protagonist Marybeth Dunston while Kathryn Fiore will play Shyann Crowley, who will be the main antagonist of the fourth film. More casts will be also playing as all the characters from the previous films, including Kane Hodder who will playing again as the deformed killer, Victor Crowley.
Synopsis
Hatchet 4 takes place after the events in the previous film. In the aftermath of the third film, Marybeth Dunston who was at the verge of dying after killing her enemy Victor Crowley, was unknowingly appeared into Hell. Now in a place of madness and insanity, Marybeth must embark on her journey to find her way out as well as meeting with familiar people around her and she must liberate her soul from eternal damnation.
Plot
Cast
Danielle Harris as Marybeth Dunston
Kane Hodder as Victor Crowley, Thomas Crowley
Joel Moore as Ben
Tom Holland as Uncle Bob
Kathryn Fiore as Shyann Crowley
R.A. Mihailoff as Trent Graves
Joleigh Fioreavanti as Jenna
Community content is available under
CC-BY-SA
unless otherwise noted.