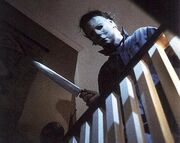 HALLOWEEN 5 is remake of halloween 5 1989 is a horror-slasher movie starning:Mackenzie Foy,Leighton Meester,Selena Gomez,ben kingsley,Chelam Simmons,Bobby Campo,Drske Bell,Cameron Boyce,Josh Peck,Justin Bertfield and Nikki Reed
Plot
Summary
It's one year later after the events of Halloween 4. Michael survives the shootings and on October 31st he returns with a vengeance. Lurking and stalking, Jamie, Rachel, and Rachel's friends, Michael forms a plan to lure Jamie out of the children's hospital where events lead up to the confrontation at the Myers house. Halloween 5 is a dark, thrill ride that will scare the heck out of you! 
Cast
Mackenzie Foy As Jamie Lloyd
Leighton Meester As Rachel Carruthers
Selena Gomez As Tina Williams
ben kingsley as Dr.Sam Loomis
Chelam Simmons As Samantha Thomas
Bobby Campo As Mikey
Drake Bell As Spitz
Cameron Boyce As Billy hills
Josh Peck as Deputy charlie
Justin Bertfield As Duputy Nick Ross
Nikki Reed As Nurse Patsey
Tyler Mane-Michael Myers
Death
Rachel Carrumers-stabbed in chest by michael
Mikey-stabbed in the head with a rake by michael
Spitz-stabbed in the back with a paring knife with a rake by michael
Samantha Thomass-a sickle throat cut by michael
Deputy Charlie-stabbed in head with a pitchfork By michael
Deputy Nick Ross-stabbed in head with a pitchfork By Michael
Tina Willliams-stabbed in the arm with a hunting knife but it is unknown if he dies By Michael
Michel myers-¿?¿?¿?¿?¿?
Alive
Jamie Lloyd,Billy Hills,Dr.Sam loomis
Community content is available under
CC-BY-SA
unless otherwise noted.