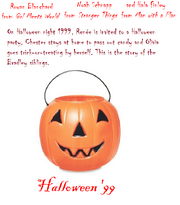 Halloween '99 is a comedy-drama coming-of-age Halloween film. It focuses on a young teenager is invited to a Halloween party while her younger brother passes out candy and her younger sister goes trick-or-treating by herself with her friends on Halloween night 1999. It is directed by Bo Burnham.
Summary
On Halloween night 1999, Renée is invited to a Halloween party, Chester stays at home to pass out candy and Cassidy and Olivia goes trick-or-treating by herself. This is the story of the Bradley siblings.
Cast
Soundtrack
"Dead Man's Party" by Oingo Boingo
"Somebody's Watching Me" by Rockwell
Easter eggs
In Renée's bedroom, we see a She's All That poster.
There are so many Halloween costumes worn by each character:

Renée - An angel
Chester - Peter Griffin from Family Guy
Cassidy - A witch

A Witch of the Webs from Rubies' can be shown.

Olivia - A princess
Patric - A devil
Rufus - Spongebob Squarepants
Madison - Vampire girl with a black wig with white streaks
Eliza - Britney Spears from the "...Baby One More Time" music video
Zachary - Ash Ketchum from Pokemon
Mandy - Buffy Summers from Buffy the Vampire Slayer
Marcia - A cheerleader
Andrew - Gangsta rapper
Trivia
This movie will be filmed in Vancouver, British Columbia, Canada.
Community content is available under
CC-BY-SA
unless otherwise noted.