Guardians Of The Galaxy is a reboot movie by user Our Green Tornado, in which everything is the same but Peter is Leyenar and Ronan is Aylene. This movie is about the friendly feud between Leyenar Quill and Aylene The Accuser.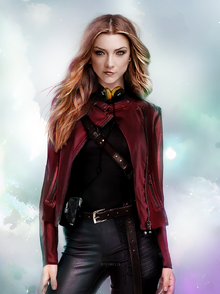 Plot
Leyenar Quill is the daughter/creation of the abstract entity Infinity(http://marvel.wikia.com/wiki/Infinity_(Earth-616) and the adoptive child of of Jason and Meredith Quill. One fateful day, when she was 8, she loses her "parents" and finds a mysterious sword left for her from her mother/creator.
9 Years Later
Actions speak louder than words...and the barrel of a gun speaks loudest of all! Star-Lord, a fearsome warrior who trusts only her instincts and her space guns, fights alone to maintain the balance in this spoiled city she lives in. On the way, she meets four friends and also the woman who will become her lifelong nemesis.
Starring
Leyenar Quill/Star-Lord, a composite character named after the director herself and the original Star-Lord. She has a Simon-based personality and Garo-based powers.
Aylene The Accuser, a composite character based on the original Ronan The Accuser. She is one of the two protagonists along with Star-Lord.
Gamora
Drax
Rocket Raccoon
Groot
Mantis
Nebula
Nova Prime/Irani Rael, the main antagonist
Soundtrack
Alive-Phil Lober(main theme)
Guardians Of The Galaxy Theme
Guardians Inferno-The Sneepers(end credit song)
Come And Get Your Love-Redbone
Escape-Rupert Holmes
Go All The Way-Raspberries
Moonage Daydream-David Bowie
Fight Song-Rachel Platten
Mr. Blue Sky-Electric Light Orchestra
Feel The Light-Jennifer Lopez
Angel With A Shotgun-The Cab
Bring Me Back To Life-Extreme Music
咲いて-Kamen Rider Girls
Ain't No Mountain High Enough-Diana Ross
Score
Overture
Training
Xandar
The Final Battle Begins
Quill's Big Retreat
To The Stars
Aylene's Theme
Everybody's An Idiot
What A Buncha A-Holes
Busted
New Whores
The Destroyer
The Kyln Escape
You Mess W/ My Walkman...
The Great Companion
The Road To Knowhere
Aylene's Arrival
The Big Chase
We All Got Dead People
The Ballad Of The Nova Corps
Groot Spores
Best Frienemies
Groot Cocoon
Black Tears
Soul Sisterz
Guardians Of The Friggin' Galaxy
Trivia
Jason Quill, Star-Lord's adoptive father, is based on J'son Of Spartax, Peter Quill's father in the original comics.
Unlike Peter Quill, Star-Lord is a little bit more serious and also bad-ass.
Unlike their original counterparts, the Nova Corps is based on the Nazis.
Community content is available under
CC-BY-SA
unless otherwise noted.