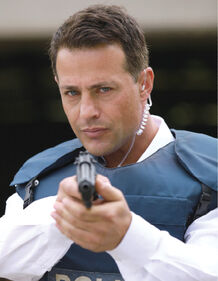 Gino Carcaterra is a main character in the American crime drama, Law & Order: New Orleans.
Biography & Personality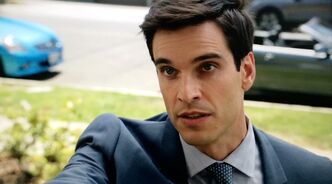 Born in Brooklyn, New York in October 1964 to a working class Italian-American family, Gino T. Carcaterra grew up with his older brother Louie and little sister Vicki, in a relatively poor neighborhood. In his teens, Gino and his brother got involved with a local crime boss and started running errands for him. Upon finding out, Gino's parents moved the family to New Orleans to keep them out of trouble. In his adult years, Gino joined the police academy right out of high school, after forgoing becoming a lawyer. He worked his way through the ranks over the years, eventually making Detective, and not long after, Sergeant.
He is married to a woman named Ursula, and has two teenage children with her, Jonah and Abigail.
Gino is a dedicated officer, and often displays his passion for the job by bringing his wife's badge-shaped and iced sugar cookies to the MCCIS. While he can appear sometimes to be a "loose cannon" type, he has been known to take extra precautions when interrogating suspects or executing warrants that sometimes annoy other detectives. Having read many books on law during his younger years, Gino tends to know more about the "fine print" of the law that could sink otherwise good-faith arrests.
In the fifth season, his wife Ursula is diagnosed with multiple sclerosis. Gino does the best he can for her, but as her condition gets worse, so do the burdens of his job and he begins to question his future as a cop as a result.
By the end of the sixth season, Ursula's MS has worsened considerably, to the point that she can hardly hold a pencil or a toothbrush on her own. Gino takes early retirement from the N.O.P.D. and takes a more flexible job at the D.A.'s office in order to care for her better.
In the premiere of the eleventh season, Ursula succumbs to her MS after a six-year battle, leaving Gino and their children devastated. Gino has a hard time dealing with the loss of his wife, briefly falling into drinking until Detective Okafor and D.A. Fowler reach out to help him.
Relationships
Trivia
Was intending to be a lawyer before becoming a police officer.
Has a like for Clint Eastwood movies, especially Dirty Harry films.
Service weapon: Beretta 92
Rankings/Jobs:

Sergeant (Season 1-6)
D.A. Investigator (Season 7-20)
Community content is available under
CC-BY-SA
unless otherwise noted.