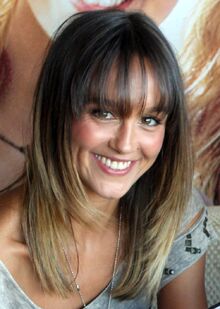 Gina Harson is the protagonist of the 2014 film Blood Lace and works as the personal assistant to Christine Davison.  She is played by Sharni Vinson.
Biography
It is unknown how old she was at the time, but when she was a child her father went crazy, and moved the entire family to the Outback, and she basically raised in a survivalist compound. When she was 19, she moved to Chicago, where she studied at Northwestern University. Fresh out of Nortwestern, she was an aspiring journalist and managed to land a job as junior personal assistant to Christine Davison, the icy-fashion designer and owner of the fashion house.
A few years later, Gina was promoted to senior assistant and joined Christine, wherever she went. Her boyfriend noticed that she didn't enjoy working there, and due to her constant working, they eventually broke up.
Trivia
Sharni Vinson is actual friends with Wendy Glenn, who plays Erin Lucas.
Community content is available under
CC-BY-SA
unless otherwise noted.