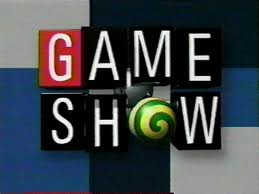 Gameshows
is a comedy movie starring Christian Hall, Emma Stone, Ashley Tisdale, Jonah Hill, Channing Tatum, Jane Levy, Adam Rodriguez, Milo Ventimilga
Summary
On this season of The Voice you have to choose your favorite person on The Voice and try to make them famous. Hunter Sting secrectly picks Shannon Ashbomb. Hunter and Shannon come up with a plan that the only way to become famous is to put Shannon on a sereis of gameshows in order to win. 
Directed by  Christian Hall
Produced by Christian Hall
Writtin by Micheal Bacball
Starring   Christian Hall
Emma Stone
Melissa McCarthy
Plot
The flim opens up with Jackson Holiday(Kevin Zeigers) annoucing the final ten which they will perform for the live shows. Shannon Ashburn(Emma Stone) performs her song Roman's Revenge and Hunter Sting her coach thinks that she will win The Voice. The other coaches Josiah(Channing Tatum), Caroline(Melissa McCarthy) and Harrison(Jonah Hill) hate Shannon beacuse she's a ginger and they think she's a lesiban. After the show is over Jackson tells them that they each have to choose there favorite person on there team and make them famous. Since Josiah, Caroline and Harrison hate Shannon Hunter chooses her and tells her backstage. Hunter goes to tell Jackson and finds him masturbaiting to Shannon's picture. Hunter is disgusted and tells Jackson that he choose Shannon.
Caroline comes in after Hunter and tells him who she is going for and asks Jackson who Hunter picked and Jackson said its confidental so Caroline has sex. After having sex she gets the camera that she his in his office and demands to know who Hunter picked or she would show his wife the video. Jackson still want tell her so she throws him around the room and he finanlly tells her that it's Shannon. Caroline leaves the office with a smirk n her face and goes to her car and pulls out a file named sabatoging Shannon Ashburn.
While watching poron Hunter comes up with an idea of making Shannon Ashburn famous is putting her on the show Cupcake Wars. Hunter meets up with Shannon at a cafe and tells her about being on Cupcake Wars. Shannon dosen't make cupcakes at all. Over the course of the next few days Hunter teaches Shannon how to make cupcakes and they don't know that Caroline has been spying on them. Caroline tells them that if she can beat this athat she needs to be on other gameshows.
At Cupcake Wars Caroline is competting with famous bakers Shannon Elizabeth, Elizabeth Blackmore and Chris Zylka and there hard ass judges Adam Rodriguez and Jane Levy and they have Hunter Sting as the guest judge. Caroline is Elizabeth's baker but Hunter nor Shannon know about it. Caroline posions Shannon's cupcakes with posion berries. The berries are actully not posions and the judges elimnate Shannon Elizabeth on the spot beacuse Adam thought her cupcakes were rasist beacuse they were filled with mexcain stuff even though one of the items on the was a bean burrrito and taco and Shannon Elizabeth went with that.
Shannon chose peaunnt riddle and berries. The coaches are suprised that Shannon is movng along even though she dosen't have a partner and Caroline gets mad beacuse she dosen't have anything to sabatoge Shannon with
Items on the Cupcake Table
Berries
Bean Burito
Peanunt Riddle
Berries
Tacos
Dicks
Community content is available under
CC-BY-SA
unless otherwise noted.