Friday the 13th: Part III (2020) is the fifteenth installment in the famous franchise and the sequel to the rebooted 2017 film and 2018 film. It continues Jason's story from those films.
Plot
Four years after the events of Part II two popular teenagers, Juli and Holden, are shown sneaking into Camp Crystal Lake at night, which is soon to be re-opened again following its failure to re-open just over five years previously due to a brutal massacre that left a dozen people dead.
Holden scares Juli by telling her the legend of Jason Voorhees, the boy who drowned in the lake. Juli tells him to knock it off but he continues by telling her about how Pamela murdered the two negligent counselors and set a load of fires. Then, twenty years later another massacre occurred days before the camp was supposed to re-open, Holden explains. After another massacre the following year police were left shocked and confused as, yet again, they never found Jason's body while up to nine recovery workers seemingly vanished. Eventually, they stopped looking. Since then more and more people have disappeared over the years with police doing their best to ignore the pleas of families of the victims, essentially pretending the cases are all unrelated.
Juli calls his story bullshit, telling him that Jason's mother was the killer and had the help of an escaped lunatic, not Jason. Holden argues that that was just the official story. Juli calls him a liar and that if he really wanted to have sex with her he wasn't doing a good job of seducing her. As she walks ahead she hears a noise and turns around to find Holden gone. She calls out his name but he doesn't answer. She tells him it isn't funny but still gets no answer. She begins to walk through the camp, feeling like someone is watching her. She hears noises from the trees and begins running through the camp, hiding inside a ram-shackled cabin. She hides under an old bed and holds her breath as someone suddenly enters the cabin. The figure walks back and forth before stopping, and then leaving. She crawls out from under the bed and flees the cabin, running until she trips over a branch. As she gets to her knees she hears someone running behind her and turns around to see Holden, who scares her. She slaps him, angrily insulting him as he tries to tell her it was just a prank. She gets annoyed and he begins kissing her, telling her he's sorry and that he loves her. Still annoyed, she tells him she still hasn't forgiven him as they continue making out. Holden asks her if she wants to have sex in one of the cabins and she tells him she wants to have sex on the jetty. Holden calls her kinky and they head for the jetty.
They begin to have sex on the jetty, Juli on top, as she still insults him about the prank. He tries to get her to forget about it but she persists. She asks why he didn't just scare her when he entered the cabin as it would have been easier and he tells her he wasn't in any of the cabins, he was looking for her outside. Juli tells him that isn't possible, as someone entered and left the cabin while she was hiding under the bed. Holden passes this off as her imagination but she stops and tells him someone was inside the cabin. When everything is silent she tells him she heard something. He tells her she can't prank him, that it won't work. The noise persists and she looks down through a gap in the jetty just as a machete is shoved up through the jetty, and up through Holden's back/stomach, almost stabbing her in the face. She falls off Holden and onto the jetty, screaming as his blood sprays over her. The machete is pulled down through the jetty and she attempts to pull Holden up but he's been paralyzed. Just then the machete is shoved up through Holden's chest spraying even more blood on Juli. She screams and flees, the machete being shoved up through the back of her foot as she attempts to run. She narrowly avoids being stabbed several more times before making it back to land. Jason, shown from behind, bursts through the jetty as Juli looks on in horror. She runs into one of the cabins and grabs a screwdriver, hiding under the same bed as before and watches the door, shaking with fear, waiting to attack Jason if he enters. A figure enters and she stabs the person in the foot multiple times as he lets out a yelp and its revealed he's a security guard who has been alerted because they tripped an alarm. She apologizes and breaks down into tears as another guard appears and asks what the hell is going on.
At the hospital Juli is shown sitting in a hospital bed, being checked over, as she tearfully looks out a window while incoherently rambling about the hockey masked killer. In the hallway a Sheriff Arnold Porter is shown looking at the girl, bowing his head in anger and annoyance. The Doctor appears and tells him she'll be fine physically, but will probably need a lot of psychological help. Arnold simply asks if "Is it him?" and the Doctor nods, walking away as he dryly comments that she's one of the lucky ones. Arnold tells him that it won't be happening again and the Doctor asks him if he has really started believing that line he tells himself. Juli begins screaming and ranting frantically and ripping the tubes from her arm as the nurses try to restrain her. Arnold looks on in horror as she is restrained by five people and given a sedative, saying "He's real" over and over again until she eventually goes unconscious.
Three years later, 20 year old Chrissy Archer from New York decides to become a camp counselor at Camp Forest Green in New Jersey for the Summer to help towards paying off her university debts following tragedy in her family. After an interview where she is asked a number of strange questions about herself, her background and her family circumstances by a panel of people, including a Miranda Sullivan, Chrissy believes she has failed to get the Summer job and thinks she will be forced to take a third job on top of working as a waitress and a receptionist. She confides in her boyfriend, Nathan Hartley, a mechanic working for his father's business, that she's not sure she'll be able to support her comatose mother while also paying for university. He tells her he'll help her but she tells him that isn't possible on the money he gets. He jokingly tells her they'll just run away together, with her mother, if they have too and that everything will be fine.
However, the following day Chrissy receives a voicemail from Miranda telling her that she has the job is she wishes to accept it. Chrissy immediately accepts and Miranda tells her that the position will start in two weeks. Chrissy, delighted, tells her boyfriend this and he is happy but surprised, noting that she doesn't have many of the requirements helpful for the role. Chrissy also thinks it's strange but doesn't care as pay is extremely good for a Summer job and she can't wait to start.
Two weeks later, Chrissy is drove to Crystal Lake by Nathan who insists on driving her instead of her travelling alone. They stop at spots along the way before finally making it to Crystal Lake, slightly later than planned. They find the town all but abandoned, save for a few people watching them from windows and a couple of youths outside the diner. They enter the diner and attempt to ask for directions to the camp but everyone seems to ignore them. Eventually the older waitress asks them why they would want to go there and Chrissy tells her she's one of the new counselors for the re-opening. An older man quickly gives them directions to get to the camp. Nathan thanks him but the older man tells him he shouldn't thank him, as he may not like what they find up there. The couple quickly leave.
Outside, the couple is accosted by the youths who flirt with and hassle Chrissy. Nathan warns them to back off and they do after the older man comes outside. As they leave the leader of the group tells Nathan he's already dead anyway. Nathan is about to go after them but Chrissy convinces him not to. As they head to the car Chrissy finds an entire wall plastered with missing people posters, some going back years. They quickly leave, Chrissy stopping just before entering the car to observe a homeless man laughing manically and pointing at them.
While on the road Nathan begins to have second thoughts about Chrissy staying at the camp but she assures him she'll be fine and that she won't go anywhere near the town. He still has his doubts but she tells him she needs the money and she has to take this job. They find a group of people stranded at the side of the road beside a broken down car and stop to help them. Austin thanks them for stopping and tells them their engine has stopped working and their car won't move. Nathan tells them he's a mechanic and helps look at the engine. Austin introduces the rest of the group to them: his girlfriend Shelby, best friend Finn and Grace, a girl they picked up who was hitchhiking to the camp to also work as a counselor for the Summer. Chrissy tells them she'll be working with them, as she also got the job and Nathan is driving her. They are all happy about this although Nathan tells them that the car is busted and Finn isn't surprised as Austin has had it for years and has never once got it repaired. Chrissy tells them they can get a ride with them and they agree.
Soon after the group arrive at the camp and find the development almost complete, with new cabins for the kids alongside a large lodge at the center of the grounds. While looking around they find a shooting bottles who introduces himself as August Galloway, their trainer hired to oversee them helping with the finishings at the camp and for the first few weeks when the camp finally opens. He gives some of the group the opportunity to shoot the bottles, as a little 'test', he jokes. Austin and Shelby both fail to shoot the bottle while Grace refuses, saying she's against guns and Finn also refuses to impress her. Surprising, Chrissy manages to hit the bottle, although it isn't knocked over. August's mood changes and he asks who Nathan is, noting that he isn't part of the program. Chrissy tells him he's her boyfriend and is leaving soon. August tells her he must leave now if they are to continue the training. Nathan is suspicious about this but Chrissy kisses him and assures him it's fine. Just then the remaining counselor, Tamara, arrives at the camp in her Lexus car. August reveals that she's actually not here voluntarily but as part of her community service and calls it a long story. Grace also reveals she's there for community service and August apologizes for his comments, although she doesn't seem to care. Tamara introduces herself and Nathan immediately catches her eye, with her introducing herself to him first. Chrissy steps in and tells her he won't be staying with them, which Tamara comments is a shame.
Nathan and Chrissy say goodbye and he leaves but notices August watching him as he does so. He almost doesn't leave, sensing something is wrong, but eventually decides to go. The group is lead to the lodge where they meet Brandon, the head counselor who will also oversee the group for the entire time they are there and give them directions and roles. Tamara flirts with him while Chrissy asks him is he's also there against his will, offending Tamara. August pushes the group on into the lodge where they are all given their roles within the camp for the next couple of weeks before the camp is set to open. The group is also shown where they are to stay in the lodge with Austin and Shelby in one room, Brandon and Tamara in another and then Grace and Finn. Chrissy is given her own separate room.
While stopping for gas at Crystal Lake Nathan's car is attacked by the same youths from earlier and they cut his Tyre's before he chases after them, running into a neighborhood which is falling apart with many empty houses and overgrown gardens along with broken down cars. Nathan chases the leader of the group into a house and grabs him, shouting at him for answers and why he is tormenting him. The leader apologizes and Nathan realizes that he's only a kid. He tells Nathan is name is Jimmy. Nathan asks where his parents are and the boy tells him his mother committed suicide three years ago when his brother Holden was killed and that this broke his father, who spends his time gambling or drinking in town all day. Nathan inquires about the town and how it came to be the way it is. Jimmy tells him that it wasn't always like this but because of 'him' no one comes to the town anymore, or they don't stay long if they do. Nathan asks about 'him' but Jimmy tells him that he took Holden and he has taken a lot of other peoples family members over the years, with many families simply moving out of the town after the first few disappearances. Jimmy tells him that he's afraid he'll be next and he cut Nathan's Tyre's co he'd stay here and fight 'him', or at least buy him some time. Nathan asks where 'he' lives and Jimmy tells him he lives at Camp Crystal. Nathan is confused and tells him there is no Camp Crystal, just a Camp Forest Green. Jimmy tells him that they re-named it Forest Green after everything that happened there. An anxious Nathan asks him what happened there and Jimmy begins to tell him the story.
At the camp the group get to know each other around the campfire alongside Galloway. The group drink and have fun around the campfire as they continue to get to know each other. Chrissy ends up revealing that she's there because her father was killed during an armed robbery on their family store, leaving her mother comatose and her as the sole moneymaker forcing her to work two jobs alongside her college work. Grace, who has been quiet and withdrawn the whole time by listening to music on her headphones, opens up a bit and reveals she's here because she helped rob a store with her abusive ex-boyfriend. Grace tells them that her boyfriend kept pointing his gun at the wife of the store owner, who had a stroke and almost died. She begins to cry, saying that she was so stupid for falling in love with him and apologizes for what happened to Chrissy's father, saying that the people who did that will never be able to forgive themselves, because she knows she'll never be able to forgive herself for the robbery she helped commit. Chrissy thanks her for that and Galloway tells them it's been a long night and he's retiring to bed and to make sure and have fun.
Brandon asks Tamara how she ended up here and she eventually tells them that her story isn't as 'entertaining' and that she's there because she hit another girl at a party for flirting with her then boyfriend. Shelby calls her out on this but Tamara insists that she doesn't care what anyone thinks of her as she isn't here to make any friends and wouldn't associate with any of them if not for the fact she's forced to work there. Brandon tells her he admires a fiery woman and Tamara tells him that she's even fierier behind closed doors. Finn notes that's his cue to leave and asks Grace is she'd like him to walk her back to her room. She tells him she doesn't need a guide but he walks with her anyway. Austin tells the others that he and Shelby are going to go for a walk at the lake and Brandon tells them to enjoy their 'walk'. Tamara, still flirting with Brandon, stares at Chrissy until Chrissy tells them that she's going to go back to her room too and sarcastically tells them to have fun.
Nathan, after hearing the whole story from Jimmy, tells him he needs to get to the camp immediately for Chrissy. Jimmy tells him that his father's pick-up is outside but it's busted. Nathan decides to have a look at it and realizes it can be fixed. He begins to fix it with Jimmy's help. At the camp Austin and Shelby stroll around the lake while talking about the other counselors. Shelby says that she likes Chrissy and Austin says he does too, suggesting a threesome which Shelby rejects immediately. They begin to make out under a tree but Shelby stops and tells him they need to talk about their plans after the Summer, despite Austin's protests, with her wanting to go to New York to become an actress but Austin doesn't want to leave his family. She tries to convince him to go with her but he tells her they could always try long distance. Shelby becomes annoyed at his use of "try", thinking he isn't taking their relationship seriously. He apologizes and tells her he just needs more time and that they should focus on the present for now, pointing out to the lake under the moonlight. She agrees and they kiss, eventually beginning to have sex as they strip.
Shelby strips naked and tells Austin to join her skinny-dipping. She jumps into the cold water from the jetty as he drunkenly tries to take his clothes off. As she swims around the lake she calls Austin to join her but something grabs onto her foot as she begins to be pulled down into the water. She panics and screams for Austin's help. At first he thinks she's joking but then rushes to help her. Something continues to pull her under before she is completely submerged. Austin looks into the water from the jetty but can't see her. He leaps into the water and dives under but still can't find her. Suddenly, Shelby bursts from the water, panting and covered in blood. Austin grabs her and helps bring her up onto the jetty where he finds she is missing half of her right arm. She begs for Austin's help but he panics and tells her he doesn't know what to do, trying to cover her arm wound with his shirt. The water in the lake begins to move back and forth as Shelby moans for help. Austin looks into the water in confusion, asking Shelby if it was a shark. She shakes her head 'no' with fear in her eyes as something is thrown out of the water and onto the jetty. Austin looks to see Shelby's dismembered arm in front of him. He jumps back in shock as Jason bursts from the water and onto the jetty. However, Jason's appearance is drastically different as his body is covered in burn marks and scars, his clothes are now rags, and the bottom half of his hockey mask is missing, exposing half of his disfigured (and burnt) face. Austin watches in horror as Jason takes his machete, hauls Shelby up into the air by the hair and violently decapitates her, tossing her head at him. He gets to his feet and runs away in shock but Jason throws his machete at him, causing it to impale him through the back as he runs across the jetty. Austin tries to crawl across the jetty but Jason grabs the machete and runs it downwards through his body, castrating and killing him in the process.
Finn walks Grace through the woods towards the lodge as they talk about their life and Finn awkwardly flirts. She tells him she doesn't need a relationship right now with everything that has happened, but that he is cute. He awkwardly thanks her and she tells him he's such a nerd, but to check back with her after they've finished working at the camp. He tells her he'll hold her to that. Chrissy starts walking through the woods towards the lodge when she hears a noise from the bushes. She investigates and finds a hidden camera, with wires leading down under the ground. As she questions this she hears another noise coming from further ahead. She decides against investigating it and rushes back for the lodge, as Jason watches her from behind a tree.
Nathan finishes fixing the car and Jimmy tells him he shouldn't go, that Jason can't be killed. Nathan tells him he has to go and that he will kill Jason and come back. Jimmy makes him promise before he drives off towards the camp. Back at the camp Brandon and Tamara arrive back at the lodge as Grace, Finn and Chrissy sit in the living area playing strip monopoly. Tamara decides against playing, saying that her and Brandon have their own version of strip to play upstairs before heading upstairs with him. Chrissy thanks Grace again for having the courage to tell her story earlier and Grace says she is the one who is courageous, looking after her mother all on her own after what happened. Chrissy then tells them about the camera she found earlier and Finn notes that it's odd but that it's probably some security thing considering the type of people they have as counselors. He immediately realizes his mistake and tries to apologize to Grace but she tells him it's fine and that she's going to go use the outhouse as the toilets aren't working for some reason. Finn calls himself an idiot but Chrissy tells him it'll be fine and that she thinks Grace likes him.
Upstairs in the lodge, Tamara strip teases to her lingerie for Brandon and they begin to have sex. It begins to rain heavily outside as Grace heads outside with a torch and rain jacket over the clothes she didn't lose during strip monopoly. She makes it to the outhouse and finds it covered in feces. She sits down anyway and begins to cry while smoking weed before looking up and finding another camera on the ceiling. As she looks in confusion at the camera something bangs on the side of the outhouse. She thinks it's Finn at first and tells him she just needs some time alone. However, Jason begins to drag his machete along the outside of the outhouse wall and she realizes it isn't Finn. She asks who it is but gets no answer as there is another bang on the other side of the outhouse. Suddenly, the machete is shoved through the side of the outhouse, stabbing Grace in the side of the arm. She gets to her feet and screams for help but no can see or hear her because of the thunder storm. Jason shoves the machete through the outhouse repeatedly, stabbing her in the leg and her back. She is forced to try and hide down in the feces covered outhouse hole until Jason leaves. However, instead of leaving, Jason bursts through the door and looks for her. She submerges herself in the feces until he leaves and then tries to climb back out of the hole but halfway out Jason appears again and grabs her by the hair, dunking her down into the outhouse in an attempt to drown her. She tries to climb back out as he drowns her before he grabs the machete and shoves it through the side of the outhouse hole, and through her neck. Jason then dunks her down into the feces water and she doesn't surface again.
Inside Chrissy begins to talk to Finn about how odd the entire situation is, from the massive amount of pay for the type of job to how quickly they were accepted, the derelict nearby town and the lack of details about the camp or surrounding area along with the cameras and August's behavior. Finn agrees that it is all a bit shady but tells her nothing bad has happened so far so they should just enjoy themselves. Chrissy is unsure and decides to call Nathan on the phone because she can't get a signal. However, she finds the telephone dead which Finn says could be because of the weather. Chrissy says that something is wrong and that she's going up to August's cabin to find out what. He tells her to hang on and that he'll go with her. Finn shouts up to Tamara and Brandon that they are going to August's cabin but they are having sex while listening to music and can't hear them.
The two run out into the rain and towards the cabin, unaware of Jason who is only a few feet away from the lodge. Jason, meanwhile, enters the lodge. Chrissy and Finn make it to August's cabin where they find the door locked and apparently no one there. Chrissy climbs in through the window with Finn following despite some protests. They look around and find the cabin strangely empty. While searching Chrissy finds more cameras and a hidden compartment with documents detailing missing persons in the area for the last 10 years along with a section on Pamela and Jason Voorhees. Chrissy asks Finn about these two and Finn says their names sound familiar. While looking through the file she finds more documents on the forest fires and two counselors murdered the year after a young boy tragically drowned in the lake. Finn tells her he remembers now, Jason was mentally retarded and drowned in Crystal lake when he wasn't being watched. The following year two counselors were killed and then there was the massacre a few years back. Chrissy is unaware of the massacre as she was living abroad at the time. Finn tells her that Pamela and an escaped mental patient worked together to kill a bunch of counselors at the re-opening of Crystal lake. Chrissy quickly pieces together that Forest Green is in fact a renovated Crystal lake. She tells Finn something is seriously wrong and they need to leave immediately. He agrees and tells her they need to warn the others first. At the same time Nathan arrives at the camp. He finds a gun in the glove compartment along with a picture of Jimmy's family and brings the gun with him, determined to stop Jason.
Meanwhile, Brandon and Tamara finish having sex and lie in bed smoking. Tamara asks him how he got the job and he tells her he knows the owner, Miranda Sullivan, because he 'dates' her from time to time. He tells her Miranda has an alcohol problem and he met her in a bar one night a few years ago where she told him about her brother being murdered by some crazed killer who the police never found although Miranda believed they weren't really looking hard enough. When she announced the opening of the camp he was surprised that he was offered a job because they had previously stopped 'dating' after she became possessive. Tamara says that's odd but he brushes it off, saying he needs the money and a jobs a job plus it has its perks. He asks her the real reason that she got sent to the camp, revealing that he can always spot a liar and he knew she was lying earlier. Tamara tells him that the girl she hit was her newest stepmother because she's a gold digger only after her father's money. Her stepmother forced her into the community service work. He asks why she didn't just say that earlier but she tells him people always judge her before they get to know her, and that they wouldn't have believed her if she told them the truth. She tells Brandon to get her a beer and he eventually agrees, kissing her before going to get it. She goes to the vanity and begins combing her hair.
Downstairs, Brandon goes to the kitchen and nonchalantly opens the fridge to get a beer, reaching in without looking and instead picking up Shelby's decapitated head just as Finn and Chrissy enter the lodge. Brandon panics and Chrissy screams at the decapitated head, before telling them they all need to get out of there immediately. Upstairs, Tamara continues combing her hair in the vanity until she sees Jason standing in the background in the reflection. She screams and the others race upstairs to find out what's going on. They enter just as Jason corners Tamara, grabbing her by the hair and throwing her through the second story window. Jason then turns around and turns his attention to the other three who panic and flee the lodge with Jason following after. They race for the car, intent on escaping from the death camp. However, they find that all of the cars fuel lines have been cut and the Tyre's punctured. Just then Galloway appears with a gun and points it at the trio, telling them they can't leave.
Brandon argues with him, saying that there is a killer on the loose and that everyone else is dead. Galloway says that he knows about the killer, surprising them, while also dropping his Southern accent. Chrissy asks what is happening and why they are still talking instead of leaving but he tells her they can't leave because they've been brought there for a reason. They are the bait. Galloway tells them that they are the 'sacrifice' needed to draw Jason Voorhees out of hiding so the 'higher ups' can deal with him. Finn asks about the higher ups but Galloway says he has told them too much and that they won't be going anywhere. Finn refuses to listen, almost attacking Galloway, before telling the others they are leaving now and heading towards the entrance to the camp. Galloway proceeds to shoot Finn in the back and out through the heart, causing him to collapse to the ground. Chrissy holds him and tries to help him but he dies soon after in her arms. Galloway apologizes but says it was necessary. He tries to tell them their sacrifice will be worth it in the end but Jason cuts him off mid-sentence by ramming his machete through the back of Galloway's head and out through his mouth before cutting across both ways, decapitating him at the jaw.
Brandon tries to attack Jason but Jason effortlessly breaks his right arm. Chrissy and Brandon flee into the wood. We then see that an underground area exists, running under the camp. Miranda Sullivan and a group of heavily armed people are watching the monitors for the dozens of cameras set-up throughout the camp. Miranda tells them it's time before Sheriff Arnold Porter appears and tells her that the whole operation is a complete disaster, that they have failed and all those kids died for nothing. Miranda tells him to stop being so dramatic, that the people she recruited are the best of the best from around the world. Arnold is unsure, questioning whether sacrificing the kids lives was worth it. Miranda tells him that it will be worth it when they kill Jason. Arnold agrees and Miranda briefs the group of heavily armed people about their mission: Capture Jason, at any cost. Miranda tells them that after he has been captured she intends on killing him herself. The group, led by Owen Maddox, an English former Special forces operative. He gives his own quick brief before they leave through a door camouflaged in the woods.
Chrissy and an injured Brandon make it to the entrance of the camp but the large gate closes as they approach it, with no way of escaping. Furthermore they find the fence surrounding the camp is in fact an electric fence which would kill them almost instantly. They are forced to head back towards the lodge and try to barricade themselves inside until morning. Nathan searches the camp for Chrissy and the others and hides when he spots the group of soldiers searching the wood for Jason. Meanwhile, Miranda and Arnold try to find Jason on the monitors but can't spot him anywhere. As the group make their way through the forest Jason suddenly swoops down from a tree, cutting an arm off of Diego. Diego shoots blindly in agony, hitting Ross in the neck and causing him to lose a massive amount of blood. Owen, Lyla and Henry shoot at Jason, using many of their weapons to try and bring him down but he disappears. Diego begins screaming from the pain while Owen tells him to shut up. He continues raving from the pain and Owen shoots him in the forehead, calling him useless and expendable anyway. Arnold lectures Miranda on the situation but she still him that everything is under control. She tells Owen through his earpiece to get the job done and he tells her he will. Nathan leaves to look for Chrissy.
Chrissy is forced to try and barricade the lodge herself as Brandon is too injured. She also still can't get a signal and Brandon tells her they're probably blocking their phones. Brandon says he can't believe Miranda would do this to him, that he thought she was fine with them breaking up because they weren't really even together. Chrissy tells him to concentrate on the situation they are in and he tells her he will. She tells him she misses Nathan and that he'd know what to do if he was here. As she barricades a window Jason's hand bursts through and begins strangling her. She tries to free herself from his grasp but can't. Brandon is forced to get a knife and stab Jason's hand. Jason hurls himself through the door and they flee through the lodge. Chrissy tells Brandon to hide in a room while she distracts Jason as he's too injured to keep running. This seems to work as Chrissy flees outside, followed by Jason. Brandon leaves the room and also heads outside, finding Tamara on the ground. He is surprised to discover that she's still alive, although injured from the glass and fall. As they embrace and take note of each others injuries Jason stops chasing Chrissy and turns his attention to them. Chrissy shouts at Jason to follow her, but he instead ignores her and heads towards them. Chrissy screams for them to run and they do, making it to a nearby barn.
They try and lock the barn door with a pitchfork but Jason manages to break it open. He stalks them through the barn. Chrissy, knowing that Jason will kill them, realizes she must do something. She heads into the barn and finds a chainsaw on the ground. She attacks Jason with the chainsaw just as he's about to kill Brandon and Tamara. Jason and Chrissy fight in a duel with Chrissy seeming to have the upper-hand, hitting him several times but the chainsaw suddenly stops working. Brandon attacks Jason from behind with an ax, giving Tamara and Chrissy the chance to flee. Brandon fights him with an ax with one arm and manages to put up a fair fight, also hitting him repeatedly. However, he is eventually overpowered when Jason hooks him in the other arm and rips the hook down through his skin. He then hooks him in the leg and drags him across the barn, throwing him onto an old wheel and slashing across his entire body with a sickle multiple times before gutting him with it.
Cast
Matilda Lutz as Chrissy Archer
Ansel Elgort as Nathan Hartley
Michael Madsen as August Galloway
Robin Wright as Miranda Sullivan
David Koechner as Sheriff Arnold Porter
Emily Ratajkowski as Tamara Mitchell
Kiersey Clemons as Grace Fisher
Kelly Rohrbach as Shelby Casey
Tyler Hoechlin as Brandon Forrester
Max Thieriot as Austin Winters
Lucien Laviscount as Finn Jackson
Will Poulter as Henry Jarvis
Adewale Akinnuoye-Agbaje as Owen Maddox
Shannon Kane as Lyla Delgado
Quincy Dunn-Baker as Ross Carter
Jesse Bradford as Diego Rodriguez
Virginia Gardner as Juli
Logan Paul as Holden
Derek Mears as Jason Voorhees
Main Cast Gallery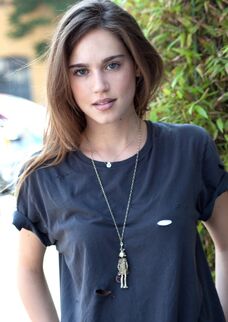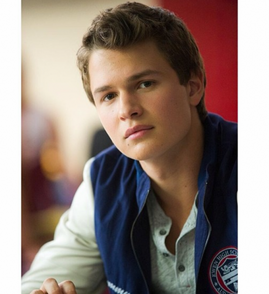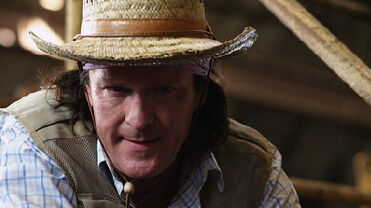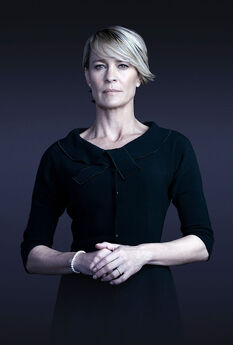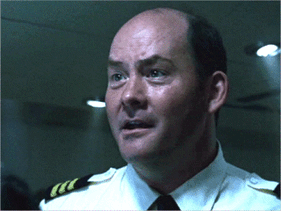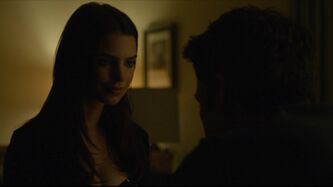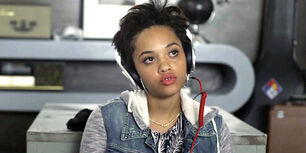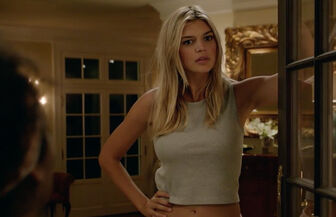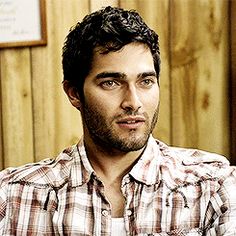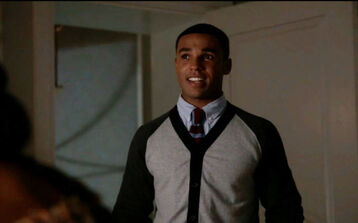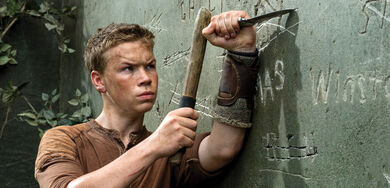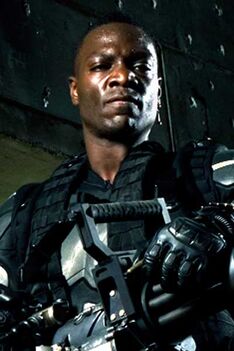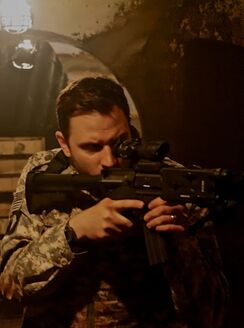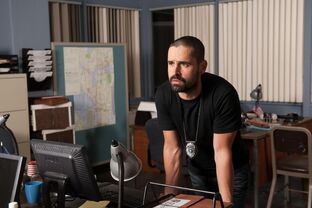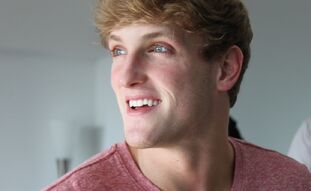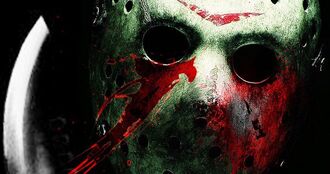 Community content is available under
CC-BY-SA
unless otherwise noted.