Friday the 13th is a 2015 American Psychological, Slasher Horror Film written by James Hawes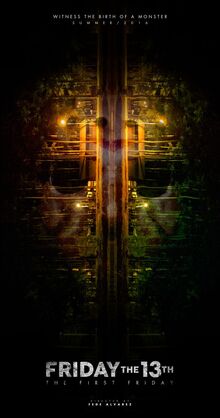 and John Logan and directed by James Hawes starring Jessica Lange, Gerard Butler, Elisabeth Rohm, Ellen Pompeo, Bella Heathcote, Nat Wolff, Sarah Gadon, Elizabeth Henstridge, Brooklyn Decker, Crystal Reed, Darren Criss, Joe Dempsie, Shad Moss, Grey Damon and CJ Adams. The film serves as a second reboot of the Friday the 13th franchise after the 2009 Platinum Dunes failure in which Paramount bought back the rights to the series. The film like the previous remake features Michael Bay as producer who had struck a deal in 2011 with Paramount. The film is the third instalment of the Horrorverse, a series ordained by Sam and Ivan Raimi to reboot all major horror film killer icons to feature on the 2020 slated Terrordrome film, the film is preceeded by the 2015 Pascal Laugier Hellraiser instalment starring Tom Hardy as the iconic Pinhead cenobite, 2013 Fede Alvarez Evil Dead and is succeeded by the 2015 Adam Wingard Re-Animator. The film went into production in Toledo, Ohio on January 23rd, 2012 and finished on November 18th, 2014.
The film is set for worldwide theatrical release on February 13th, 2015 and was revealed in late 2013 as being a remake of the first Friday the 13th, its' 1981 sequel and Friday The 13th: The Final Chapter.
The film was originally pitched as a found footage feature but was subsquently changed on the insistance of Paramount, however director/writer Hawes approached Paramount about having the film secure a 3D release, one which also prominentely be released in IMAX 3D.
Plot
The film begins in 1970 with Pamela Voorhees (Jessica Lange) arriving at Camp Crystal Lake with her 6 year old son Jason (Owen Bento). Pamela meets with the summer camp for children's propietors: David (Dallas Roberts) and his pregnant wife Margaret Christie (Andrea Parker). Pamela after an interview with David and coercing from his pregnant wife Margaret secures the position as cook for the camp and rents out a cabin home for her and son Jason.
A week later on the hot afternoon of Jason's 7th birthday whilst his mother is preparing lunch for him and the other campers she rushes to the sounds of Jason's yells for help to find her son struggling in the water.
The counsellors on roster: Barry Townsend (Theo James) and Claudia Williams (Taylor Schilling) instead of watching over the children down at the pier are preoccupied having sex in the Christie barn to the back.
Pamela screams for help as Jason plummets under the water and she is pulled back by the other counsellors and the arriving David Christie.
After going over with police with the drowning David and Margaret watch as a traumatized Pamela departs the campgrounds on foot in the dark of the night.
Pamela begins to walk through the Crystal Lake woods when she begins to hear Jason's voice ringing frantically in her ears and begins talking with him whilst spinning around in confusion and finally breaking down crying as moonlight engulfs her.
Three years later in 1973 Camp Crystal Lake re-opens after foreclosure following Jason's tragic drowning, two tragic fires in which a groundskeeper was horribly burned and a flood.
David and Margaret re-open with an almost completely new set of Crystal Lake counsellors apart from Barry and Claudia who had been the counsellors absent during Jason's untimely demise.
David announces a hearing to be held at the Crystal Lake townhall concerning the Camp's official re-opening and some must remain behind to look over the camp for an hour or so.
To David's surprise his wife Margaret who has since bore him a son named Steven volunteers to remain behind along with counsellors Barry and Claudia.
That night Barry and Claudia go over inventory of the camp and Claudia before departing to do so confides in Margaret that it's her and Barry's fault that Jason Voorhees drowned in the lake three years ago.
Margaret comforts a guilt ridden, crying Claudia and Claudia then departs to join Barry in inventory.
Margaret telephones home to her and her husband's babysitter Janice who is looking after Steven that night and following the phone call wrastles up a bunch of flowers from outside and brings them down to the pier of the lake where a memorial for Jason sits.
Claudia upon joining Barry finds him to have set up a romantic picnic in the same barn they had consumated in sexual intercourse in when Jason drowned and she becomes furious with him.
Barry produces a wedding ring and proposes to Claudia to which she gleefully accepts and he reveals that after the two had made love three years ago during Jason's drowning he had planned to propose afterwards.
Barry then expresses his guilt over what happened to Jason and Claudia after sees his hands shaking proceeds to kiss him as she slips on the engagement ring.
An unknown figure then enters the barn and after temporarily shutting off the lights alarming Barry and Claudia stabs Barry in the chest before a screaming Claudia.
The figure with gloved hands then proceeds to stab Barry to death as he collapses slowly upon the ground and the picnic blanket rolls back out and becomes smeared in his blood.
Claudia attempts to flee but is rushed by the figure who quickly smashes her head up against a glass frame on the wall immbolising her.
Claudia attempts to crawl towards the half open barn door but is stopped by the sight of a small figure which causes her to scream out in horror before turning back before the other attacking figure which now armed with a withdrawn machete heaves it down upon her as the lights then blow out all over camp.
Margaret who has returned to the main cabin into the kitchen finding Pamela Voorhees' pendant containing a picture of her and Jason has the lights go out on her and lights up a kerosene lamp. Following that Margaret then looks down up a variety of mangled, cut cords one of which belonging to the phone line and realizes someone has cut the power out.
Margaret goes out, lamp in hand to shut on the emergency power and calls out for Barry and Claudia only to receive no response.
As she reaches husband David's office she witnesses a small child cloaked in a burlap sack passing and upon rushing out as a machete hurled at her prompting her to scream and flee back to the main cabin.
In the main cabin Margaret arms herself with an assortment of weapons as the attacker begins to hack and smash at the main cabin before eventually the emergency power switches on and from the distance David and the other counsellors begin to return to camp.
Margaret armed prepares to leave the cabin and happens across Pamela Voorhees who consolidates a panicked, hysterical Margaret.
As they are then joined by David and the others in the barn they make a discovery of a gruesome amount of blood among disturbed hay and Margaret discovers at the pier the corpse of Barry Townsend, head and headless corpse of Claudia Williams.
The scene then jumps to present 2015 with a now adult Steve Christie (Gerard Butler) and his wife Diane (Ellen Pompeo) following the passing of both of Steve's parents opening up Camp Crystal Lake as an excursion stop for the summer of 2015 as he faces bankruptcy.
With the help of the Watkins family three central cabins on the Camp Crystal Lake grounds open up however a water main is cut and opening is cut off until the winter.
Come the winter a group of out of town counsellors roll in and begin setting up before a freak snowstorm rolls into the small Ohio township.
The first counsellor to arrive is Alice Hardinge (Bella Heathcote) from Pennsylvania who is 19 and who has answered a news campaign offering a large amount of money for working as a winter counsellor, money which will help aid in payment for her art college scholarship.
She quickly befriends Steve, Diane and the Watkins family residing on Camp Crystal Lake.
The second counsellor to arrive is Nate Douglas (Darren Criss) a longtime associate of Steve's who is the same age as Alice and takes an immediate interest in her.
Third Julie Goldwyn (Crystal Reed) a Toledo school dropout struggling with maintaining a full time job and one trying to escape the pressures of her disapproving rich father and mother.
Julie and Alice become situated as cabin mates shortly before a trio of 18 year old friends arrive: Luke Portman (Grey Damon), his girlfriend Dana Wilkins (Brooklyn Decker) and his bestfriend and practical joker Theo Jordain (Nat Wolff) who are set up altogether in a large cabin on the premises.
Teenage DJ and former delinquent charged with community service Ray Llewis (Shay Moss) arrives and is settled in the two bedroom cabin beside the trio of youths.
Brother and sister youths Gordon (Joe Dempsie) and Penny Syler (Elizabeth Henstridge) arrive and are set up in the cabin beside the barn.
Steve and Diane after going through their roll call realising they are short one counsellor, Samantha Reinhold (Aubrey Plaza) who is running late and is to serve as the cook and cabinmate to reclusive counsellor Ray.
As the snowstorm rolls in Samantha gets into a car accident and becomes stranded off from the Crystal Lake trail leading up to the camp.
She makes her way back to town and interacts with the locals who show great disdain in her destination, a friendly truck driver Ennis offers a lift after a cryptic warning from local nutjob Ralph who has long been the only neighbor of the Camp Crystal Lake grounds and the Christie's.
Samantha is dropped off by Enos at the end of the trail leading into the Camp and upon hiking on forwards is attacked by a burlap sacked figure which wrestles with and forces her to flee into the surrounding woods.
Samantha in a struggle falls through a pool of ice in the woods and becomes stuck as the burlap sacked figure descends with a bowie knife and stabs her in the chest.
The night then settles in as the storm rages on and Steve Christie, Diane, The Watkins family and the counsellors are restricted to the campgrounds.
Steve fires up a snowsled with the aid of Nate who had formerly operated as a mechanic in Conneticut as revealed to Alice in a brief conversation and he makes his way into town to pick up supplies and to get help clearing way on the trail for the morning to follow.
Alice and Diane ask that upon getting into town he ask to find whether or not Samantha has made her way into town yet.
As Steve departs Diane settles in for tea with widowed Watkins mother Yvette who has teenage daughter Trish and young 12 year old son Tommy up with her for the winter weekend in Crystal Lake.
Diane after her cup of tea with Yvette visits the counsellors in the central cabin and tells them to keep the noise at a low as after her little snowalk she'll be turning in and tells them to be ready for a hard 2015 morning of road clearing.
Ray proposes a party in the barn and after invoking the interest of Penny, Luke, Dana and Theo gets the others to agree.
Diane taking off on her walk makes stops at certain areas through the campgrounds where she proceeds to adjust things.
Diane eventually happens upon Samantha's necklace trickling with her blood and by mobile attempts to dial 911 only to have the phone freeze out.
Diane then is hobbled by the burlap sack attacker who advances with a sharpened spear and impales her in the legs and breaks the spear off at her legs sending her rolling down a hill where she cracks her against multiple rocks.
Diane still alive gasps with blood spreading across her lips in shock as the figure comes down upon her.
Community content is available under
CC-BY-SA
unless otherwise noted.