| | |
| --- | --- |
| | The owner of this page is TanTheMan87. According to policy, no other user, with the exception of admins, may edit this page without the owner's permission. If they do, they will receive an automatic 3 month block. If you are the Owner, and someone edits your page, alert Chris6d immediately. |

This article contains both fanon and canon content. It is fanon, but features canon content.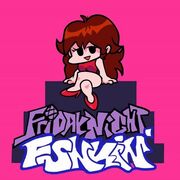 Friday Night Funkin': The Series is an upcoming American animated television series created by Cameron Taylor (ninjamuffin99). It will be animated, edited, and produced by Isaac Garcia (Kawai Sprite). The series will release it's first three episodes on YouTube in early June of this year on the platform YouTube, while the full season one will release on November 6th, 2021, and will be available on Hulu.

Plot
The series is based around a nineteen year old boy named Keith, who constantly runs into daily struggles while spending time with his half-demon girlfriend, Lucy. He battles his enemies in the style of rapping, while his girlfriend provides music to go along with the song, thanks to her speaker. His two main disturbances are the mother and father of his girlfriend (Luther and Claire), who strive to kill Keith in order to see if he's worthy enough to date Lucy. Whenever they cannot do the dirty work themselves, they hire and assassin, such as Pico, who happens to be Keith's ex-boyfriend from high school, and Senpai, a spirit who's been forced into an eternal dating game by Luther.

Cast
Main Cast
Keith (voice by Colleen O'Shaughnessey, singing voice by Isaac Garcia) is the main protagonist of this story, and loyal boyfriend to Lucy.
Lucy (voice by Faye Mata, singing voice by Isaac Garcia) is the loyal and supportive girlfriend of Keith, who motivates him through thick and thin.
Pico (voice by CritVA, singing voice by Isaac Garcia) is an assassin contracted by Luther to kill Keith. He was once Keith's high school sweetheart, but they broke off at some point.
Luther (voice by Isaac Garcia) is the father of Lucy. He is known to be extremely over protective and treats his daughter like the world.
Claire (voice by Grey DeLisle, singing voice by Isaac Garcia) is the ravenous mother of Lucy. She's seen as frightening and intimidating, yet, millions of people still love her.
Senpai (voice by Alex Hirsch, singing voice by Isaac Garcia) is a spirit forced into an eternal dating game. He wishes to get his rightful revenge on Luther, and avenge many more of the unfortunate souls forced into the pix-elated hell.
Skid and Pump (voice by Sr Pelo) are two childish and wacky boys who wear Halloween costumes, despite it not being "Spooky Month" as they claim.
Monster/Lemon Demon (voice by BassettFilms) is a strange demon who appears occasionally, yet his motives are unknown.
Tankman (voice by JohnnyUtah, singing voice by Isaac Garcia) is the captain of a military faction named "TANKMEN". He's known for his very sarcastic and brutal nature.
Recurring Cast
Darnell (voice by Joachim Powell) is one of Pico's friends. He follows him almost everywhere and has got his back whenever the situation gets close.
Nene (voice by Paula Rhodes) is one of Pico's friends. She has a slight crush on Pico, but can never find the courage to confess, as she conceals a dark secret.
Speed Demons (voice by Scott Menville) are a group of demons who follow Claire around and act as her bodyguards.
Guest Cast
Diana (voice by Eden Sher, singing voice by Isaac Garcia) is the highly energetic mother of Keith. She often plans things at the last minute, then, calls it off as a surprise.
Hunter (voice by Christopher Sabat, singing voice by Isaac Garcia) is Keith's lovable father. Unlike Diana, Hunter is a very low energy man, with little to no expectations.
Episodes
See List of Friday Night Funkin': The Series episodes.
Trivia
Though having many fan requests, Pico and Keith will not be getting back together in this series.
Faye Mata confirmed she was playing Lucy when she shared a picture of her dressing up as the female support.
Cameron Taylor first announced the series back in April of 2021, when the game started to really blow up.
Both Isaac Garcia and Cameron Taylor hinted that some mod characters may appear later on in the series.
The first ever teaser was announced on Cameron's YouTube channel back in April of 2021. It featured a clip from the episode Pico.