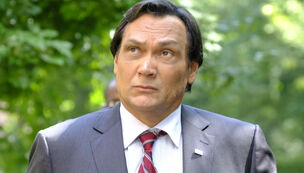 Fransisco Aguirré Amonté is a main character in the American crime drama, Law & Order: New Orleans.
Biography & Personality
Born in New Orleans, Louisiana in November 1974, Amonté's parents emigrated to the United States from Colombia before he was born. Amonté grew up in a somewhat decent neighborhood. Raised as the oldest and only son of five children, he looked to make his mark on the world by way of the law. Eventually getting a law degree from LSU, Amonté joined the NOLA District Attorney's office, soon becoming one of it's most revered prosecutors, and later took a state's attorney's position in 2006, before returning to take the Interm D.A. position.
He is married with five children.
Politically, Amonté is an Independent, carrying both liberal and conservative views. He supports the death penalty and gun control, but is also a supporter of LGBTQ rights and is pro-choice.
Mid-way through the twentieth season, Amonté is appointed by the D.A.'s office shortly after Pierce Fowler's retirement in order to finish out the rest of his term. Assistant D.A.s Cole McCorrea and Kima West soon take a liking to his style when he takes a policy to refuse all deals for those who harm children.
Relationships
Trivia
Community content is available under
CC-BY-SA
unless otherwise noted.