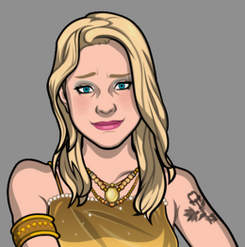 Felicia Steppingstone is a former actress and one of Tara's ghost roommates.                         
Profile
Name: Felicia Steppingstone
Gender:
Blood type: B+
Birth: June 6th 1994
Death: Nov 20th 2014
Cause of Death: Blood Loss (Laceration)
Sign: Gemini
Appearance
Felicia has long wavy blond hair, surrounding her blue eyes. She has noticeably heavy amount of makeup, along with mascara and lipstick. She has two gold necklaces above a golden strapless dress. She also donned a gold arm cuff on her right arm, along with tattoos on her left arm.
Personality
Before her murder; despite her gorgeous appearance, Felicia is shown to be greedy and demanding. This is revealed when Abbi Absinthe once told Felicia about an audition she tried out for, but the latter went behind Abbi's back, auditioned for the part, and nabbed it, angering Abbi. Felicia did not apologize to Abbi for stealing the part from her. Furthermore, the TV show was consuming so much of Felicia's time that she stopped calling Abbi, even going far by failing to invite her to the pool party. This statement pretty much explained why the friendship took a wrong turn.
Death
Her strict and more demanding personality caused her to get killed when Tucker Smalls, the actress' assistant told the court that Felicia ruined his life, and in spite of him working as the actress's assistant, she treated Tucker as if he was her slave. Tucker was forced to do errands and chores for the actress and sometimes he would get yelled at by Felicia if he did something wrong. Felicia promised Tucker that she would introduce him to some of her agents so that he would be as famous as her, but Tucker saw her as a liar, making it clear that the actress abused him.
Judge Dante informed Tucker that he was arrested previously for cocaine possession. According to Judge Dante, Tucker was pulled over the night before he offed Felicia for speeding with no driver's license, in which street patrollers found narcotics in the car's trunk. The narcotics were Felicia's, which Tucker was forced to grab for her during transit, but the street patrollers assumed the narcotics to be his property, and because of this Tucker was faced with a criminal record that would prevent him from becoming a celebrity in his own right. Tucker wanted revenge, so he followed Felicia until he boxed her to the Ivywood sign and, upon cornering the actress, slashed her with razor blades—thus tying her to the sign to make the public aware of her monstrosity.
Gallery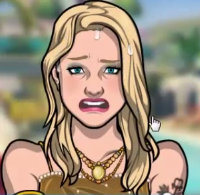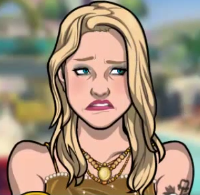 Community content is available under
CC-BY-SA
unless otherwise noted.