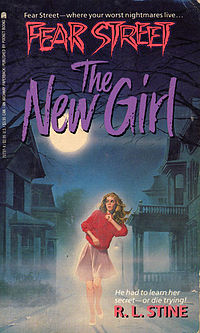 The New Girl is the first novel in the Fear Street Sereis based off the book by R.L. Stine starring
Summary
Plot
Corey falls in love with Anna, the new girl at school. The only problem is that he can't tell if she's real: most of his friends have never seen her on campus, and she's not listed in the school's files. When he calls her family's home they are strange and evasive.
In desperation, Corey goes to Anna's house—located on Fear Street—and there her brother tells Corey that Anna is dead. But a few nights later, Anna calls him and asks him to meet her. Anna's passionate kisses convince Corey that his love object is alive.
Corey's friend Lisa finds a dead cat and a piece of paper on its neck. She suspects that this was done by Anna. However, Corey stays loyal and protests. During prom night, Corey goes to the prom with Lisa. She is pushed down by Anna's brother, Brad, although it is revealed that Anna is actually Willa, Anna's sister. Willa killed Anna out of jealousy, following which she assumed Anna's identity.
Cast
Corey-Zac Efron
Anna/Willa-Megan Fox
Lisa-Katie Locke O' Brian
Brad-Christian Hall
David-Rory Culkin
Community content is available under
CC-BY-SA
unless otherwise noted.