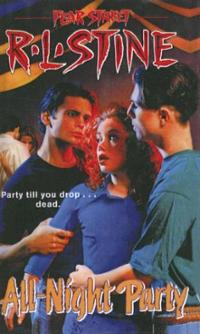 All night Party is the 43rd book in the sereis by R.L. Stine starring Lacey Chabert, Emma Bell, Drake Bell, Emma Roberts, Evan Peters, Christian Hall and Chris Colefer
Summary
The night time is the right time - for murder. Gretchen Davies and her friends all know Fear Island is an awesome place to have a party. You can dance all night, share secrets with your best friends, fall in love... Or die. Because there's a madman loose on the island. A killer who plans to spoil the party. The birthday girl gets to go first, of course. Who's next?
Plot
TBA
Cast
Lacey Chabert as Gretchen
Community content is available under
CC-BY-SA
unless otherwise noted.