Evil Dead IV: Death Camp is a 2011 found-footage horror film, directed by Jaxen Ross and serves as a stand-alone sequel to the Evil Dead series.
It stars him, Holden MacDonald, Daniel Wang and a cast of his sixth-grade friends.
This movie was once on YouTube, but has long since disappeared along with Jaxen's jaxenlabs YT account.
Plot
In October 2011, a group of sixth graders embark on a week trip to Camp Cuyamaca. Soon afterward, a presence lurks the campground in the wake of videographer Bruce (played by Jaxen Ross) finding a mysterious tape recorder concealed in one of the bathrooms that speaks about a Book of the Dead. Strange forces begin pursuing Bruce, while his loved ones attempt to save him.
Production
Filming began on Oct. 10th, 2011, lasting for four days with the footage being pieced together in-camera. Some of the scenes were largely improvised by Jaxen and his friends.  
Shortly after filming finished, Jaxen was told - under his school aide's wish - to downsize the footage to conceal any identities of anonymous students. Additional scenes that weren't intended to be in the final cut, but contained in a video was released as a pair, were shot years later.
It is believed that the movie's runtime was 10 minutes and with these additional scenes (including the ones listed below), the movie would've been around 20 minutes long. Further analysis of the movie had it rely upon melodrama with the horror aspect short-lived.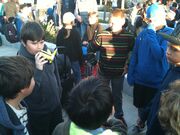 Some other footage was cut due to either being unfinished or lost like these:
1. A scene where Bruce kills one of the possessed kids' and buries his body (the scene didn't finish filming since it was time for dinner at the camp and was removed)
2. A scene where Bruce dreams about the events from the first film (this was in the second part on YouTube, but then was omitted in the re-upload)
3. The talent show scenes (footage lost)
4. Some of the camp activities (omitted)
5. The driving back scene (not shown / lost)
6. The original ending credits with music recycled from "Mil gritos tiene la noche" (it used to be in the original second part that was uploaded to YouTube, but then this snippet was removed for copyright reasons).
Quotes
(the scene where the kids are heading up for lunch for the first time)
BRUCE: So what table are we heading to?
VANNIE: Table Number Nineteen... and don't you forget it!