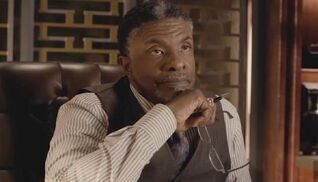 Eugene Winder is a main character in the TV series, The Sullivans.
Biography
Born in New York City, New York in July 1969. He joined the NYPD in 1990 and worked there until he transferred to Denver PD in 2007. During his time in the NYPD, he heard about the murder of Police Detective Gordon Ashford and most of his family, but he never met them during his time in New York. In 2014, then-Sergeant Winder was the investigating detective on the case when Drake Sullivan was framed for murder and, after helping to clear him, convinced him to join Denver PD afterwards. He eventually rose the rank of Captain and is now the commanding officer of the newly formed Family Justice Unit.
Winder is happily married to his wife Jane for over 20 years. They have two adult sons, Eugene Jr. and Anthony. Eugene Jr. is finishing medical school at Denver Health Medical Center and Anthony is finishing college and opts to join the FBI as an agent.
The Sullivans
Season 1
TBA
Personality
Winder is a tough and gruff, but loyal Denver Police Captain. He is shown to a stern, but supportive commanding officer and father figure to his subordinates and will do whatever he feels is needed to get justice.
Relationships
Trivia
Service weapon: .357 Magnum
Community content is available under
CC-BY-SA
unless otherwise noted.