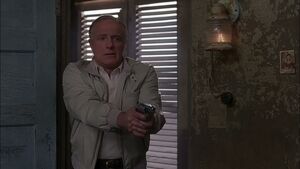 Edward "Eddie" Hicks is a main character in the American crime drama, Law & Order: New Orleans.
Biography & Personality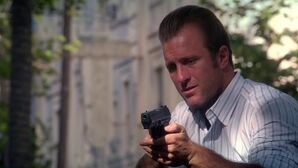 Born in New Orleans, Louisiana, in May 1958, Edward Hicks grew up as an only child on a military base after his younger sister died at just a year old from pneumonia. After his father, a Lt. Colonel in the U.S. Army, retired from service Hicks, enrolled in his footsteps. However, he found it spiffy and uninspiring and was discharged after 5 years. He then joined the N.O.P.D. and after 15 years, made Captain.
He is married to his long time sweetheart Portia and they have three children children: Kate, Evan, and Lauren.
In the series, Hicks is portrayed as a loving husband and father, as well as a father figure to his detectives and officers. Nevertheless, he is a tough man and doesn't hesitate to break protocol to get what he wants.
In the second season, his younger daughter Lauren begins to date Officer Chloe Hartman's son Jack. The two continue their relationship even after Jack's family temporarily relocates to Los Angeles.
In the third season, the couple witnesses a murder by a professional hitman, sending them on a chase from New Orleans to New York, Miami, and Los Angeles, with Hicks and Detective Parker on their trail. After getting the kids into protective custody in Los Angeles, Hicks and Parker tracked the killer to London, where Hicks kills him in a shootout.
Midway, through the seventh season, Hicks is involved in a massive shootout in the MCCIS squad room between the detectives and members of a white supremacy group, looking to free their leader. Though the MCCIS emerged victorious, it had put much strain on Hicks' heart, causing him to have a massive heart attack, and be rushed to the hospital. Though Hicks recovered, he, deciding he wanted to live to see his first grandchild, sumbitted his retirement papers.
In the season finale, the Hangman, a serial killer from Hicks' past, and the one criminal he couldn't catch, returns after moving on to other cities for sometime. The Hangman begins taunting Hicks to finish what he started, and catch him if he could. With his retirement nearing, Hicks decided to close this case once and for all, with the help of the MCCIS, old friend Chloe Hartman (now a detective from L.A., where the Hangman had struck), and Dr. Captain Jackson, a psychologist and FBI consultant from New York.
Eventually after finally finding the Hangman's true name and identity, Thomas Lift, the MCCIS raids his hideout, rescues another girl (his next intended victim), and Hicks shoots Lift dead, ending his reign of terror forever.
Following this, Hicks retires from the N.O.P.D. and a big party is thrown by his family, friends, and many co-workers.
Relationships
Unnamed father
Younger sister (deceased)
Portia Hicks (wife)
Kate Hicks (daughter)
Evan Hicks (son)
Lauren Hicks (daughter)
Jack Hartman (son in law)
Jason Hartman (grandson)
Candace Hartman (granddaughter)
Trivia
Service weapon: Snub-nose .38 S&W
Community content is available under
CC-BY-SA
unless otherwise noted.