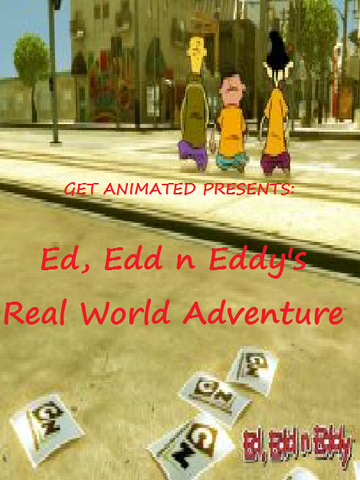 Ed, Edd and Eddy Adventure in Los Angeles is an American Canadian live action/animated adventure buddy comedy film with the animated scenes directed by Danny Antonucci and the film's live action scenes directed by Mike Mitchell.
It is a spin-off of the 20?? film Get Animated.
Plot
TBA.
Cast
Jennifer Lawrence as Mary Williams; The Main Protagonist 
Emilia Clark as Christine "Chris" Williams: Mary's Twin Sister
TBA as The Movie's Main Antagonist.
Voice Cast
Cameo Casts
Jenna Coleman as the girl in the Toilet.
Quotes
The conclusion of Lorcan's Legacy
(The Film begins at the beach, The Eds has completed their Lorcan's Legacy mission and enjoy their time at the beach)
Edd: Good. We can finally rest from this crazy adventure.
Eddy: I know, sockhead. And Maisie said that Lorcan would be proud of us.
Edd: Eddy, all we can do now is to call Numbuh 362 and we can go back home.
Eddy: C'mon Double D, we deserve to relax, look at Ed.
(Ed running around as a red haired girl's studying them)
Edd: Well, I think we can relax and take a long vacation from the Kankers.
Eddy: There you go!
Ed: Guys look!
(The Eds saw the red haired girl and disappeared)
Edd: Good Lord. Who was that?!
Eddy: She could be one of the Kankers!
Ed: I think so, or... Must be Harley!
Edd: No. There a bit of that girl's hair.
(Edd calls Numuh 362 on the dimensional watch)
Numbuh 362: Hey guys. You've finished Lorcan's Legacy.
Edd: Listen, we saw a familiar girl with a red hair! Can we used the DNA scanner?
Numbuh 362: sure. Meet me at the building so we can try and scan it.
The Girl attacks
Trivia