256px

Dreamhouse
Directed by
James Wan
Produced by
James Wan

Ryan Murphy

Brad Falchuk

Angelina Jolie

Brad Pitt

Written by
Ryan Murphy

James Wan

Chad Hayes

Carey Hayes

Screenplay by
Story by
Based on
Starring
Sigourney Weaver

Spencer List

Shiloh Jolie-Pitt

Music by
Joseph Bishara
Cinematography
Don Burgess
Editing by
Kirk M Morri
Production company(s)
New Line Cinema
Distributor
Warner Bros. Pictures
Release date(s)
July 21st 2017
Running time
119 minutes
Language
English
Budget
50 million USD
Gross revenue
400 million USD
Preceded by
-
Followed by
Dreamhouse: Reawakening
External links
[Source]
Dreamhouse is a 2017 American supernatural horror film directed by James Wan and written by Carey Hayes, Chad Hayes, Wan and Ryan Murphy. It is the first instalment in the Dreamhouse film series. 
It stars Shiloh Jolie-Pitt as 10 year old Kimberley Francis, an imaginative girl who, along with her 17 year old brother Joshua (Spencer List), move in with their great aunt Patricia (Sigourney Weaver) after their parents death. After moving in, the pair learn of the strange goings on in their great aunt's ancient home.
Development
Ryan Murphy wrote the original script of Dreamhouse as the pilot for a television show that would ultimately become American Horror Story. He then approached Disney with an altered script appealing towards a younger audience and despite interest, the script was rejected.
Murphy shelved the project after the success of American Horror Story and did not pursue it further until a chance meeting with James Wan at the Golden Globes in 2015. The pair discussed the prospect of collaborating and Murphy revealed he had the perfect script, Wan brought in frequent collaborators Chad and Carey Hayes to help develop the script as a horror alongside Murphy in the summer of 2015.
New Line Cinema picked up the script in September 2015 and the film was given a release date of October 31st 2016 the same month.
Casting began in early 2016 and Sigourney Weaver was the first to be cast as the mysterious Great Aunt Patricia in January, Weaver said she was delighted to be participating in the production. Spencer List was then cast in the supporting role of Joshua Francis. The final role to be cast was Kimberley Francis, the young lead. It was announced in March 2016 that Shiloh Jolie-Pitt would join the cast in the role, this lead to Brad Pitt and Angelina Jolie also joining the producing team.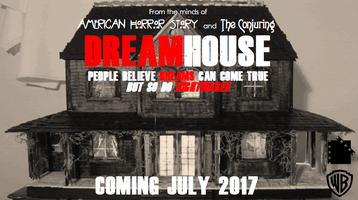 New Line Cinema confirmed in April 2015 that the release date would be pushed back to July 21st 2017 due to a delayed production schedule, filming commenced on May 9th 2016 and concluded 4 months later on August 13th 2016.
Cast
Sigourney Weaver as Great Aunt Patricia Holloway, the last living relative of Kimberley and Joshua with a mysterious past.
Spencer List as Joshua Francis, the 17 year-old brother of Kimberley who, along with his sister, moves in with their Great Aunt after their parents die. He initially dismisses his sister's claims of the supernatural.
Shiloh Jolie-Pitt as Kimberley Francis, an imaginative 10 year-old who's psyche is damaged when her parents die and she moves in with her great aunt. Kimberley discovers a doll house and begins experiencing supernatural activity.
Lauren Graham as Calista Wallace, Kimberley's Pediatric Psychiatrist who also holds psychic abilities, she agrees to help Kimberley learn more about the spirits in her great aunt's home.
Sarah Paulson as Christina Francis, Joshua and Kimberley's deceased mother and Patricia's niece.
Ethan Hawke as Daniel Francis, Joshua and Kimberley's deceased father and a paranormal investigator.
Kelly McDonald as The Voice, a spirit that controls Patricia's home and resides in a doll house in the attic of the home.
Synopsis
After the death of their parents Christina (Sarah Paulson) and Daniel (Ethan Hawke), Joshua (Spencer List) and Kimberley (Shiloh Jolie-Pitt) are placed in the care of their Great Aunt Patricia (Sigourney Weaver). They're allowed to live freely, on one condition - the attic is out of bounds. Kimberley begins suffering nightmares and supernatural activity and confides in her new house-visiting psychiatrist Calista (Lauren Graham), who also happens to be a psychic. The pair make a discovery that will change Kimberley's life for the worse.
Trivia
Dreamhouse was originally the format for season 1 of American Horror Story but was subsequently abandoned in favour of Murder House.
The film's composer also composed Insidious and The Conjuring
Warner Bros. confirmed a sequel entitled Dreamhouse: Reawakening, set 20 years later, to be released in June 2019. It was confirmed that none of the original cast would return, but the demon would.
Dreamhouse received praise from critics for it's ingenious use of old school scares, performances and it's script. Dreamhouse currently has 90% on Rotten Tomatoes with the consensus reads, "Packed with excellent perfomances, a surfeit of old school scares and heart, Dreamhouse is a new kind of supernatural horror that is nothing short of atmosperic and spine tingling."
Community content is available under
CC-BY-SA
unless otherwise noted.