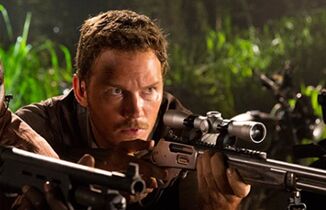 Drake Sullivan is one of the main protagonists in the TV series, The Sullivans.
Biography
Born in Hingham, Massachusetts in July 1988, Drake is the middle child of three children and only son of Ryan Sullivan, a retired criminal court judge and Rachel Sullivan, who died of cancer four years before the start of the series. His older sister Amanda was a prolific defense lawyer who was on her way to becoming a judge like her father until she was killed in a car accident caused by a drunk driver six years before the series. His younger sister Lydia is a Chicago Police Dispatcher.
He joined the Marines after high school and went on four tours. He rose to the rank of Staff Sergeant and was awarded with many medals and commendations, including a Sliver Star and a Bronze Star and two Purple Hearts. However, he, like many soldiers, suffered trauma from events in combat. After being honorably discharged and returning home from his final tour after eight years, he struggled with PTSD and lived with his parents until he could get back on his feet.
One night at a bar, he met rookie ADA Katherine Ashford and they hit it off, despite their differing personalities. Then Sharon Carlyle, his ex-girlfriend who broke up with him after his second tour of duty, arrives and they had a conversation. After he took Sharon home, she tried to get him to open up to her about his military experiences, but it triggered his PTSD and he bitterly refused. This led to an argument between them and Sharon decided to go inside her house, but not before giving him advice to start living again and ask for help. He returned to the bar, but found that Katherine had already left and drank himself heavily. Then he fell asleep drunk in his car. The next morning, Drake returned to Sharon's home to apologize, only to find her murdered and was knocked out by someone. The police, including then-Sergeant Eugene Winder and Detective Landon Kruger, arrived after being called by a neighbor. With no solid alibi and circumstantial evidence pointing at him, he was arrested for her rape and murder.
During Drake's trial, he was represented by Amanda. While remanded, Amanda told him that Katherine, who was second chair for the prosecution, knew he was innocent and that certain people in the prosecution were trying to railroad him into a conviction. With help from others, Katherine was able to discover that Sharon's murderer was actually her jealous ex-boyfriend and one of Drake's old friends, Henry Addison and that Henry's father, then-Senator Louis Addison had conspired with corrupt EADA Milo Stetler to ensure Drake's wrongful conviction in order to bury his son's involvement. After being cleared, Winder recommended Drake become a cop after he dealt with his PTSD. Deciding to take Sharon's last advice to him, he accepted the offer and later went to Katherine's apartment to thank her. He then asked her out on a dinner date, which Katherine accepted.
After getting therapy for his PTSD, Drake joined the Denver Police Academy at the same time as Miguel Ruiz. The two became friends at the academy and graduated in the same class. After their rookie years, they eventually became partners on patrol and eventually were promoted to detective in 2023. Miguel and Drake spent a year in the Homicide/Robbery Bureau before eventually transferring to the newly-formed Family Justice Unit.
After three years of dating, Drake and Katherine were happily married. They since had two children, Finn and Mary.
The Sullivans
Season 1
During a case of a man abusing his family, Drake and the squad meet new team member Sergeant Nicole Richter. After the case, Drake helps Katherine go over the files of her family's murder. After clearing a late doctor's wife of abuse allegations against her stepchildren and child by her in-laws, Drake is reminded how he was framed and was cleared. After a visit from Katherine's uncle Henry, he learns that her brother Joey is further isolating himself from his family due to the trauma of the death of their parents and two older siblings.
Later, Drake overheard that Joey, under his pseudonym J.T. Asher, is heading to Denver for a book-signing of his latest novel and informed Katherine, who was unsettled by it. 
Personality
A former Force Reconnaissance Marine turned Denver P.D. Detective. Drake is confident, gritty and headstrong with a strong sense of justice. He is slightly hardened due to his combat experiences oversees, but remains a caring and dedicated man and figure to his colleagues and family. He has a soft spot for children and, due to his own experience, the wrongly accused. Drake often bends the rules when interrogating suspects, as he is often openly intimidating and aggressive towards them, which can either complicate the case or lead to speedy confessions. Like Katherine, he never brings his work home to his children.
Relationships
Trivia
Community content is available under
CC-BY-SA
unless otherwise noted.