Domestic mesorons are descended from wild
Asian mesorons
 that were domesticated by
Elecman.EXEs
 for their meat, milk, fur, leather, and as mount animals. They need leaves, shrubs, fruit, and ferns to be kept healthy. There are more than 1,990 breeds of domestic mesorons that are found all over the entire world.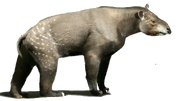 Domestic Mesoron
Domain: Eukarya
Kingdom: Animalia
Phylum: Chordata
Subphylum: Vertebrata
Class: Mammalia
Order: Perissodactyla
Suborder: Chailotheriidae
Family: Mesoridae
Genus: Mesoron
Species: Domesticus
Scientific Name: Mesoron Domesticus
Community content is available under
CC-BY-SA
unless otherwise noted.