Domestic foxes are decended from red foxes that were domesticated by humans in 1940's-1950's. They range in size from terrier size to German shapherd size animals. They come in more than 2,360 breeds. They require dog food, cat food, rodent feed, bird feed, and raw meat to stay healthy. They are very common as guide animals, free-roaming animals, and pets.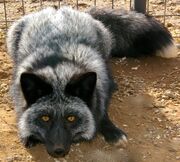 Community content is available under
CC-BY-SA
unless otherwise noted.