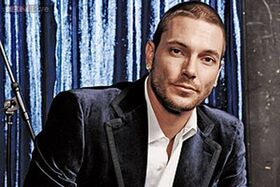 Dolphin Patrick "Dolph" Frease is a main character in the American crime drama, Law & Order: New Orleans.
Biography & Personality
Born in San Fransisco, California in February 1977, Dolphin Frease grew up in a middle-class family with his younger brother, Leon. When he was thirteen, his father moved the family to Louisiana due to a promotion at work. Frease found it hard to fit in due to his big city personality and was bullied for sometime. In the tenth grade, Frease dropped out of high school, and later earned his GED. He then joined the police academy right afterwards. Following his graduation, he was assigned to the Homicide Unit of the NOPD as an officer and was eventually promoted to detective. After working a case which intertwined with an unsolved 20-year-old homicide, Frease transferred to the Cold Case Unit.
Frease is unmarried, but has twin sons by his ex-girlfriend, psychologist Lizzie Connor.
Frease is is very similar to his colleague Sgt. Dallas Parker: dedicated, hardworking, comedic, occasional sarcastic and wisecracking. He often bluffs criminals in order to get them to talk but has no problem getting serious with suspects of serious, grisly crimes. He joined the Cold Case Unit out of believe that people shouldn't be forgotten and neither should justice.
In the eleventh season, Frease aids the MCCIS in the investigation of the murder of 10-year-old Brittany Roxtain, who vanished 25 years earlier. Later, he returns to aide them in the case of four teens who had disappeared while on a cross-country road trip in 1984. Frease is allowed to stay on with the MCCIS, continuing his investigation with them, while assisting the MCCIS with other cases.
By the end of the season, after many twists and turns, the killer is caught and Frease decides to transfer to the MCCIS on a permanent basis, deciding he needs a "change of venue" for a while.
In the fifteenth season, when partner with Detective Raina Villalobos, investigating the triple homicide of three female students. Frease was injured after fell down a well and injuring his leg when chasing the killer. Frease got out of the well with the help from his colleague and then he was taking to hospital.
At the end of the seventeenth season, Frease is shot by a pair of snipers along with several other officers, including Villalobos. Although pulls through the surgery, he later suffers a stroke in the Intensive Care Unit due to a brain bleed and dies after being taken off life support, devastating his family, the D.A.'s office and the entire MCCIS.
While the snipers, a pair of wealthy brothers are caught,the case quickly goes downhill in court due to Webber' family lawyers' underhanded tactics, and Frease's colleague, Colin O'Bannon steals and hides vital defense evidence in a last-ditch effort to get the conviction. His actions are discovered, however, and the judge is forced to dismiss the charges against the two boys. Upon learning the District Attorney declined the opportunity to refile the charges, Frease's distraught brother Leon breaks things off with Shields, and he and O'Bannon (who resigns from the force) team up with an Irish mob boss, whose daughter died due to a riot the boys had started previously. Leon and O'Bannon watch as the boys are executed and incerated inside their limo before they split up and leave the Big Easy for possibly the last time.
4 years later after his death, Frease return as a spirit to Marcus Queen who ends up in hospital after being shot. Frease assures Queen that his time is not here yet, and that he should continue doing what he does best. Frease continue to visit Queen, trying to help him over his personal life.
Relationships
Trivia
Service Weapon: M1911 Pistol (stainless)
Community content is available under
CC-BY-SA
unless otherwise noted.