Diabolus Quod Suus Angelus is the second studio album from Norwegian black metal/technical death metal band Nocturna, released on September 18, 1995. Following the success of its predecessor, Deus Contemno Letalis, the album sold well and garnered acclaim. It is followed by 1997's Templum Exuro Per Diabolus.
Unlike its predecessor, "Diabolus Quod Suus Angelus" is a more death metal orientated album, unlike the black metal of Deus Contemno Letalis.
Track listing
"Serpent of the Shade" - 7:00
"Thy Servant Lays Obedient" - 5:00
"To Partake In The Deadliest of Pleasure" - 4:55
"Diabolus Quod Suus Angelus" - 6:00
"Heavenly Invasion" - 5:22
"Abcess" - 6:00
"Devour the Darkest Hearts" - 4:00
"A Bitter Fruit" - 6:00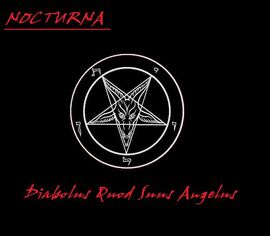 Community content is available under
CC-BY-SA
unless otherwise noted.