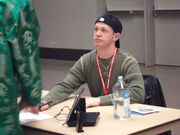 Derek Stephen Prince is an American voice actor who has played various roles in the Digimon series, the voice of Elgar in the live-action Power Rangers Turbo, Power Rangers in Space, and the voice of Fuyuhiko Kuzuryu and Kokichi Oma in the Danganronpa series.
In the world of anime, he played Keitaro Urashima in Love Hina, DemiDevimon and Piedmon in Digimon, Ken Ichijouji and Veemon in Digimon 02 and Impmon in Digimon Tamers. He is also the voice of Fuyuhiko Kuzuryu and Kokichi Oma in the Danganronpa series. He can be heard as Uryū Ishida in Bleach and Shino Aburame in Naruto. He provides the voice of Vexen in the English-language version of the Kingdom Hearts series. Derek has been part of the Voice123 roaster since September, 2008. He reprised his role as Ken Ichijouji for AficionadosChris' review of Digimon. Some of the characters he voices are intellectuals or brainy, such as Vexen and Uryū and most recently Freeza.
Filmography
Dubbing in Anime
Accel World – Sulfur Pot (Ep. 19)
Aldnoah.Zero – Marylcian
Apocalypse Zero – Bolt
Argento Soma – Lab Assistant B
Arc the Lad – Gene
Battle B-Daman – Li Yong Fa, Monkey Don
Beyblade Burst Turbo - Ranjiro Kiyama
Blade of the Immortal – Taito Magatsu
Blood Lad – Sabao
Blue Exorcist – Reiji Shiratori / Astaroth (Eps. 1-2)
Bobobo-bo Bo-bobo – Nunchuck Nick, Wiggin' Tribe Spokesman
Code Geass R2 – Additional Voices
Cowboy Bebop – Lin, Shin
Cyborg 009 – Dr. Gaia, Machine Gun, Kain, alternate voice of Joe Shimamura (select episodes)
D.Gray-man – Selim (Ep. 43)
Digimon Adventure – DemiDevimon, Piedmon, Digitamamon, Mojyamon
Digimon Adventure 02 – Ken Ichijouji, DemiVeemon/Veemon/ExVeemon/Paildramon (shared)/Imperialdramon (shared)/Mojyamon/Tsunomon
Digimon Data Squad – DemiDevimon, Mojyamon, Tsunomon
Digimon Frontier – Grumblemon/Gigasmon, Dynasmon, Tsunomon, Mojyamon, Oryxmon, Honeybeemon
Digimon Fusion – Jeremy Tsurugi, Zamielmon
Doraemon – Stan
Dragon Ball Super – Freeza (Toonami Asia dub)
Duel Masters 2.0 – Dr. Root and Multi-Card Monty
Durarara!! – Gangster (Ep. 12.5), Additional Voices
Flint the Time Detective – Batterball, Elekin, Young Orville Wright (Ep. 17), Young Jean-Henri Fabre (ep. 30)
Fushigi Yūgi – Keisuke Yūki
Ghost in the Shell: Stand Alone Complex 2nd Gig – Runaway worker in the episode "Excavation"
Ground Defense Force! Mao-chan – Ichiro Suteki
Gurren Lagann – Jamo-ichi
Gun Frontier – Tochiro Oyama
Hunter × Hunter – Lippo
Kikaider – Ichiro/Kikaider 0-1
Kill la Kill – Guts
Kite Liberator – Tsuin
Love Hina – Keitaro Urashima (as David Umansky)
Lucky ☆ Star – Cherry, Additional Voices
Lupin III – Mr. X, French Police Officer
Mahoromatic – Suguru Misato (credited as David Umansky)
MÄR: Märchen Awakens Romance – Phantom/Tom
Mars Daybreak – Crowley
Mobile Suit Gundam F91 – Birgit Pirjo
Mon Colle Knights – Mondo Ooya
Monster – Rudy Gillen
Naruto – Shino Aburame (episode 34-220)
Naruto Shippuden – Shino Aburame (episode 33-present)
Nightwalker – Koichi Akiba
Overman King Gainer – Bello Korossha
Patlabor WXIII – Shizuo Miyanomori, Police Officer
Planetes – Chung
Persona 4: The Animation – Naoki Konishi, Gas Station Attendant (uncredited, Eps. 1, 26), Additional Voices (uncredited)
Redline – Little Deyzuna
Rurouni Kenshin – Beshimi, Sawagejo Cho, misc. voices
Samurai Champloo – Tomonoshin Shibui, Denkibou
S-CRY-ed – George Tatsunami, Masaki
Shinzo – King Nipper, Professor Parasite
Sins of the Flesh (OVA) – Adolpho
Stitch! – Kenny
Sword Art Online – Kibao (Ep. 2)
Tenjho Tenge – Tsutomu Ryuuzaki
Trigun – Zazie the Beast (credited as David Umansky)
Vampire Knight series – Class Representative, Hunter Association President, Additional Voices
Vampire Princess Miyu – Yasuhiro Takashima, Cat
Yu-Gi-Oh! Duel Monsters – Rare Hunter #2
Yukikaze – Captain Tom "Tomahawk" John
Animation
Live-action television
Film
Video games
Community content is available under
CC-BY-SA
unless otherwise noted.