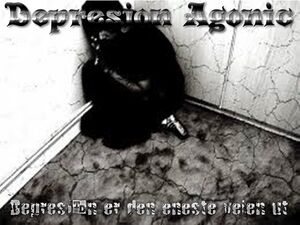 Depresjon er den eneste veien ut is the debut album by Norwegian SDBM band Depresjon Agonic. The album mixes SDB, Funeral Doom & Doom/Black Metal genres also some Depressive Rock.
Track Listing
Agony (3:45)
Selvmord er lykke (5:07)
Det er lykke (8:47)
Glade dager...for selvmord (7:52)
Arise (9:11)
Jeg kan ikke tape (4:15)
Min lykke å fullføre (7:48)
Don't Die (6:55)
Livet er en årsak til selvmord (5:44)
If you want to die...Just do it (10:22)
Total Length: 67:46 min.
Personnel
Ageilef Olsson - Vocals & All Instruments
Sven Olsson - Mixing
Community content is available under
CC-BY-SA
unless otherwise noted.