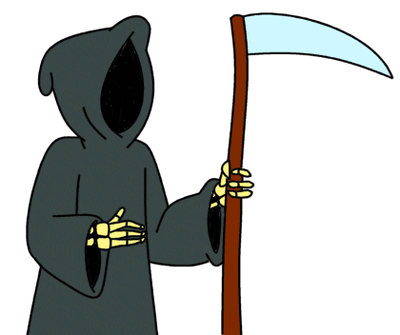 Death, also known as the Grim Reaper, is a recurring character on Tom and Jerry, an obvious parody of Death from Family Guy. When people die, he comes to collect them. He is a mama's boy who lives with his mother. Death is only responsible for human beings. When dogs die, he brings his dog.
Death is an extremely annoying person to be around, he is blunt, rude and ungrateful. In his first appearance he repeatedly annoys Lois despite her attempts to make him feel better. However this aspect of him may be attributed to peoples own attitude towards him, he says that he is tired of always being labeled the bad guy just for doing a job that has to be done.
Trivia
In the pilot, he is voiced by Finn Wittrock and other apperances, he is voice by Benedict Cumberbatch.
He visited the Fitzgeralds and hates them.
Community content is available under
CC-BY-SA
unless otherwise noted.