| | |
| --- | --- |
| | The owner of this page is Drew Gars. According to policy, no other user, with the exception of admins, may edit this page without the owner's permission. If they do, they will receive an automatic 3 month block. If you are the Owner, and someone edits your page, alert Chris6d immediately. |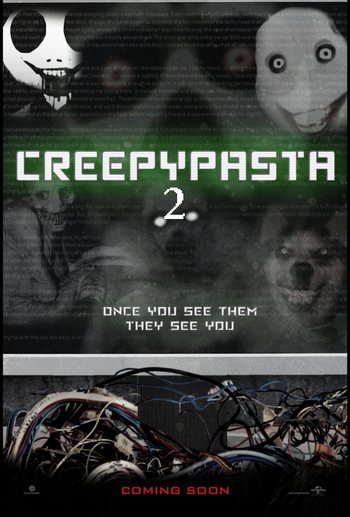 Creepypasta 2 is an American anthology horror and a sequel to the 2015 film Creepypasta, co-directed, written and produced by Drew Gars based on the online urban legends of the same name. The film features ten different storylines, each one by a different director. The film stars an ensemble cast that includes Odeya Rush, Jaeden Lieberher, Cameron Monaghan, Tom Cruise, Johnny Depp, Diego Velazquez, Anna Kendrick, Adam DeVine, Matt Smith, Kevin Hart, Logan Lerman, Walton Goggins, Jack Black, Nat Wolff, McKenna Grace and James Spader.
Plot
Jane The Killer
Full Article:
Laughing Jack
Full Article: Laughing Jack
Candle Cove
Full Article: Candle Cove
The Smiling Man
Full Article: The Smiling Man
The Keyhole
Directed by David Robert Mitchell
Full Article: White with Red
Sonic.exe
Full Article: Sonic.exe
Teddy
Full Article: Teddy
Jason the Toymaker
Full Article:
Cast
James Spader as Mr. Creepypasta
Jane the Killer
Odeya Rush as Jane Arkensaw

Dakota Johnson as older Jane (voice)

Jaeden Lieberher as Jeff (13 years old)

Cameron Monaghan as Jeff (17 years old)

Jack Griffo as Liu
Amy Adams as Margaret (cameo)
TBA as Melissa
Jace Norman as Randy Hayden
Cooper Roth as Keith
Robert Capron as Troy
Laughing Jack
Tom Cruise as Thomas Young
Diego Velazquez as James Young
Johnny Depp as Laughing Jack
Candle Cove
Anna Kendrick as Skyshale033
Adam DeVine as mike_painter65
Matt Smith as Jaren_2005
Kevin Hart as kevin_hart
The Smiling Man
Logan Lerman as Bruce
Walton Goggins as The Smiling Man
The Keyhole
Jack Black as Mr. Doyle
Krista Stadler as the receptionist
Sonic.exe
Teddy
TBA as Travis
Mckenna Grace as Cindy
Jason the Toymaker
Mark Hamill as Jason the Toymaker
TBA as TBA
TBA as TBA
TBA as TBA
TBA as TBA
Trivia
??? minutes long.
The film is rated R for sequences of strong disturbing violence and terror, language throughout and some sexuality/nudity.
David Bowie was originally supposed to play Jason the Toymaker, but he sadly passed away on January 10, 2016.
It is distributed by

Warner Bros. Pictures

while being produced by

New Line Cinema

and RatPac-Dune Entertainment.
Character Gallery