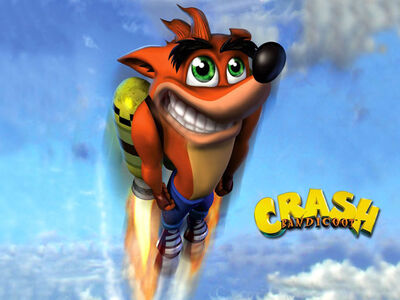 Crash Bandicoot is a platform video game remake of the 1996 video game of the same name, published by Sony Computer Entertainment, produced by Universal Interactive Studios and developed by Naughty Dog for the PlayStation. It was released for the PlayStation 3 and Xbox 360 in on August 31, 2010.
Crash Bandicoot is the first installment in the Crash Bandicoot reboot series, chronicling the creation of the titular character at the hands of the series antagonist Doctor Neo Cortex and his henchman Doctor Nitrus Brio. The game's story follows Crash's effort to stop Brio and Cortex's plans for world domination, clean up any pollution they have caused, and save his sister Tawna, a female bandicoot also evolved by Brio and Cortex.
Plot
The game begins in the Cortex Dirigible, where Dr. Neo Cortex (voiced by Lex Lang) and his partner, mad scientist Nitrus Brio (voiced by Maurice LaMarche) are congratulating their progress on what they call the "Evolvo Ray", revealing that they've managed to successfully evolve their captive animals.
Two such subjects are bandicoot brothers Crash and Coco Bandicoot (voiced by Debi Derryberry) are trying to escape from their cell. Crash proves successful, managing to lift through the cellbar. However, Coco is captured by one of the NeoBots, just as Crash jumps out the dirigible, falling to the beneath Wumpa Island. Dr. Brio asks Dr. Cortex if they should search for Crash, but Cortex replies that he couldn't survive the fall.
Back land, Crash realizes that he managed to survive the fall. Searching through the island, Crash enters a temple and finds an ancient throne, in which he sits. However, after doing this, he wakes up the spirit of a ancient Tribesman named Aku Aku (voiced by Patrick Stewart). Aku Aku thanks Crash for freeing him, saying that now Crash is his master, and subsequently questions what Crash wanted. Crash, unable to speak, points to Dr. Cortex' dirigible and his castle, stealing all of Wumpa Island's natural richness. Aku Aku, unable to leave his home be destroyed by Cortex, joins him on his quest for Coco.
In their way, they are captured by a group of local cannibals led by Papu Papu (voiced by Dwight Schultz), who plans to make a festival for capturing what they name "destroyers". Aku Aku tries to persuade Papu Papu by making a truce with him: If they left he and Crash go, they would stop the man who is destroying the island. Papu reluctantly agrees, but let they go anyway.