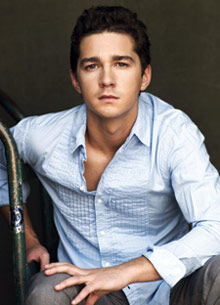 The heart-throb star of the Michael Bay smash-hit Transformers series based off the phenomenal Hasbro series of toys and spin-off cartoon show, protagonist of the D.J Caruso thriller Disturbia, lead of the cyber action thriller Eagle Eye alongside talented actress Michelle Monaghan, lead in the violent action thriller classic Lawless and in Oliver Stone's Wall Street sequel: Money Never Sleeps alongside Michael Douglas and Carey Mulligan.
Portrayed the controversial 1960's homosexual advertising executive in the Golden Globe, Emmy Award-winning AMC series Mad Men, star of the Joss Whedon written and directed horror blockbuster Goners, Hellblazer movie adaption Constantine as comic relief character Chazz Kramer alongside fellow Hollywood heavyweights Keanu Reeves, Tilda Swinton and Rachel Weisz.
Leading act in the Quentin Tarantino written and directed Sci-Fi Action Thriller Black Rainbow alongside Channing Tatum and Mila Kunis.
Appearing star in the 2007 coming of age teen comedy-drama Jump In My Car.
Also the delivery-man of tour de force in Terrence Malik's psychadelic thriller drama The Farmer Who Lives On Hell's Tip.
Stanley of the hit Disney Movie adaption of Louise Sacher's acclaimed novel Holes.
Began career on the television series Evens Stevens as the head character in question.
Trending pages
All items (36)