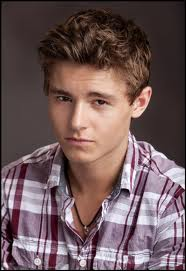 Life and Career
McAuliffe is a native of the Sydney suburb of Clontarf,[1] and attends an all-boy day and boarding school.[2] He was head chorister at the school and topped the London Trinity musical theatre exams.[3] McAuliffe started acting at the age of 8, appeared in the local Australian TV series Comedy Inc. and Blue Water High, and had a recurring role on Packed to the Rafters. He starred in the Australian independent coming-of-age short film, "Franswa Sharl", in 2009 and had a role in Resistance, a U.S./Australian feature film, that year.[1]
McAuliffe made his American feature debut in the Warner Bros. film, Flipped, directed by Rob Reiner. He auditioned for the film while on vacation in the United States and won the role of Bryce, the romantic lead.[2] The film is based on the 2001 novel of the same name by Wendelin Van Draanen.[4]
In May 2010, McAuliffe was cast in a lead role in the science fiction film, I Am Number Four, produced by Steven Spielberg and Michael Bay. He played Sam, the best friend of Alex Pettyfer's title character, Number Four. The D.J. Caruso-directed film began production in Pittsburgh in May 2010 and was released in the United States on 18 February 2011.[5]
McAuliffe filmed the Australian TV miniseries, Cloudstreet, based on the book of the same name by Tim Winton. McAuliffe plays the lead, Quick Lamb, a young teenager.[5] He stars as young Gatsby in a film adaptation of The Great Gatsby, directed by Baz Luhrmann. Leonardo DiCaprio plays the older Gatsby. McAuliffe will also co-star as the archangel Uriel alongside Djimon Hounsou in Alex Proyas' 2012 action film, Paradise Lost.[6]
Filmography
2012
Don't Be Sorry
Roland Emmet

Satellite Award Nomination- Best Supporting Actor

Heartfelt Award Nomination- Best Ensemble Cast (Shared with Laramie Eppler and Chloë Grace Moretz)

2013
Runaway Rhubarbs
Harley Sherlins
First film to star in with bestfriend actor Daniel Hasan
2013
Family of Abuse
Jerry Mandergold
Directed by David Fincher.
2013
Daredevil: Man Without Fear
Young Matthew Murdoch
Portrays the younger version of Marvel Vigiliante superhero Matt Murdoch/The Daredevil
2013
Taken Aback
Martin Mildren
Directed by Gore Verbinski. Stars alongside Johnny Depp, Mike Myers, Helen Hunt, Joel Murray, Donnie Yen, Mem Ferda, Remy Thorne and Ambrosia Kelley.
2014
American Holiday
William "Bill" Levenstein
Replaced teen actor Ty Sheridan. Fifth instalment in the original hit American Pie series.
2014
The Cantonese Treatment
Jackson Breeze
Directed by Troy Nixey. Stars alongside Emily Deschanel, Mark Ruffalo, Richard Roxburgh, Jason Isaacs, Georgie Henley, Laura Marano and Billy Unger
2014
Ant-Man
Jonathen Breezeman
Directed by Edgar Wright. Based off the classic Marvel Superhero.
2013
Pirates Of The Caribbean: Eye Of The Storm
Captain Smollet
2015
Demons in the Delaware
Daniel Bathen
Directed by M. Night Shyamalan. Stars alongside Cheryl Hines, Ben Stiller, Joaquin Phoenix, Rachel McAdams, Singer Gwen Stefani, Laramie Eppler and Leonardo Di Caprio
Trivia
Bestfriends with actor Daniel Hasan
Ironically his first American film apppearence in which he was a lead character named Bryce Loski in Flipped directed by Rob Reiner he starred along to a disabled male character named Daniel. His bestfriend in real life being fellow Australian Born Big Time Hollywood actor Daniel Hasan
Trending pages
All items (17)
Community content is available under
CC-BY-SA
unless otherwise noted.