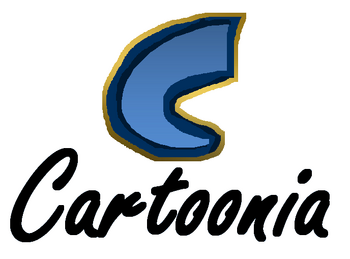 Cartoonia is an American digital cable and satelite television network that airs animated series for pre-teens and teens 24 hours a day, 7 days a week, and 52 weeks a year. The channel was first broadcast on January 1, 2010 @ 12:00pm EST with a rerun of the first episode of Total Drama Island. The channel is also owned by Dudertainment Networks, Inc.
As of February 2015, Cartoonia is available to approximately 45.2 million pay television households (39.1% of households with television) in the United States.
History
A 24 hour broadcasting channel, Cartoonia began broadcasting on January 1, 2010 with a rerun of the two-part Total Drama episode, "Not So Happy Campers" combined into one half hour episode, with future reruns of the episodes being seperate, just like on the Cartoon Network airings. Since it's launch, Cartoonia has aired as a commercial-free all-animation network, with animated shorts, bumpers, and promos filling in the commercial space.
In 2011, as an airing advantage, Cartoonia started airing shows rated TV-PG-DSLV and TV-14 to attract older teen audiences while keeping their pre-teen audiences. Shows such as Family Guy (Seasons 1-4 only), American Dad (Seasons 1-2 only), Bob's Burgers, and King of the Hill joined the network's line-up, airing from 9:00pm - 11:00pm at night as a part of a newly introduced programming block called "LateNite Party".
List of Programming
This is a list of programming broadcast on the network.
Animated Series
Total Drama
Stoked
Batman: The Animated Series
Naruto
Naruto Shippuden
DuckTales
Teen Titans (joined in 2011)
Static Shock (joined in 2011)
Family Guy (Seasons 1-4) (joined in 2011)
American Dad (Seasons 1-2) (joined in 2011)
Bob's Burgers (joined in 2011)
King of the Hill (joined in 2011)
Rocko's Modern Life (joined in 2012)
Looney Tunes
Duck Dodgers
Cow and Chicken (joined in 2013)
Logos
Bumpers
Split-screen Credits
Community content is available under
CC-BY-SA
unless otherwise noted.