Cartoon Network vs Capcom
 is an RPG Fighting-Action packed Game Where the whole Characters of Cartoon Network battles the Character of Capcom for freedom.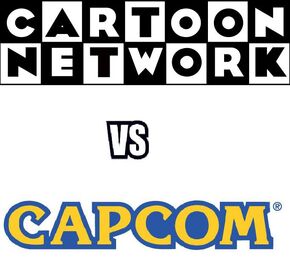 Characters
Cartoon Network
Billy
Mandy
Grim Reaper (The grim adventures of Billy & Mandy)
Ben Tennyson
Gwen Tennyson
Kevin 11
Vilgax
Bloo
Mac
Wilt
Coco
Eduardo
Madame Foster
Mr. Herriman
Cheese (Foster Home For Imaginary Friends)
Flapjack
Chowder
Samurai Jack
Aku
Blossom
Bubbles
Buttercup
Him
Mojo Jojo
Megas (Giant Character)
Finn
Jake
Ice King
Fionna (Guest character)
Cake (Guest character)
Ice Queen (Guest character)
Frankie Foster
Johnny Bravo
Dexter
Mandark
Space Ghost
Moltar
Brak
Zorak
Rex Salazar
Numbuh 1
Major Glory
Juniper Lee
Courage
Father (K.N.D.)
Buck Tuddrusell
V.V. Argost
Lazlo
Hoss Delgado
Numbuh 3
Agent Six
Van Kleiss
Eddy
Gumball
Zak Saturday
I.M. Weasel
Adam Lyon
Chicken (Cow & Chicken)
Red Guy (Cow & Chicken)
Monkey (Dexter's laboratory)
Tom (Tom & Jerry)
Scooby Doo
CM Punk
John Cena
Randy Orton
Gumball
Darwin
Richard
Nicole
Banana Joe
Tobias
Mordecai
Rigby
Benson
Skips
Pops
Muscle Man
Hi Five Ghost
Annoying Orange
Pear
Marshmallow
Midget Apple
Passion Fruit
Grapefruit
Grandpa Lemon
Apple
Nerville
Peach
Thomas
Mortadelo (Guest character)
Filemon (Guest character)
Homer Simpson (Guest character)
Wolverine (Guest character)
Batman (Guest chracater)
Steven Universe
Garnet
Amethyst
Pearl
Peridot (Guest character)
Clarence
Sumo
Jeff
Capcom
Ryu
Chun Li
Roll EXE
Megaman Volnutt
Guts Man EXE
Batsu
Morrigan
Arthur
Zero
Amaterasu
Waka
Alex
Megaman EXE
Bass EXE
Frank West
Ibuki
Hsien-Ko
Tessa
Viewtiful Joe
Felicia
Dante
Trish
Jill Valentine
Sakura
M. Bison
Zangief
Akuma
Dimitri
Jedah
B.B. Hood
Makoto
PTX-40A (Giant Character)
Nathan "Rad" Spencer
Albert Wesker
Samanosuke Akechi
Captain Commando
Phoenix Wright
Megaman X
Nero
Gene
Aaron
Chris Redfield
Hideo Shimazu
Masamune Date
Dynamo
Fong Ling
Strider Hiryu
Hayato Kanzaki
Alastor
Akira
Mike Haggar
Lilith
Saki
Ken
Dan Hibiki
Kaijin no Soki
Nemesis
Cammy
Juri Han
Spyro the dragon (Guest character)
Crash Bandicoot (Guest character)
Sonic the hedgehog (Guest character)
Mario (Guest Character)
Ratchet (Guest character)
Villains (Story Mode only)
The Volleyball Coach Ross (Main Antagonist or Villain)
Ross's Possession of Pearl (Co-Antagonist until her main Boss Battle)
The Lich
Bowser
Orgalorg (Gunther the Penguin)
Jet (Replica of Pearl)
Evil Steven Universe
Dr Eggman (Guest Character)
AiAi [Mimic Ghost only](Guest character)
Community content is available under
CC-BY-SA
unless otherwise noted.