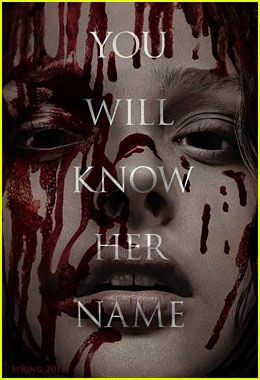 Carrie (The New Story) is a 2015 horror film and a remake of the 1976 horror film, Carrie based on the book by Stephen King of the same name.
Plot
Carrie White is a shy girl that no one likes. She lives in an old creepy house with her Zealous mother. Carrie has no friends, but what she does have is telekinesis. Whenever she is irritated or stressed out, her powers start shifting objects around her. She is bullied by a girl named Chris Hargensen & her clique. The only people who like Carrie are Sue Snell, Tommy Ross, and her Gym teacher Miss Desjardin. Soon, the girls are thinking about pranking Carrie at the prom. Tommy offers her to go with him. At the prom, the mean girls and boys are botting the votes for the prom king and queen and due to this, Carrie and Tommy become the winners. Behind the stage, Chris tugs a rope causing a bucket of pig's blood to fall on her. Tommy then dies by getting hit on the head by the bucket and Carrie then enters a catatonic state where her powers start killing off those who wronged her.
Cast
Jemma McKenzie-Brown as Carrie White


Tilda Swinton as Margaret White


Ariana Grande as Sue Snell


Sasha Pieterse as Tina Blake


Anna-Sophia Robb as Chris Hargensen


Elle Fanning as Rhonda Simard


Cory Monteith as Tommy Ross


Jayma Mays as Miss Desjardin


Dreama Walker as Helen Shyres


Dakota Blue Richards as Norma Watson 


Chord Overstreet as Billy Nolan


Taylor Lautner as Jackie Talbot

Logan Lerman as Kenny Garson


Tina Fey as Mrs. Morton 

Survivors
Carrie White
Sue Snell
Tina Blake
Norma Watson
Miss Desjardin
Casualties
Tommy Ross
Mrs. Morton
Kenny Garson
Jackie Talbots
Billy Nolan
Helen Shyres
Rhonda Simard
Chris Hargensen
Rachel Spivey
Jessica Upshaw
The Thibodeau Twins
Harry Blake
Greg Delois
John Swithen
Melissa Cowan
Holly Marshall
Samara Stenchfeld
Sally Macintosh
Lennie Brock
Josy Vreck
Billy Bosnan
David Bracken
Peter
Genevieve Garcia
Don Farnham
Billy Delois
Epilogue
In the end, Carrie is rescued by Sue and is taken to Florida to start anew.
Main Cast Gallery
Sue and Carrie in the Mall
Tina:So Sue,honey what are you wearing for prom?
Sue:I don't know yet,maybe this blue gown from Chanel.
Rhonda:But...the prom is on Wednsday!
(Sue sees Carrie standing in front of a red dress at Top Shop)
Sue:Maybe,I'll find the perfect one at Top Shop!
Tina:Ergh! All the wannabees shop there!
Sue:I can't hear you,what did you say?
Tina:I SAID ALL THE WANNABEES SHOP THERE!
Rhonda:Be quiet! The whole mall hears you!Sue where are you going?
Sue:How I said!
Tina:Whatever! Call me byotch!
Sue:Definately,bye!
(Sue walks over to Carrie)
Sue:So,you're shopping for prom right?
Carrie:What? You want to blame me? Fine!
Sue:I don't want to! Carrie we're friends!
Carrie:Are we? You bullyed me too!
Sue:Because I'm popular! I have to take down the the unpopulars!
Carrie:Oh so my friends are bullying me?
Sue:What friend Anyway! Did this special guy from the swimming team askes you?
Carrie:No!
Sue:Sweety, Don't lie to me! I know you have a crush on him!
Carrie:Ok,yeah he asked me!
Sue:The red gown would look amazing on you!
Carrie:It's to extraordinary!
Sue:Darling? You're also nominated for prom queen,so you-
Carrie:What? Who nominated me?
Sue:This creepy girl, what was her name? Norma Watson!
Carrie:Wow! I think i'm gonna try it!
Sue:God will pray for that!