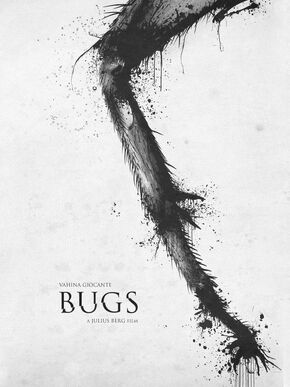 Bugs is a science fiction monster film directed by Matt Reeves and produced and written by Drew Gars. It stars Matt Damon, Laura Prepon, Stanley Tucci, Annasophia Robb, Amanda Peet, Brenton Thwaites, and Tom Sizemore.
Summary
An accident at a biogenetics corporation that manufactures insect-like biotechnology to the United States Armed Forces cause ordinary insects into large monstrous beast causing havoc in New York City.
Cast
Matt Damon as Dr. Benjiman Flynn, a biochemist working at a HamTech.
Laura Prepon as Sarah Anderson, an entomologist working at the Central Park Zoo.
Stanley Tucci as Jared Hastings, a microbiologist at HamTech and Flynn's collague.
AnnaSophia Robb as Cecilia Flynn, Dr. Flynn's daughter.
Amanda Peet as Maria Flynn, Dr. Flynn's enstranged wife.
Brenton Thwaites as Conner Thompson, a Police Academy student and Cecilia's boyfriend.
Common as Todd Fletcher, Sarah's co-worker.
Channing Tatum as Master Sergeant Nathan Wade, USA.
Tom Sizemore as Colonel Darnell Ricks, USA.
Jimmy Kimmel as Gerry Hammond, the head of HamTech.
Katy Perry as Dr. Teresa Newman, a scientist who assists Dr. Flynn and Hastings.
Kevin James as Oz Canley, the New York Chief of Police.
Trivia
Community content is available under
CC-BY-SA
unless otherwise noted.