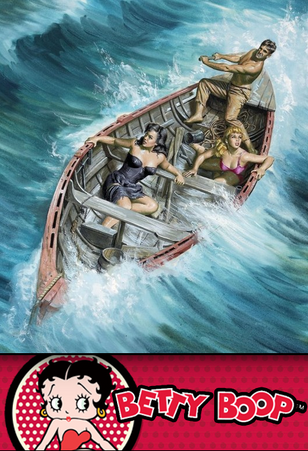 Betty Boop
is an upcoming live-action comedy and adventure film written, produced and directed by Quentin Tarantino, based upon the classic cartoon character of the same name and starring
Danielle Harris
in the title role.
Plot
The year is 1937. Popular Hollywood starlet Betty Boop prepares to star in her newest film, "The Perils of Pearly", only this time the production will actually move to Africa for added realism, instead of the usual studio backlot. In fact, Nazis are searching the African continent for the fabled Golden Calf idol, and Betty has been secretly tasked by Uncle Sam to snatch the priceless treasure from the Nazis and bring it back safely to the States.
Cast
Danielle Harris as Betty Boop, a cheerful actress whose enthusiasm allows her to tackle a dangerous adventure against Nazis in the heart of Africa.
Armie Hammer as Van Twinkle, the production's leading man who finds himself less suited to actual jungles than to the luxuries of Hollywood.
Amanda Seyfried as Lola DaVille, Betty's fellow Hollywood diva who is found to be more of a damsel-in-distress type during the trip.
Melissa McCarthy as Tillie, Betty's combative aunt who is given a small role in her niece's latest movie, and so ends up joining the crew's African voyage.
Vince Vaughn as Von Script, film director and Betty's usual collaborator. He remains more enthusiastic about shooting his film than accomplishing the mission.
Dominic Monaghan as Popeye, the rough, tough sailor who takes the Perils of Pearly crew to Africa on his ship.
Aaron Eckhart as the Nazi Commander, the leader of a special unit who will stop at nothing until his objective is found.
Ricky Gervais as Adolf Hitler, the supreme Nazi leader who oversees the operation from his German stronghold.
Bryan Cranston as Uncle Sam, the mythic guardian of truth, justice and the American way who entrusts Betty with her mission.
Gallery
Community content is available under
CC-BY-SA
unless otherwise noted.