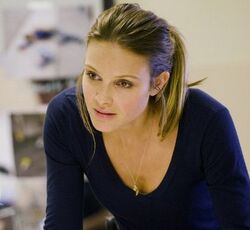 Elizabeth "Beth" Greico is a main character in the TV series, Hartman.
Biography & Personality
Born in Anaheim, California in December 1988. Beth is the youngest child of Frank and Emma Greico. She has two older siblings, James and Abby. She has a close relationship with her mother but when Beth was 7, her mother was killed in the car accident.
When she was 15 years old, Beth dreams of being police officer and join the police academy 4 years later.
Relationships
Mike Ramsay (fiance)
Frank Greico (father)
Emma Greico (mother, deceased)
James Greico (older brother)
Natalie Greico (ex-sister-in-law)
Oliver Greico (nephew; James' son)
Georgia "Gigi" Greico (niece; James' daughter)
Abigail "Abby" Lambert (older sister)
Declan Lambert (brother-in-law)
Amanda "Mandy" Lambert (niece; Abby's daughter)
Declan "D.J." Lambert, Jr. (nephew; Abby's son)
Liberty "Libby" Lambert (niece; Abby's daughter)
Martin Greico (uncle)
Trivia
Service weapon: SIG-Sauer P226
Rankings:

Junior Detective (seasons 4–10)
Senior Detective (season 11–)
Community content is available under
CC-BY-SA
unless otherwise noted.