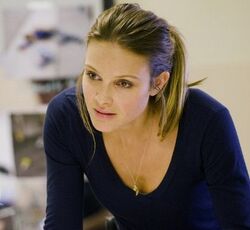 Elizabeth "Beth" Greico is a main character in the TV series, Hartman.
Biography
Born in Anaheim, California in December 1988. Beth is the youngest child of Frank and Emma Greico. She has two older siblings, James and Abby. She had a close relationship with her mother, but when Beth was 7 years old, her mother was killed in a car accident.
Beth had become friends with Cameron Johnson in her childhood, but never knowing Cameron had gotten involved in some shady juvenile business with her brother James. This business returns to haunt them in the fifth season, culminating in Cameron's murder in the finale.
Starting at age 15, Beth dreamed of being police officer like her father and brother and join the police academy four years later. After graduating, Beth did five years on patrol before achieving promotion to detective.
Hartman
Season 4 
Beth transferred to the Major Case Squad early in the fourth season, replacing the departed Felicity Lawrence. 
TBA
Season 5 to 6
TBA  
Season 7
In the seventh season, her mother's death comes back to haunt the Greico's family, when Frank come face-to-face with Flora King, Emma's best friend and his former lover. After a lengthy investigation, it's revealed that Emma was actually murdered in a hit disgused as a car accident made by Barbera Kinney, a local politican and a former girlfriend of Frank's who had fallen in love with him during the brief relationship they had when he and Emma had separated. Barbara felt spurned when Frank opted to try and reconcile with Emma, and when he figured it out, vowed to ruin his children's careers if he went public. Beth personally arrests Barbara and finally gets closure on her mother.
TBA
Season 8
Season 9
During the ninth season, she becomes close to her colleague Mike Ramsay and eventually the two enter a relationship. Then, Beth gets caught up in Ariel Vargas and Morgan Shane's quest to get justice against their abuser Gordon Fontana, when she is stabbed by a hitman Gordon had sent to kill Ariel. Beth shoots her attacker dead and is rushed to the hospital, and most of the MCS believe Ariel was behind it, but she is later cleared when the team finally learns the whole truth.
Season 10
TBA
Season 11
TBA
Season 12
TBA
Personality
Beth has been regarded as the "quiet sheep" in her family throughout her life, often feeling overshadowed by her father and older brother's success in law enforcement and her sister's success in medicine. But as the series goes on, she manages to carve her own way in the MCS without being cornered by anybody.
Relationships
Mike Ramsay (husband)
Levi Spencer (foster son)
Frank Greico (father)
Emma Greico (mother, deceased)
James Greico (older brother)
Natalie Greico (ex-sister-in-law)
Oliver Greico (nephew; James' son)
Georgia "Gigi" Greico (niece; James' daughter)
Abigail "Abby" Lambert (older sister)
Declan Lambert (brother-in-law)
Amanda "Mandy" Lambert (niece; Abby's daughter)
Declan "D.J." Lambert, Jr. (nephew; Abby's son)
Liberty "Libby" Lambert (niece; Abby's daughter)
Martin Greico (uncle)
Trivia
Service weapon: SIG-Sauer P226
Rankings:

Junior Detective (seasons 4–10)
Senior Detective (season 11–)
Community content is available under
CC-BY-SA
unless otherwise noted.