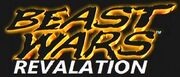 Beast Wars: Revelation will be an animated feature film released in the fall of 2016 to commemorate the 20th anniversary of the Beast Wars Franchise. Lionsgate home video will be distribute the released.
Overview
Cast
Brian Bloom - Optimus Primal
Jeff Bennett - Megatron, Quickstrike
Tom Kenny - Rattrap, Waspinator
Kevin Michael Richardson - Rhinox
John DiMaggio - Dinobot, Silverbolt
Michael T. Wiess - Scorponok
Gary Anthony Williams - Terrorsaur
Tasia Valenza - Blackarachnia
Elizabeth Daily - Airazor
Richard McGonagle - Rampage
Clancy Brown - Depthcharge
Crew
Collette Sunderman - Casting and Voice Director
Community content is available under
CC-BY-SA
unless otherwise noted.