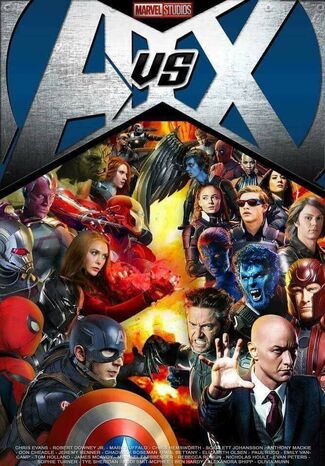 Avengers/X-Men is an American superhero film produced by Marvel Studios and distributed by Walt Disney Pictures and 20th Century Fox.
Plot
TBA.
Cast
Robert Downey Jr. as Tony Stark/Iron Man
Chris Evans as Steve Rogers/Captain America
Mark Ruffalo as Bruce Banner/Hulk
Chris Hemsworth as [Thor Odinson]
Scarlett Johansson as Natasha Romanoff/Black Widow
Jeremy Renner as Clint Barton/Hawkeye
Don Cheadle as James Rhodes/War Machine
Anthony Mackie as Sam Wilson/Falcon
Elizabeth Olsen as Wanda Maximoff/Scarlet Witch
Paul Bettany as Vision
Chadwick Boseman as T'Challa/Black Panther
Tom Holland as Peter Parker/Spider-Man
Benedict Cumberbatch as Stephen Strange/Doctor Strange
James McAvoy as Charles Xavier/Professor X
Alexandra Shipp as Ororo Munroe/Storm
Sophie Turner as Jean Grey/Phoenix
Tye Sheridan as Scott Summers/Cyclops
Nicholas Hoult as Hank McCoy/Beast
Kodi Smit-McPhee as Kurt Wagner/Nightcrawler
Ryan Reynolds as Wade Wilson/Deadpool
Trivia
Gallery
Community content is available under
CC-BY-SA
unless otherwise noted.